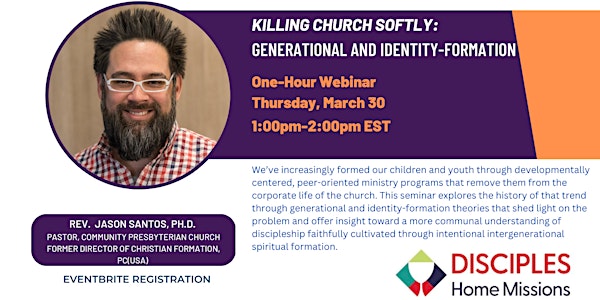 Killing Church Softly: Generational and Identity-Formations
This seminar explores generational & identity-formation theories that offer insight toward a more communal understandings of discipleship.
By Disciples Home Missions
Date and time
Thursday, March 30 · 10 - 11am PDT
About this event
Rev. Jason Brian Santos, Ph.D. is an American Practical Theologian and the pastor of Community Presbyterian Church, a small mountain congregation located in Lake City, CO. He's an ordained teaching elder in the Presbyterian Church (USA) and prior to his call in Lake City he served as the National Director for Christian Formation for the PC(USA). He holds a Ph.D. in practical theology from Princeton Theological Seminary, where he also earned his Master of Divinity. He is the author of A Community Called Taizé (IVP, 2008). He currently resides in an almost 150-year-old historic church manse in Lake City, with his wife, Shannon, and his son Silas. In his spare time, he plays and designs board games.