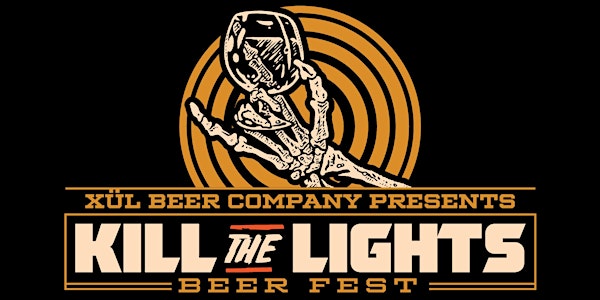 Kill the Lights Beer Festival
1st Annual Kill the Lights Beer Festival
When and where
Location
Xul Beer Co 213 East 5th Avenue Knoxville, TN 37917
About this event
56 Breweries. Food Vendors. Music. New Beer Releases.
Follow along @xulbeer and @killthelightsbeerfest for more info!
Final Brewery Lineup:
3 Sons
450 North
The Answer
Arkane Aleworks
Barn Town
Barrel Culture
Barrique
Bearded Iris
Beer Zombies
BlackStack
Boneflower
Bottle Logic
Branch & Blade
Burial Beer
Cerebral
Civil Society
Contrast
Corporate Ladder
Creature Comforts
Dream State
Drekker
DSSOLVR
Finback
Heist
Ingenious
King State
Living Waters
Magnanimous
Mikerphone
Missing Mountain
MORE
Mortalis
New Groove
North Park
Oak Room
Ology
Orchestrated Minds
Orpheus
Other Half
Outer Range
Pontoon
Pye Road Meadworks
RAR
Resident Culture
Salud Cerveceria
Southern Grist
Tactical
Tripping Animals
Untitled Art
Viking
Visuals
Vitamin Sea
Voodoo
WeldWerks
Widowmaker
Wild Leap
Woven Water
VIP Tickets
VIP Tickets are sold out! Plenty of GA still available.
Location
We will be hosting this festival at our brewery. Tents will be set up in the parking lot & in our back warehouse space.
Parking
There is ample parking available on the street as well as two different lots behind our building.
Please consider taking rideshare services, riding your bike, or using a designated driver to and from this event.
Entry
Check-in begins at 11am for VIP and 12pm for GA. Please bring a printed copy of your ticket, or have the digital copy ready at the Gate. You must have a ticket and be 21 or older and present a government-issued ID to be admitted.
Food and Water
Water will be provided. Please drink lots of it.
Food is NOT included in the ticket price. There are several food vendors on site, or you are welcome to bring in small snacks.
Bags/Chairs
You are welcome to bring in a bag or purse for your personal items. You can also bring in chairs, but please keep them off the walkways. There will be plenty of seating available on-site also as our taproom and patio will be set up as normal.
Children and Pets
Children and pets are NOT allowed. Please find a sitter for the Fest and enjoy an afternoon or evening out.
Overconsumption
Be sure to have a good meal and drink plenty of water before you come. Should you feel that you have had too much, please find a volunteer or police officer and they will get you to the on-site medical team. Your safety is important to us. Please consume responsibly.
Weather
Festival is held rain or shine. No refunds will be given. We will have tents that cover the tables and a good portion of the event will be in our production warehouse.
Designated Drivers
There are designated driver tickets available for $25. You will not receive a tasting glass, but you will receive a $10 food truck voucher. You must still be 21+.
If you have not received a link to print your tickets upon purchase, be sure to contact events@xulbeer.com.
More information is available at www.xulbeer.com
We will use your email to provide you with any Kill the Lights updates in the future.