Description
Get ready for an Epic evening of gut-busting laughter and bangin music! We start the evening with some of Chicago's funniest up and coming stand-up comics. Comics with the biggest applause walk away with cash prizes! They'll have you laughin until it hurts !

Immediately after the "Kill" The Crowd Comedy Competition get ready to experience multiple eargasms at the Dance Party brought to you by Dj MELLOW MAN . Whether you crave House, Hip-hop, Latin or R &B , YOU DONT WANT TO MISS THIS!!!

Get your babysittin' plans in order and come out for laughter, fun, drinks, and great food!!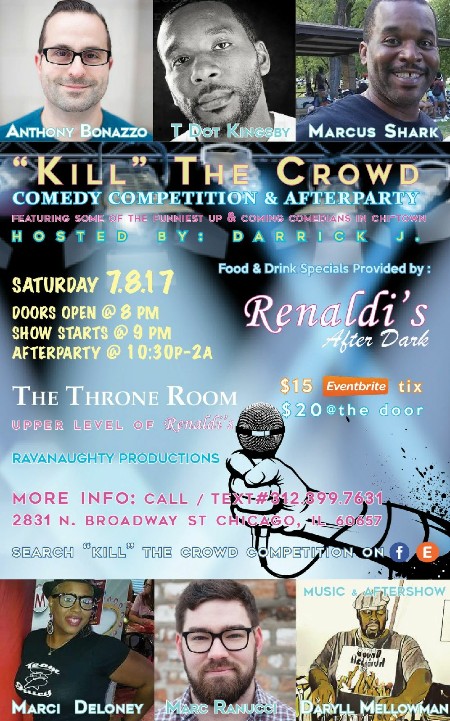 *****DETAILS*******

* Comedy competition featuring the best up and coming comics in Chicago

* Held in the concert venue called The Throne Room ( located above Renaldi's Pizza)

* Audience chooses winners of 1st and 2nd cash prizes (PLUS SECRETE JUGDES)

* $5 drink specials and food

* Dance Party following competition

* Street and garage parking available

* Sounds provided by DJ MELLOW MAN

* Competition being brought to you by RavaNaughty Productions
* YOUR HOST FOR THE EVENING