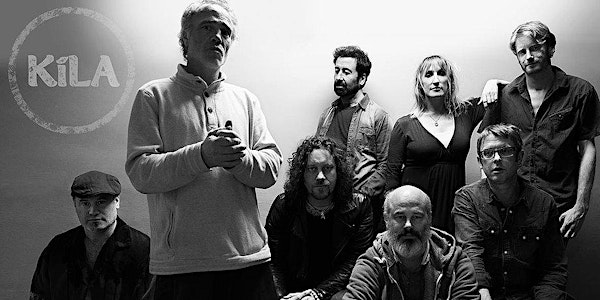 KÍLA & Barry and Laura Kerr @ Féile na Carraige
When and where
Location
Cardinal O'Donnell's GAC 43 Whiterock Road Belfast BT12 7PF United Kingdom
Description
KÍLA
Deirtear faoi Kíla, ar bunaíodh is iad fós ar scoil go deirneach sna h-ochtóidí, go bhfuil siad ar cheann des na buíonn is bisiúla agus is bísiúla in Éireann. Tá a gcruth fhéin á gcur acu ar an gceol Gaelach, cruth a bhíonn ag siar athrú le fuaimeanna ó cheolta na cruinne nó a dtuaraimí ceolmhara úra féin. 'Ceol comhaimseartha cruinne Gaelach' an cur síos a déantar orthu go minic mar go bhfíonn siad a bhfoinn is a n-amhráin úra Gaeilge le h-urilisi ceol dúchasachasa ar nós fidil, feadóg, píobaí, is bodhrán le djembe, congas is drummaí mar aon le mandóilín, dord-ghiotár is giotáir aibhléiseach. Tá cúlraí ceol dúchasach, claiseacheach, is rac ag an t-ochtar ball de Kíla.
Sé an toradh ná cumasc úr cheol de foinn fíochmhara, portanna preabacha agus rithimí corraitheacha a sháraíonn teorainneacha an cheoil Ghaelaigh.
Formed at school in Dublin's late 1980's, Kíla are heralded as one of Ireland's most innovative and exciting bands. Their unique sound has been ever evolving, rooted in tradition, yet inspired by a myriad of influences and ideas from all around the world. Often defined as contemporary Irish World music, Kíla fuse the effects of their own melodies and Irish (Gaeilge) lyrics, Irish folk instruments such as whistles, fiddles, Uilleann pipes, bones and bodhrán with djembe, congas, drums, mandolins, brass and acoustic/electric/ bass guitars. Kíla's eight members come from the differing musical backgrounds of traditional, classical and rock. The result is a fresh blend of freewheeling instrumentals, furious jigs, and primal rhythms that transcend the traditional boundaries of Irish music
---
Barry & Laura Kerr
Tógadh deartháir agus deirfiúir Barry agus Laura Kerr i gContae Ard Mhacha agus seinn siad ceol le chéile a saolta ar fad agus cuimsíonn an albam seo a ceaidreamh ceoil. Is fidléir í Laura agus is il-seinnteoir é Barry lena n-airítear an fhliúit, na píobaí uilinn, giotar, bouzouki ahus amhránaíocht. Beidh na ceoltóirí iontacha, Donogh Hennessy agus Ryan O'Donnell ina gcuideachta fosta ar an oíche.
Siblings Laura and Barry Kerr were brought up in Co Armagh. Having played music together all their lives, this album captures their close musical relationship. Laura is a fiddle player and Barry is a multi-instrumentalist who plays flute, uilleann pipes, guitar, bouzouki and sings. They will be joining forces on the night with a powerhouse of accompanying musicians, Donogh Hennessy and Ryan O'Donnell.