Description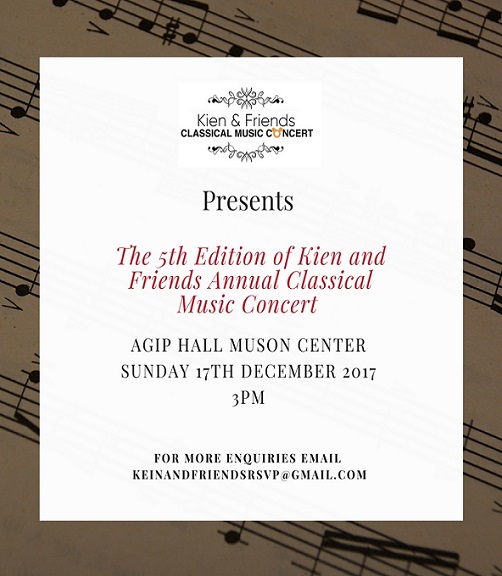 We are pleased to introduce the 'Kien and Friends' classical music concert. Every year, for the past four years "Kien & friends" holds its annual classical music concert.The concert is a platform that gives children the opportunity to showcase their talent in classical music.
The concert features a variety of professional violin, piano, cello and saxophone single pieces as well as a couple of duets along with an orchestral ensemble by primary school kids; ages ranging from age three to twelve years at the AGIP Hall, Muson Center.
As a Non- Profit, Kien and Friends is moved by its passion and belief in nurturing musical talent from an early age. The children get to play in front of an audience of over two hundred invited guests at the AGIP Hall, Muson centre.
Date: 17th December 2017

Time: 3pm

Address: AGIP Hall Muson Centre Onikan
Kien and Friends will like to specially invite you and your child(ren) to this year's "Kien & Friends" Classical Music Concert.