A virtual family story hour with two new children's picture book authors, Mượn Thị Văn and Michelle Sterling.
About this event
Come enjoy read-a-loud of Mượn Thị Văn's "Wishes" and Michelle Sterling's "When Lola Visits" with a special kids activity!
Kids: Bring a drawing of your grandparent to share!
This event is co-sponsored by the Oakland Asian Cultural Community Center and Eastwind Books of Berkeley.
The event will also be live-streamed on Facebook at https://www.facebook.com/eastwindbooksberkeley
About the children's books and authors:
Wishes, a new children's book by New York Times acclaimed author Mượn Thị Văn , illustrated by Victo Ngai, published by Scholastic Books May 2021. This is an arresting, poetic journey about one Vietnamese family's search for a new home on the other side of the world, and the long-lasting and powerful impact that it makes on the littlest member of the family. Inspired by actual events in the author's life, this is a moving reflection on immigration, family, and home. A beautifully illustrated poem becomes a harrowing refugee flight from home into dangerous ocean waters and an unknown destiny.
Mượn Thị Văn loves to read books of all shapes and sizes. She first began reading yellow-spined hardbacks about a certain girl detective before graduating to longer novels and then picture books (it's true, she doesn't remember reading picture books as a young child). So few books reflected her formative experiences, though, that she desired to bring new and different stories into the world. From her New York Times acclaimed debut, In a Village by the Sea, illustrated by April Chu, Mượn's books have received many distinctions, including a Northern California Book Award, a New York Public Library Best Book. When she's not writing, Mượn likes to roam the forests of California with her family.
When Lola Visits, written by Michelle Sterling, illustrated by Aaron Asis and published by HarperCollins May 2021. For one young girl, summer is the season of no school, of days spent at the pool, of picking golden limes off the trees. But summer doesn't start until her lola—her grandmother from the Philippines—comes for her annual visit. Summer is special. For her lola fills the house with the aroma of mango jam, funny stories of baking mishaps, and her quiet sweet singing in Tagalog. And in turn, her granddaughter brings Lola to the beach, to view fireworks at the park, and to catch fish at their lake. When Lola comes, the whole family gathers to cook and eat and share in their happiness of another season spent together. Yet as summer transitions to fall, her lola must return home—but not without a surprise for her granddaughter to preserve their special summer a bit longer.
In an evocative tale brimming with the scents, tastes, and traditions that define summer for one young girl, debut author Michelle Sterling and illustrator Aaron Asis come together to celebrate the gentle bonds of familial love that span oceans and generations.
Michelle Sterling is an author, photographer and speech-language pathologist whose first picture book is When Lola Visits. Many of her stories are inspired by her heritage, family traditions, and her love of gastronomy and food history. She lives in Southern California with her family.
---
Eastwind Books Multicultural Services (EBMS) is a 501(3)c non-profit dedicated to the promotion and accessibility of Asian American and Ethnic Multicultural Literature. EBMS is the community education arm of Eastwind Books of Berkeley which is comprised of a dedicated staff of booksellers, artists, poets, and community workers. Our events are for educational purposes and we appreciate your tax-deductible donations and continued support. Visit us at www.asiabookcenter.com
Learn more about Eastwind here: https://www.youtube.com/watch?v=JaSXsyGkjz8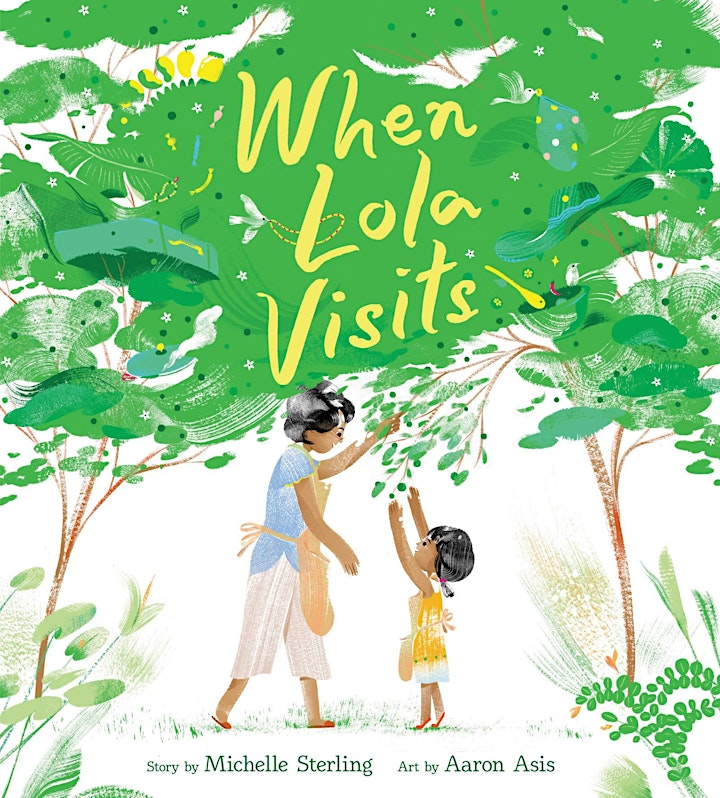 Organizer of Kids Storytime with Mượn Thị Văn & Michelle Sterling
Eastwind Books of Berkeley has been serving the public providing books on Asian American diverse cultures, Ethnic Studies, history, and literature since 1982. Celebrating more than 20 years in Berkeley, Eastwind Books of Berkeley has provided the public with meaningful and relevant books for our times. Eastwind supports and promotes various authors at book events including: The Forbidden Book: The Philippine-American War in Political Cartoons, Other: An Asian Pacific Islander Prisoners Anthology, and Palestine...it is something colonial. Visit us in-store at 2066 University Avenue, Berkeley or online at www.asiabookcenter.com.