Description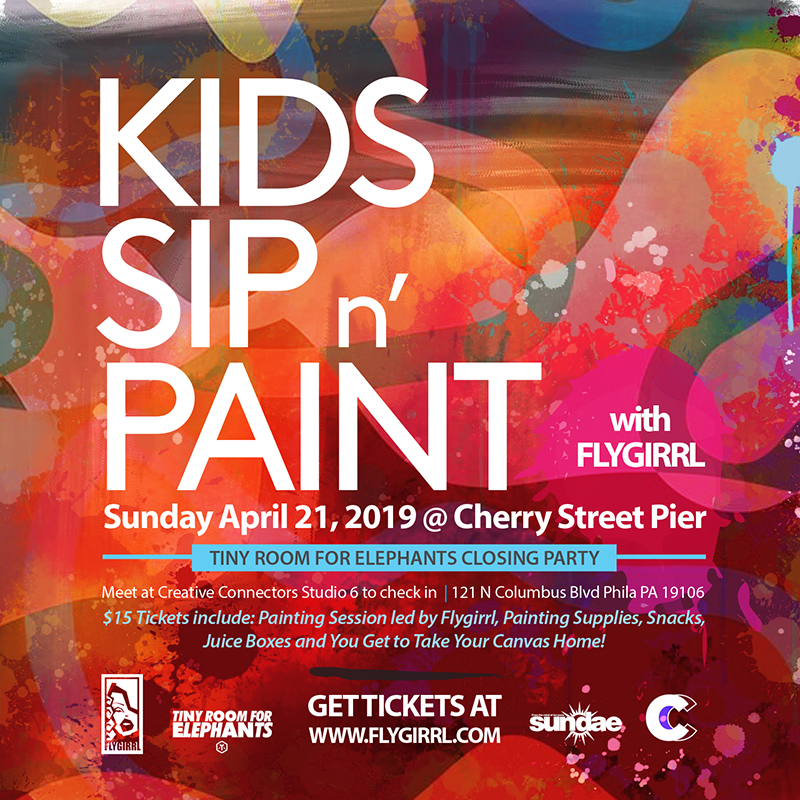 ***ONLINE TICKETS ARE SOLD OUT, THERE ARE 10 WALK UP SLOTS FOR THE DAY OF AT $20 AND ARE AVAILABLE ON A FIRST COME, FIRST SERVED BASIS.We host the event monthly on the first Sunday of every month, feel free to sign up for another date! Visit www.flygirrl.com***
Join us on Sunday April 21, 2019 at The Cherry Street Pier for another fun day full of Art, fun and creativity with Flygirrl as part of the closing festivites for The Tiny Room For Elephants Festival.
Our Kid's Sip n' Paint event is led by published and televised Visual Artist and Graphic Designer, Flygirrl. She will lead the kids through painting a dynamic piece of art that the kids get to take home with them!
It's a fun and friendly environment where your child is able to take a blank canvas and transform it into a beautiful piece of art. It's incredible to see how excited the kids get when they experience being able to do that. We have a blast and the kids have been asking when they can do it again! Reserve your child's canvas today!
Tickets for each child includes canvas (that you get to keep and take home!), paint, brushes, easel, towels, juices boxes and snacks. The session is from 1pm-3pm and we will be painting out on the pier!

In addition to our Kids Sip n' Paint, DJ Lee Jones' Sundae party will be going on and of course, the Artists murals from TRFE will still be up! Perfect day to be on the pier!
Get your $15 ticket today which includes special Tiny Room For Elephants discount! Day of and walk up tickets will be $20.

Creative Connectors: Flygirrl x Artists First, Inc.
At The Cherry Street Pier
Studio 6
www.creativeconnectors.net
www.flygirrl.com
www.artistsfirstrecords.net