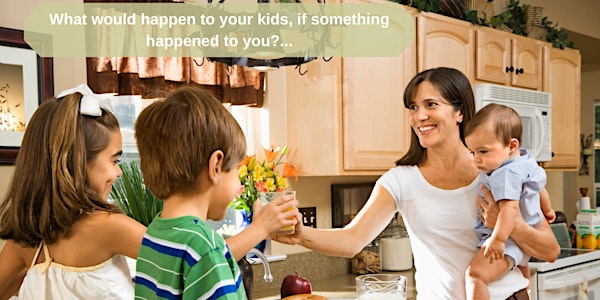 Kids Protection Planning Workshop for Busy Moms
When and where
Location
Coconut Cove 496 E 1750 N Suite C Vineyard, UT 84059
Description
Get a free pass for your kid to Coconut Cove while you hear a presentation about how to protect your children. Moms attending this informative, fast, and friendly presentation will discover how to:
Be sure your children never spend even one moment in the care of strangers (or anyone you wouldn't want) if anything happens to you.

Avoid the expenses and delays of a long, drawn-out court process that would make life difficult for your loved ones if you were in an accident.

Protect your children's inheritance from creditors, lawsuits and failed marriages.

Make sure your hard-earned money is immediately and

privately

available to your chosen guardians.

Leave behind more than just your money.
(RSVP Limited Seating - 20 People)
If something happened to you, who would care for your kids? Would they be raised with the values and in the environment you would want them to? What would happen to your businesses? Who would get your businesses or run them? What would happen with your personal assets? Who would they go to? Would they be used appropriately to care for your children, or go to the people you wanted them to? Who will get control of your real estate, bank accounts, investments, or life insurance?

Without proper planning in place, if something happens to you, you could be leaving your family with a BIG MESS, a lawsuit in probate court with high fees and long delays, conflict between family members, minor children taken into state custody until the courts can decide what to do with them, your heirs quickly losing their inheritance!

Come and learn about Estate Planning tools, including a last will and testament, living trusts, powers of attorney, guardianship, advance health care directives, asset protection, and business succession planning!

No costs or commitments, just come and learn what you need to do to protect your loved ones, manage your estate while still living, pass on your estate (real estate and personal property) to your heirs, lower taxes, protect assets, manage health care decisions, avoid expensive probate court, and more!

We'll try to run this like a workshop so you can actually work on the some of the things you will need to do to prepare your estate plan and see what estate planning strategies will be effective for your unique situation.

RSVP Now to Reserve Your Seat!

Learn more about Vault Estate Planning at our website: www.VaultEstatePlanning.com