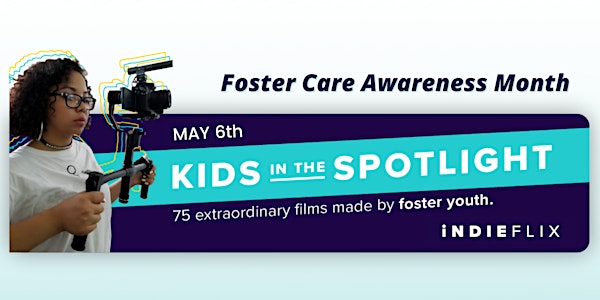 Kids In The Spotlight Foster Care Awareness Event Hosted by IndieFlix
#ReimaginingHope: Healing the Wounds of Foster Care Virtual Event Hosted by Kids In The Spotlight (KITS) & IndieFlix
About this event
Join us Thursday, May 6th @ 5pm PT / 8pm ET for our Kids In The Spotlight event, #ReimaginingHope.
In honor of Foster Care Awareness Month, please join Kids In The Spotlight (KITS) and IndieFlix on May 6th at 5pm [PT] for our "Reimagining Hope: Healing the Wounds of Foster Care" virtual event. During the event we will be screening the 3 short films below that were written and acted in by youth in foster care who completed our 10-to-15-week Screenwriting and Filmmaking program.
Films:
Trapped Within: After being kidnapped by a pimp, a homeless foster girl and her best friend are given a miracle that may help them escape. Directed by Mo McRae [Lee Daniels' The Butler, The First Purge].
Suesville: A fantasy-drama short film about two girls, and the unique role their imagination plays in reconciling their relationships with their abusive parents. Directed by Brandon Broady [BET's The Xperiment, Nickelodeon's Crashletes]
Burnt Feathers, Broken Wings: An award-winning documentary about four young girls in the foster care system who are on a mission to shatter stereotypes and overcome their past. Directed by Cady McClain [Days of Our Lives, All My Children]
After the screening, our moderator, Regina Louise [author, foster care activist, motivational speaker] and youth filmmakers will be joined by special guest professionals that are integrally connected to the issues our youth raised in the 3 films - such as mental health, homelessness, human trafficking, substance abuse, and parental support. This thought-provoking, roundtable discussion will explore innovative solutions to reshape the foster care system, while also paying tribute to foster youth and the tireless efforts of those who work to improve their quality of life.
Additional panelists include:
Robbie Odom (Division Chief of Youth Development Services Division at Los Angeles Department of Children and Family Services)
Holly Priebe Sotelo (Clinical Associate Professor, Field Education at the University of Southern California, Suzanne Dworak-Peck School of Social Work)
Nina Powell (Retired Division Chief of Resource Family Approval from Los Angeles Department of Children and Family Services)
The KITS channel on IndieFlix is home to a library of industry-standard short films, written by, produced by, and acted in by hundreds of foster youth from Los Angeles County.
Watch the event on your TV, tablet, computer, or download the IndieFlix app and watch on your TV from the comfort of your couch.