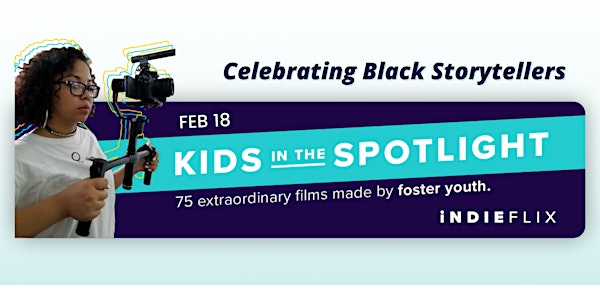 Kids In The Spotlight: Celebration of Black Youth Storytellers
Kids In The Spotlight: Celebration of Black Youth Storytellers
By IndieFlix Virtual Showtimes
Date and time
Thursday, February 18, 2021 · 5 - 6:30pm PST
About this event
Join us Thursday, February 18th @ 5pm PT / 8pm ET for our Kids In The Spotlight event celebrating black storytelling!
In honor of Black History Month, please join Kids In The Spotlight (KITS) and IndieFlix on February 18th at 5pm PST for our "Celebration of Black Youth Storytellers" event. Moderated by Malcolm-Jamal Warner, we will be screening two (2) short films that were written and acted in by youth in foster care from the KITS program.
Brown – Is a film about five hopeful high school students that find their plans derailed as they encounter the systematic setbacks of being Brown in America.
System Failure – Is a film about a young high school boy who is forced to publicly confront a painful secret that will shed a light on the system that failed him.
After the screening, Malcolm-Jamal Warner will lead the KITS youth filmmakers and special guests in an authentic conversation that addresses the issues they raised in their films—such as race, prejudice, and barriers to success for Black and Indigenous People of Color.
The KITS channel on IndieFlix is home to 75 industry-standard films written by, produced, acted in and edited by hundreds of foster youth from Los Angeles County.
Watch the event on your TV, tablet, computer, or download the IndieFlix app and watch on your TV from the comfort of your couch.