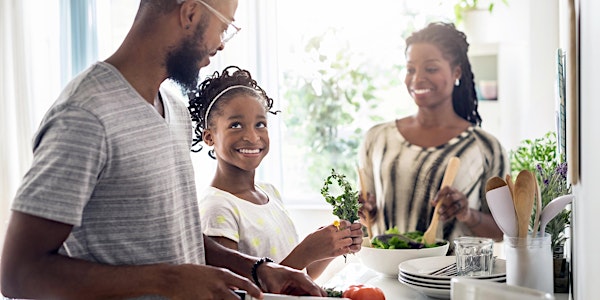 Kids in the Kitchen - Family Cook-Along
Join our Registered Dietitian/Nutritionists for a virtual family cooking class and explore ways to prepare healthy and delicious recipes.
By NorthernWestchesterHospital CenterforHealthyLiving
Date and time
Wednesday, March 29 · 1 - 2pm PDT
About this event
Looking to eat healthier as a family? Do you have a child who loves to cook? Join Stephanie Di Figlia-Peck and Amy Rosenfeld, Registered Dietitians, for a family cook along program, in honor of National Nutrition Month. Participants will learn about nutrition through an interactive trivia game while practicing healthy cooking techniques and fundamentals. Recipes will be provided ahead of time so you can cook along together.
This community program is brought to you by Cohen Children's Medical Center and Northern Westchester Hospital, both part of Northwell Health.
This virtual event is open to the public and is appropriate for children 9+. Registration is required.
This program will take place via Zoom. The recipes and link will be emailed to you prior to the program. If you plan to cook along with us, it is recommended that you prep out all ingredients ahead of time (ie. measuring out amount needed, preheat oven, etc).
For questions about this event, please email powerkidsccmc@northwell.edu.
For more information about the POWER Kids program, please visit their website and follow them on Facebook, Twitter, and Instagram at @powerkidsccmc.
About our Presenters:
Stephanie Di Figlia-Peck, MS, RDN, CDN, CDCES: Lead Registered Dietitian, Pediatric Service Line; Program Nutritionist POWER Kids Weight Management Program; Cohen Children's Medical Center/Northwell Health. Stephanie has been a Registered Dietitian Nutritionist for over 30 years and has a dual master's degree in Nutrition and Exercise Physiology from Columbia University, Teacher's College. She incorporates nutrition and physical activity guidelines for health and wellness into all of her recommendations and is passionate about educating and empowering others to be able to plan and create meals and snacks that elevate health. She has worked with the POWER Kids Program for the past 10 years establishing a foundation for patients and their respective families to collectively gain knowledge and skills to best manage their weight and health while gaining confidence and learning consistency. Stephanie loves cooking with children and taught a Healthy Snack Cooking class in her community for 5 consecutive years as part of National Nutrition Month. She is also a Certified Diabetes Care and Education Specialist.
Amy Rosenfeld MS RD CDN: Senior Program Manager, Community Health Team at Northern Westchester Hospital. Amy received her M.S. in Clinical Nutrition from New York University and completed her registered dietitian/clinical training at the New York Presbyterian Hospital. Amy's specialty as a dietitian is culinary nutrition - teaching how to apply the principles of good nutrition to our cooking techniques and food behaviors. In her current role, Amy oversees all nutrition based community programming at Northern Westchester Hospital including teaching kitchens. Amy also consults teams at Northwell Health to devise teaching kitchen and educational strategies at the system level. Amy seeks to inspire people to be nourished for life – developing sustainable, personalized and positive health habits at any age. Amy's true passion is gathering people to cook and eat delicious, healthful meals together.
Disclaimer:
You are now directed to a third-party registration site, Eventbrite. Please note that Eventbrite is a third-party information portal that is not owned, operated, or managed by Northwell Health. Your use of Eventbrite is solely at your discretion and is governed by Eventbrite's Privacy Notice and Terms of Service. Northwell Health does not make any representation or warranties of any kind, express or implied, with respect to the contents or operation of this website.
About the organizer
For questions about this event, please contact Center for Healthy Living at CHL@northwell.edu.