Kids' Halloween Art Brunch at Museum of Children's Art 10/31/2020 9:30 am to 1:00 pm Organized by Tech and Soul Food
About this Event
Join us for a family oriented art party on Halloween 🎃
Children are welcomed to have a safe and fun time at Oakland's Museum of Children's Art (MOCHA). The event will feature face painting kits, games, art activity, snacks, goodie bags and a costume parade. Light snacks will be provided. All are welcome but the art activity is for elementary or middle school students. Guardians must stay with the children as the participate at the event.
This years theme is Halloween in Wakanda. Costumes are encouraged.
The event will be held outside under the awning in front of the museum. We will be following social distancing protocol as set by the MOCHA staff. Face coverings must cover both the nose and mouth as mandatory part of all event participants. Indoor restrooms are available in the venue.
Event schedule
9:30 Check in
10:00 Art Activity begins 4 projects
11: 00 Dance Contest
12:00 Art Activity ends Intermission
12:20 Costume Parade
1:00 Event ends
Donations are to cover the event costs (Museum rental, party supplies, etc) and to support our computer lab located in downtown Oakland the provides distance learning classes for Oakland public school children. We give approximately 300 instances of service per week at this location. Thanks for your help with our expenses by donations.
Suggested donations amount is $ 10 or more per ticket. Any amount of charitable money donations will help and is still accepted with gratitude. No one will be turned away due to lack of funds.
The donations tiers are-
$1-9 the child will be put on a waitlist for activities. The young person can interact with our guests. Play games is also included. Of course, we welcome the children to show off their costume in our parade. Plus can enjoy snacks and gift bags.
$10 - $20 the child has all the lower tier access plus can participate in all MOCHA staff guided activities.
$21 - $50 gift baskets discounted and all access to lower tiers benefits. Post event thank you gifts are a part of this level of giving.
Sponsorship information starts $100 and will receive a personal email from our Director with details of how your contribution will help keep our children safe during these days.
Sponsors listed for this event-
Vegan Mob
Everett and Jones Super Q (Berkeley)
Dope Era
AU Lounge
Atterberry Engineering
Every parent or guardian and child must have a ticket. Children are not allowed to participate with out a guardian present for the duration of their time at this event. Any children left unattended will be escorted to security office of City Center.
We appreciate those who chose to gift their tickets to other attendees. Just let us know via a message to the event organizer, Dream Nefra. She is also the director of Tech and Soul Food.
Tech and Soul Food is a non profit organization that was founded in Oakland, Ca in 2015. Through partnerships and organizing the group, which is volunteer run mostly, helps communities through out North America.
The museum is located in City Center. It is very close to the 12 th street BART station. It is accessible by AC Transit bus lines 12,14, 29, 33, 51, 88, 72, & 96. There is a parking garage available at City Center.
Let's have fun in a safe social distancing environment. See you there!
Please follow us on social media-
Instagram- @techandsoulfood
Facebook Group - Tech and Soul Food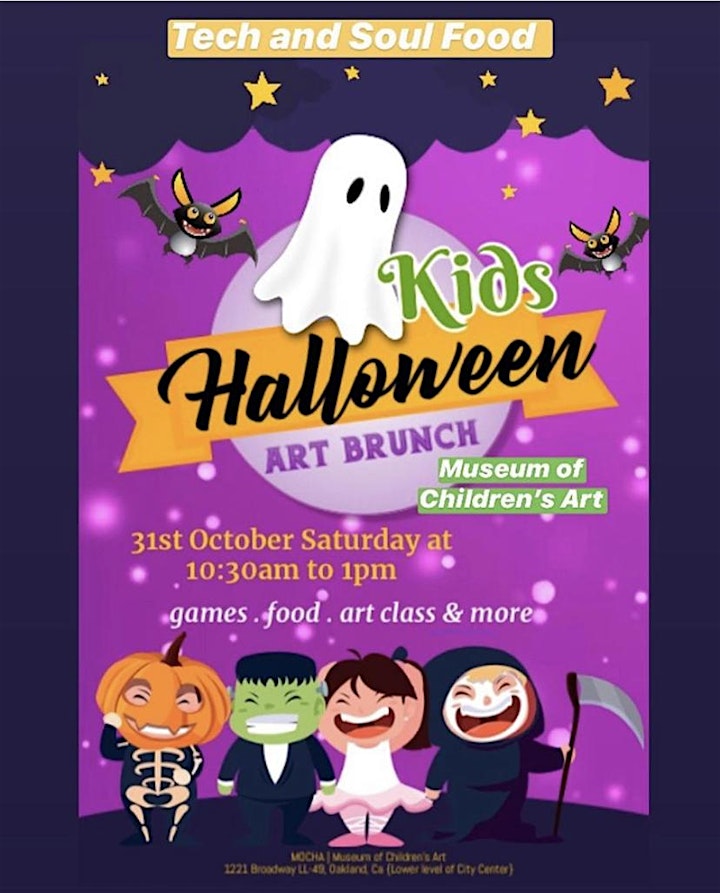 The event starts at 9:30 am . We added an hour early for more fun!