Description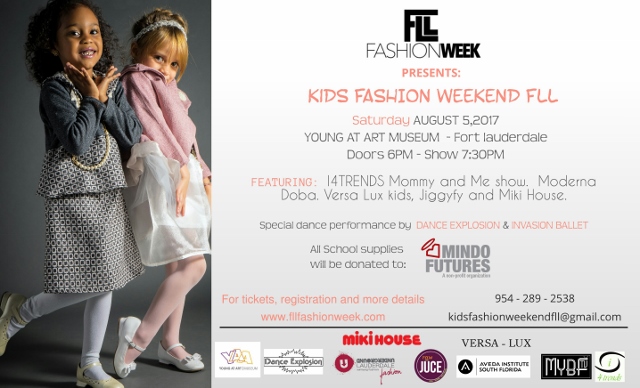 Kids Fashion Weekend FLL is planning to be a global event staged in the Fort Lauderdale area featuring a fashionable schedule of runway shows and performances as well as activities for children from 7 to 15 years old and their parents.

Fort Lauderdale's only dedicated children's fashion weekend event that puts kids fashion on the map. It will be taking place at the prestigious YOUNG AT Art Museum Fort Lauderdale on August 5th 2017.
Our mission is to create an event where kids can learn the importance of self-expression, diversity, friendship, acceptance, education, and giving back to their communities. A place where self-esteem, and talent can be developed.
Creating opportunities for emerging adult and kid designers as well as impacting the kids fashion market and beyond are some of our goals.
Participating designers: Moderna Doba . Versa Lux Kids . Miki House . I4Trends Mommy and Me special showcase and few more...

Ballet performance by Dance Explosion Studio.
Registration is required in order to participate as a model at Kids Fashion Weekend FLL. Registered model is guarantee to walk on the runway with one of designers and international brands participating in the show. Models must be available to attend the models boot-camp: Learn how to walk on the runway, meet the designers and participate in dance rehersal.

Submission deadline will is June 17/2017
Online submission at http://www.fllfashionweek.com/kids-fashion-weekend
General Admission Tickets will go on sale Monday 5 /15/17. First come first serve, we only have a limited amount of tickets!
Featuring: Moderna Doba, I4Trends, Versa Lux Kids and more...

For more information and online submissions childrens age of 7 - 15 years old, Designers and sponsors please visit http://www.fllfashionweek.com/kids-fashion-weekend
Or e-mail kidsfashionweekend@gmail.com
Hosted by MISS BOCA RATON - EMELY RUIZ