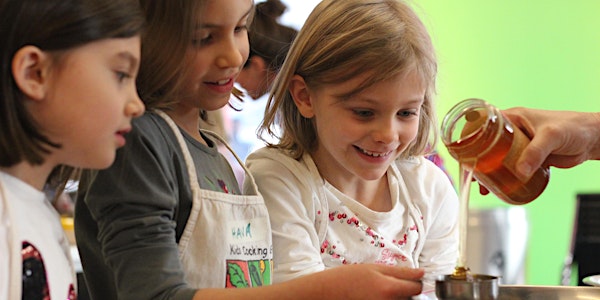 Kids & Family Programming: February Vacation Week
When and where
Location
The KITCHEN at the Boston Public Market 100 Hanover Street Boston, MA 02108
Description
February Vacation Week in The KITCHEN: Programming for Kids & Families
Presented by The Trustees of Reservations
The week of February 20th-24th is February Vacation Week and The KITCHEN at The Boston Public Market has programming planned every day to keep your family busy!
Monday-Wednesday | Kids in The KITCHEN: Cooking Camp!
Tuesday | Pizza Party in The KITCHEN
Wednesday | Decorate a Pot & Plant a Bulb with Stow Greenhouse
Thursday | Fresh, Fast & Delicious with Project Bread
Friday | Superfood Society, Demos with Taza Chocolate & Family Dinner Night
IF YOUR CHILD OR SOMEONE IN YOUR GROUP HAS A FOOD ALLERGY, please email kitcheninfo@thetrustees.org and provide details of what foods to avoid.
Monday-Wednesday | 9:30 am-12:30 pm | Kids in The KITCHEN: Cooking Camp!
Cost: $48 per day Trustees of Reservations Member; $60 per day Non-Member
The KITCHEN has teamed up with the Boston Public Market to provide a February Vacation Week Cooking Camp for kids age 6-12. The half-day program (9:30 am to 12:30 pm) revolves around seasonal food, learning to cook and making healthy food choices independently, and about local farmers and how they grow/produce the food we eat. The program will include: hands-on cooking lessons, talks and demos with vendors, story-time, crafting, and other fun activities! Each day we will welcome a different BPM vendor to run a portion of the program:
Monday, February 20 - Red's Best
Tuesday, February 21 – Corner Stalk Farm
Wednesday, February 22 - Chestnut Hill
Classes are deliberately small (max 20 kids) so please register in advance to guarantee a spot.
Additional Programming in The KITCHEN
Tuesday, Feb 21st | 1:00-3:00 pm | Pizza Party in The KITCHEN
Cost: $7 per small pizza (advance ticket required)
Make your own personal pizza using fresh ingredients from the market! Roll out your dough from Somerville Bread Co., spread on the sauce, and choose toppings out of seasonal veggies from Stillman Farms. Then pop your pie in the oven, wait 15 minutes, and chow down! Each pizza is $7 and will serve 1 child for lunch or as a snack for an adult. You must purchase tickets in advance. Kids of all ages can participate.
Wednesday, Feb 22nd | 1:00-2:00 pm | Decorate a Pot & Plant a Bulb with Stow Greenhouses
Cost: $5 per pot (cash only - no advance tickets)
Plant a little bit of spring in the middle of winter! Each child will be able to decorate their own pot using paints and stickers. Barbara Rietscha, owner of Stow Greenhouses, will show participants how to plant and care for a ranunculus plant. All materials are included and plan to get dirty! No sign up required. Kids age 3+ recommended. Cost: $5 per pot
Thursday, Feb 23rd | 11:45 am -12:30 pm & 1:00-1:45 pm | Fresh, Fast & Delicious w/ Project Bread
FREE (no reservation or tickets required)
Join us for a FREE kid-friendly version of our weekly free cooking demonstration with Project Bread. Every Thursday, Chef Guy demos fresh, healthy foods that can be purchased at the market. Enjoy simple, tasty recipes that do not require a lot of time, skill, or money to prepare. Kids age 6+ recommended.
Friday, Feb 24th | 2:00-3:00 pm | Metate Demo & Tasting with Taza Chocolate
Cost: FREE (no reservation or tickets required)
Join us Friday afternoon as our favorite chocolatier demos the Metate stone grinder - the traditional Mexican technique for hand-grinding cacao beans! Kids will also get to try a bunch of Taza flavors and learn about the journey from bean to bar. This event is FREE. No RSVP required. Please arrive early to claim your seat. Kids age 3-10 recommended.
Friday, Feb 24th | 6:00-8:00 pm | Family Dinner Night in The KITCHEN
Cost: varies $12-$30 per person (advance registration by 2/21 required)
Locally-sourced Just Add Cooking meal service is hosting a hands-on cooking class in The KITCHEN aimed at teaching families and kids how to cook local and seasonal ingredients! Every second and fourth Friday this winter, kick-start your family's weekend all together with an unforgettable night out at The KITCHEN at the Boston Public Market. Everyone has a role in cooking 2-3 farm-fresh courses led by our talented chef. All gather at the communal table for a sit-down feast at the end of class. This is a hands-on class. Kids age 6+ recommended. Please register here by Feb 21. This event sells out fast so please get your tickets soon.

About The Trustees of Reservations and The KITCHEN
As one of the largest owners of agricultural land and the premier steward of the cultural and natural landscape of Massachusetts, The Trustees extends its leadership to transform the local food system by connecting residents and visitors back to the land and sharing the Commonwealth's collective agrarian heritage through innovative retail and educational experiences at the Boston Public Market in the heart of downtown Boston.
The KITCHEN is a community gathering place, managed by The Trustees, that is restoring the craft of seasonal cooking in Massachusetts, New England, and beyond through hands-on classes and educational experiences that celebrate the farmers and artisans of this region. Partnered with the Boston Public Market, The KITCHEN embraces a whole-food approach to eating and promotes cooking as an essential cornerstone of a sustainable food system.
Join The Trustees and receive 20%-50% off all classes, workshops, and events at The KITCHEN and all Trustees properties.