Description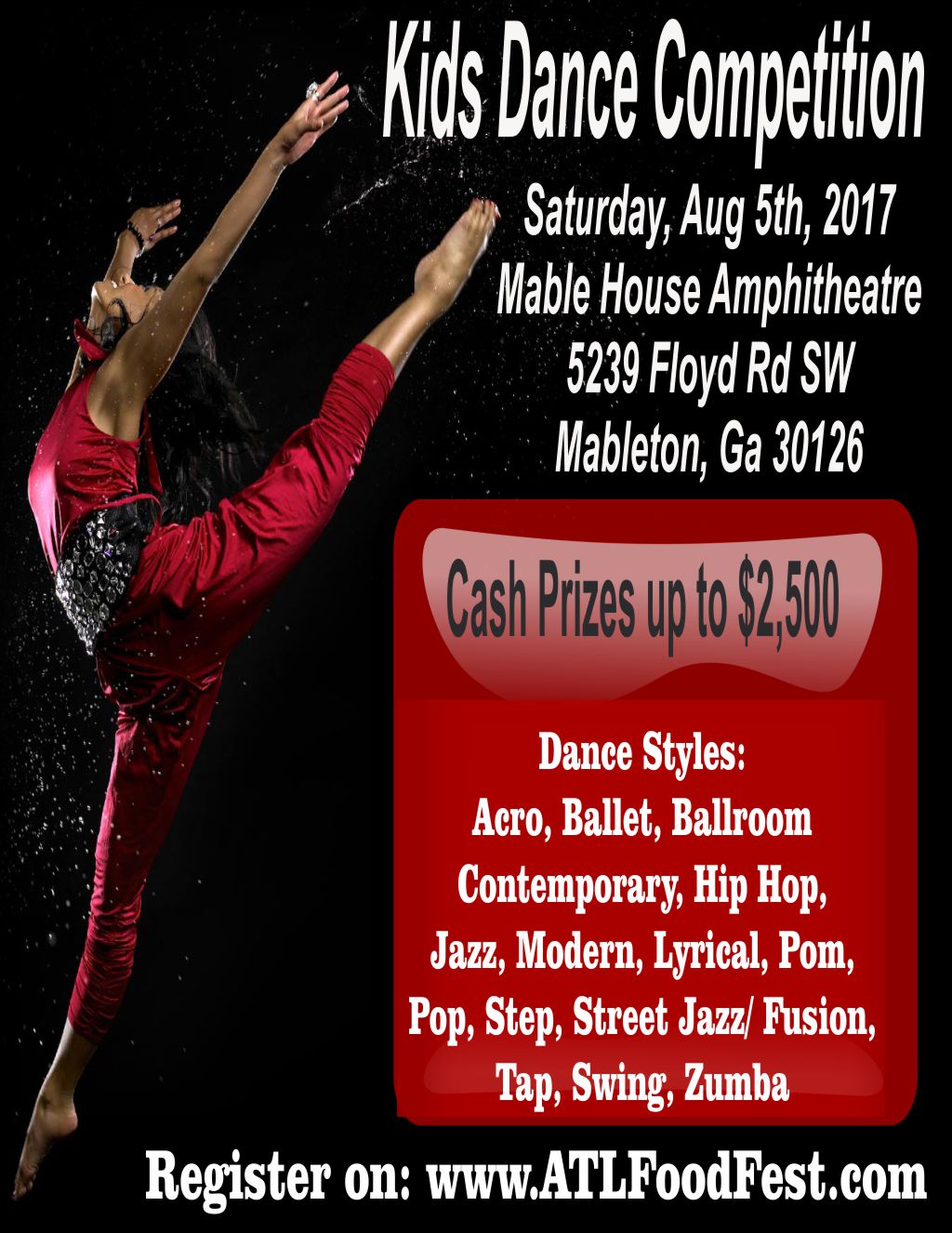 Back 2 School Kids Dance Competition & Food Festival
Vendor Registration: http://www.atlfoodfest.com/vendor-application-2015
Dance Competition Registration:
We are only accepting online registrations. Your group my register on www.ATLFoodFest.com/kidsdance

Rules and Requirements for Participation
This competition is for amateur dancers. Children must be under the age of 20 at the time of performance to participate. Judges decisions are final.
Cash Prizes
1st Prize: $1,000
2nd Prize: $600
3rd Prize: $400
People's Choice Prize: $250
Competition Entry Fee: (fees are nonrefundable and nontransferable)
Application Fee: $25​
Jr Category
Groups of 10 or less: $75
Groups of 11 or more: $100
​
Primary Category
Groups of 10 or less: $125
Groups of 11 or more: $150
Winner Selection
1st, 2nd, and 3rd place awards will be selected by a panel of Judges.
Dance: The judges will be voting on choreography, precision, technique, originality, stage presence, and attire.

People's Choice Award:
The People's Choice Award is awarded to the performing dance group by the audience and online voting. The winner is selected by popular vote.
People's Choice Award Voting Methods and Points:
Online Voting: 1 point. One vote per person per email address or Facebook account. This voting method starts July 1, 2017 at 12:00 am and ends on August 5, 2017 at 5:30 pm Eastern Time. Voters my vote online on www.ATLFoodFest.com. The access code to vote is: ATLFoodFest. There is no donation requested for this voting method.
Vote tickets: 2 points toward a dance group of your choice. Pre-order vote tickets online at www.atlfoodfest.com/buy-tickets by donating $2 per vote ticket. Vote ticket donations benefits the Inside Out Center, Inc's #ToiletriesForTeens program
Note: Voters can use one or all of the methods above for selecting the People's Choice Award recipient. All voting methods will be combined to make up the total number of votes.
Benefit

The Inside Out Center, Inc. is a 501(c)3 nonprofit organization dedicated to lending a helping hand to our veterans, homeless, unemployed and the working poor. We focus on providing clothing, food, emergency financial assistance, job training, budgeting techniques, small business seminars, and interviewing skills for our clients. One of the ways we assist our families is with our annual back to school festival. The proceeds from the event will help our #ToiletriesForTeens program.