About this Event
Celebrate Halloween 2020 with Kids' Country
Come join Kids' Country on Saturday, October 24th for a unique drive-thru Halloween experience. Your journey will begin with a welcome from our Master of Ceremony and include a stop at our digital family photo booth before you drive through Halloween decorated scenes. Kids Country staff will be handing out balloon creations and goody bags. Last stop - pick up that pre-ordered pizza to enjoy when you get home!
Our many TREATS to look forward to:
Kids' Country Goody Bag! Yes, there will be candy!
Balloon Creations skillfully fashioned by our own Master Balloon Sculptor
Festive Halloween music playing throughout the Drive-Thru
Halloween themed scenes created by our own Kids' Country Teachers!
Digital Halloween photoshoot. This digital photoshoot will be against an autumn backdrop. (Our photographer will be 6ft socially distanced to take your photos. Families will receive their photos via email.)
(EXTRA ADD-ON) *A Large Cheese-14" pizza from Mountain Mike's Pizza. *Pizza is PRE-SALE ONLY. On location pizza purchases will NOT be available. Attendees can order up to two pizzas per vehicle. Pre-sale for pizza ends Sunday, Oct. 18th @ 11:30pm (PST).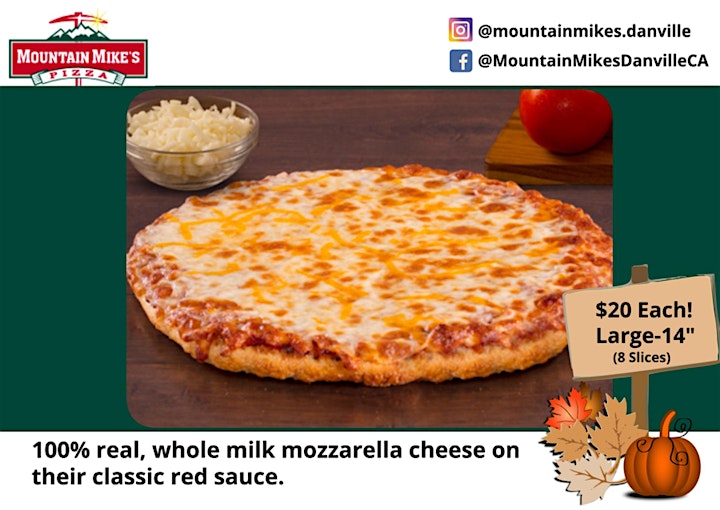 How does it work?
To ensure safety and social distancing for each vehicle, we are offering four different time slots for families to choose from. (drive thru experience is about 5-7 mins per vehicle):
Slot 1| 4:30pm-5:00pm
Slot 2 | 5:00pm-5:30pm
Slot 3 | 5:30pm-6:30pm
Slot 4 | 6:00pm-6:30pm
Upon arrival, our Master of Ceremony will greet each vehicle as their henchmen check you in (safely distanced).
After check-in attendees will be directed to drive to our Digital Halloween photoshoot where your family picture will be snapped in front of our autumn backdrop. Photographer and photographer assistant will be distanced 6ft while you show off your poses. Digital photos will be sent to attendees via email.
After the photoshoot attendees return to their vehicles and begin their Kids' Country Drive thru Halloween!
All attendees are to stay within their vehicle throughout the entire experience.
COVID-19 Guidelines for All Attendees & Staff Volunteers: Keeping our community safe has been and always will be a top priority for Kids' Country. This Kids' Country event follows the CDC guidelines for Halloween/ Holiday Celebrations. Click HERE to view CDC Guidelines for Holiday Celebrations
All event attendees and Kids' Country staff are required to wear protective masks.
All Kids' Country staff are required to sanitize their hands and wear gloves when handing out goodies.
All attendees must remain in their vehicle throughout the experience. (with the exception of the socially distanced digital photoshoot )
Maximum number of passengers is limited to legal limits of your vehicle.
Taking photos/video of the event is allowed. Please tag us! #kidscountry.srv
Goodie bags are pre-wrapped by our staff and will be handed to you by a Kids' Country teacher at the end of the drive-thru.
100% of the proceeds from this event will go to the Kids' Country Relief Campaign | Save Our Sun (S.O.S.)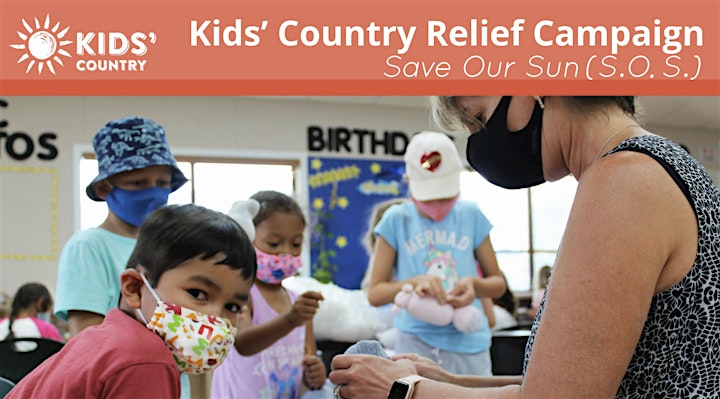 "KC Relief Campaign | Save Our Sun (S.O.S)"
As a trusted school age child care provider in the San Ramon Valley for the past 35 years, Kids' Country is seeking your support to ensure that we are here for another 35 years and beyond!
On March 16th, Kids' Country's closed its doors for the first time since its establishment. This decision was to help stop the spread of COVID-19 in the community and to protect the health and safety of children, families and employees.
As an organization founded by parents who saw the need for a safe, convenient and fun place for their children, Kids' Country relies on enrollment to thrive and serve the community. Though we reopened under strict COVID-19 guidelines on June 1st, enrollment continues to be low. Kids' Country, a nonprofit 501(c)(3) is facing a projected $2 million shortfall. Without continued donations and increased enrollment, Kids' Country is at high risk of closing its doors permanently, losing the quality & enriching experiences that support the development of children here in the San Ramon Valley.
To learn more about us or make a critical donation please visit our website or our Go Fund Me page buttons below.
Learn More about Kids' Country
Make a critical donation to Kids' Country
We hope to see you (socially distance) at our Halloween Drive Thru Event!
- Kids' Country