Description
Enroll your junior chefs ­— ages 7 to 11 — in Kids Cook at the Market classes, where they'll cultivate culinary skills and experience a cornucopia of farm-fresh foods!
At Kids Cook classes, kids learn about the seasonality of food, meet local farmers, and prepare ingredients purchased fresh at the market. Classes include shopping the market for ingredients, hands-on instruction, a shared meal, and recipes to take home so students can share what they learn with family and friends.
NEW this year! Classes will be held at both 10am and Noon at King Farmers Market on Sunday.
June 3 - Spring Veggie Omelets
July 1 - Vegetable Fritters
August 5 - Summer Greek Salad
September 2 - Gazpachos
Tickets are $10 per child, per class. ($5 per child for SNAP recipients)
About the Instructors:
Spring Veggie Omelets (June 3) & Summer Greek Salad (Aug 5) with Beth Gates of Cook First PDX:
Beth Gates is an avid cook and eater. She spent twenty years working with arts organizations and creative agencies in the Bay Area and Portland. For the past year she has been studying in the Graduate Certificate in Sustainable Food Systems program at PSU and sharing hands-on cooking skills with youth by teaching after school classes and summer camps. She also loves to travel and explore foods around the world, hike and bike anywhere, and grow food in her own garden.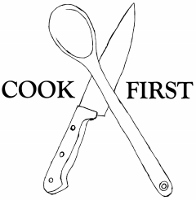 Vegetable Fritters (July 1) & Gazpacho (Sept 2) with Nicole Hoffmann:
Nicole Hoffmann is a trained chef and enthusiastic educator about all things food! Nicole ran the unique Abernethy Scratch Kitchen for Portland Public Schools for 5 years, cooking for and with the kids there, and teaching gardening and cooking classes and camps with the Abernethy School Kitchen Garden program. She has taught cooking classes to folks from age 5-65 and currently prepares thoughtful meals for small gatherings, teaches cooking classes, and pushes the limits of her home oven in pursuit of the perfect pizza.
*photo by Amy Nieto