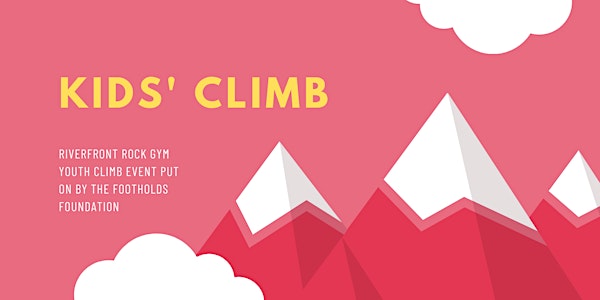 Kids' Climb
Join us for a fun morning and afternoon of climbing at Riverfront Rock Gym on January 17th from 10:30-12 OR 12:30-2.
When and where
Location
Riverfront Rock Gym 1319 Walla Walla Avenue Wenatchee, WA 98801
About this event
12 spots for the morning session and 12 spots for the afternoon session are available to eligible youth. Please await confirmation email to know if you received one of the spots! The confirmation will have information about COVID-19 precautions, what to expect, information about filling out the required waiver, and your e-ticket to the event.
Kids, ages 5-17, who do NOT have a rock climbing gym membership and would not typically get the opportunity to climb are invited/eligible! First-time climbers are welcome!
Gear and entry fee are provided- the event is free!
Event sponsors/organizers:
Footholds Foundation is an outdoor non-profit organization that promotes climbing opportunities in North Central Washington (Chelan, Douglas, and Okanogan counties) for marginalized or minority youth. We promote equity in climbing and the outdoors. Our efforts are supported by fundraising events and generous donors. Website: https://www.footholds.rocks/
Riverfront Rock Gym is the premier rock climbing gym in Central Washington. It offers bouldering and sport climbing. The gym is generously hosting the event.