kidOYO Summer Experience [@Stony Brook U] July 15th - July 19th *Wk2*

Monday, July 15, 2019 from 9:00 AM to 4:00 PM (EDT)
Event Details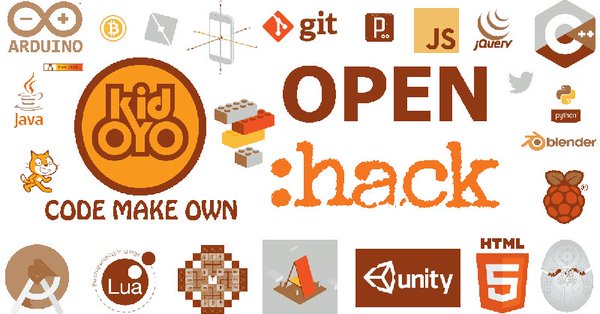 SUMMER @ STONY BROOK UNIVERSITY, COMPUTER SCIENCE DEPT.
JULY 15th - JULY 19th
9:00am to 4:00pm
(Ages 8 - 17)
This program requires the student to bring a laptop.
kidOYO summer camps evolve year to year. In 2013 it was all about Minecraft Modding in Java. In 2017, Roblox Studio and Lua programming took over. Technology changes, and kidOYO changes too.
Every kidOYO summer camp is designed as its own 1 week experience, so that kids attending multiple weeks can have different experiences. Kids participating will learn from our mentors how to write their own programs in multiple languages, including beginner languages like Scratch, as well as more robust real world project-development languages like Python, Java, html, css, Javascript, Lua, C variants, CAD programs and more. The language is not the priority, helping kids use their creative imagination and giving them access to the methods of self-led learning is.
Summer learning differs from our semester programs in that it is focused on learning via play, using the purpose of summer fun to propell student motivation in this area of learning. All kids in our care will learn to program in multiple languages, and will produce a portfolio of project-work that they will be able to show to parents as part of a student-owned portfolio, as well as during "Demo Day" that concludes each week of camp.
kidOYO summer camp weeks never produces the same experience twice so students can choose from attending single weeks or multiple weeks. Each week will allow kids to personalize their own experience, and gain knowledge that will progress from one week to the next.
Often, kidOYO mentors are prototyping new interactive learning games with students. Kids will not only learn from, but will learn with CS student-mentors from top University CS programs in the Nation. Many kids will choose to engage physical computing projects bringing coding and hardware engineering together in an experience. Circuitry, sensors, motors, CAD programs, 3D printing, and many unique prototyping experiences await their engagement.
Our goal at kidOYO is not defined by CS, STEM, or any other such term. Our goal is self-led creativity that connects real world skills to empathy so that kids can start seeing problems in the world around them that they are equipped to provide solutions for. This is the future of learning, and it happens every summer at kidOYO.
Who Are kidOYO Mentors?
kidOYO Mentors are a lot of different types of people.  Some are software developers (OYOclass.com -in use by school districts across New York.) Some are toy and learning product developers ( with products sold by Toys R' Us, Target, Costco...)  Some are computer science and engineering undergraduates, masters and graduates . Collectively we are passionate about helping inspire and empower creativity in people.  Follow our Twitter feed to see us in action @kid_OYO
Each ticket purchase includes five days of summer camp tuition with events running from 9am - 4pm. Each student will receive a tshirt & other surprise kidOYO Swag... 
 FAQ:
What do students need to bring?

Laptop, Charger, backpack, case or roller case to carry the supplies between classes.  kidOYO students move between classrooms and buildings on campus so having a set up that enables easy movement is key.  

Water bottle

Snack or money for vending machine runs

Lunch or Wolfie Card 

How do I get a Wolfie Card?

If you would like your child to have the opportunity to purchase lunch from one of the university dining halls, where we all eat each day, you must have a Wolfie Card.  A Wolfie card is loaded with money via an online service.  You can manage your child's funds and add addiitonal money if needed.  To get a Wolfie Card please email info@kidOYO.com to request yours.  

How does Drop Off and Pick Up work?


Drop off and Pick Up for camp will happen at the parking lot side of the Graduate Computer Science Building located at the end of Lake Drive. http://www.stonybrook.edu/sb/maps
kidOYO Mentors will be outside the building waiting to check kids in each morning and sign them out each day.  If you arrive after 9:00am and the kidOYO mentors are not outside please park and walk your child to class.  Class will begin each day in the adjacent New Computer Science building, Room 120, located on Engineering Drive. ***IMPORTANT*** Students registered for this program are not permitted to be on campus without adult supervision at ANY time.  If you miss the drop off window you MUST PARK your car and walk your child to glass, regardless of their age or your willingness.  Students who are left to walk unattended to class will be removed from the program and no refunds will be available.   

Where can I park?

Please only park in designated paid parking spots or spots marked Residential.  The lot at the top of Lake Drive is open Residential parking.  One week before camp begins you will recieve an email full of information and maps/directions to drop off and parking.

Where will the classes be held on campus?

Students will spend time in the Graduate Computer Science and New Computer Science buildings during class time.  They will dine in both SAC and East Side Dining.  They will spend time in and around the open outside areas of campus.

How do I reach the instructors during they day?

The best way to reach the kidOYO camp instructors/directors during the day is via email: info@kidOYO.com.  You may also text to 631.223.8725

Is Aftercare available? 

If you need a later pickup time, aftercare if available until 5:30 each day for an additional cost of $20 per day.  Please contact info@kidOYO.com to arrange your aftercare reservation.
Stony Brook is a HUGE campus.  If you have never been to campus before please allow yourself AMPLE time on the first day.  Here are some helpful maps of campus.  http://www.stonybrook.edu/sb/maps
We are focusing on kids aged 8-17 (inquire for more info if your child falls outside this window.  We try not to draw hard lines on ages groups...interest is what is most important).
Save This Event
When & Where
Computer Science Bldg
Stony Brook, NY 11794


Monday, July 15, 2019 from 9:00 AM to 4:00 PM (EDT)
Add to my calendar
Organizer
Developers of OYOclass.com, CS/Engineering/Entrepreneurship infrastructure in use by pre-K-12++ classrooms & organizations.
We run programs of multiple types and formats:
Semester-long Programs (Fall/Spring)

Summer Programs

Winter/Pop-up Programs

CodeLI.org Events

FredxCoders.com Events

Professional Development Opportunities