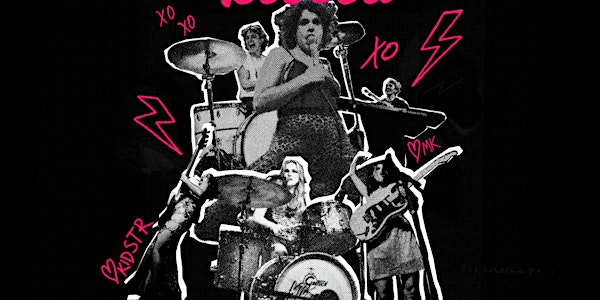 Location
DC9 Nightclub
1940 9th St NW
Washington, DC 20001
Kid Sistr

WEBSITE | FACEBOOK | INSTAGRAM | TWITTER | SPOTIFY

Kid Sistr is the all-women bubblegum rock trio that the worlds needs right now. Members Sabel (guitar) Sara (bass) and Becca (drums) turn Trader Joe's gluten free pizza and shitty ex-boyfriends into guitar-pop ear candy that steals hearts. Their focus on femmes supporting femmes, finding the humor in heartbreak. Think Y2K childhood babysitter who straightened your hair and let you borrow her mascara. Think of your next favorite band.

Moon Kissed

WEBSITE | FACEBOOK | INSTAGRAM | TWITTER | SPOTIFY

Emily, Khaya, and Leah met at a New Year's party on the lower east side in New York City. Their self-released debut album, aptly named, I Met My Band At A New Year's Party, draws upon themes of youth, heartbreak, and the quiet power behind vulnerability. It features infectious hooks, virtuosic synth lines, and unique drum melodies. the producer, Khaya, takes inspiration from acts like Chairlift, Charli XCX, Grimes, and St. Vincent; and feels a deep connection to the soundscape she's created for each of the songs.

This band is sheer, unadulterated energy. the connection between them is undeniable, and palpable in the air when they perform. Since meeting on New Year's of 2019, they have played 50+ sweaty, intense shows all around Brooklyn, Manhattan, and the East Coast. The purpose of their shows is to create a moment, to hone the magic that happens between audience and performer when music is going on. It is cathartic, exhilarating, and intimate. Plus, Leah falls in love with someone in the audience at every show, which adds an element of surprise.