Description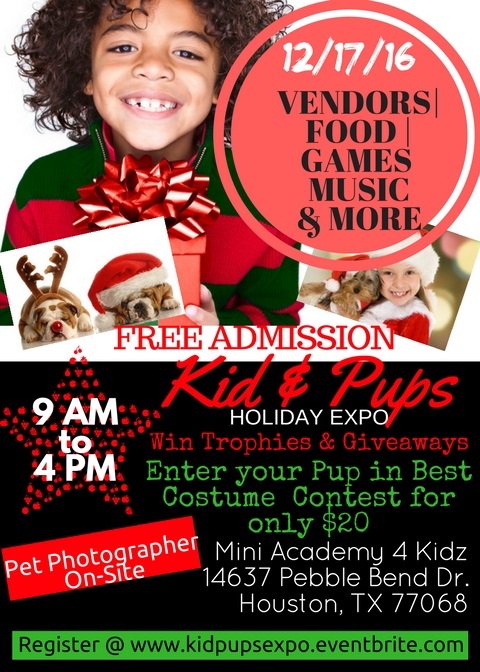 FREE DAY OF FUN FOR THE ENTIRE FAMILY. Join us for the Annual Kids and Pups Holiday Expo. An indoor and outdoor event to celebrate the Holidays. There will be Food, Vendors, Crafts, Music, Christmas Carolers, Face Painting, and Surprise Guests.
Enter your Pup into the "Best Puppy Costume Contest" for only $20, and earn a chance to Win Giveaways and Trophies.
Proceeds from Sales will benefit Mini Blessing 4 Kidz, a 501c3 Non-profit dedicated to STEM Education and Young Leader Development.
For more information contact the Event Coordinator- Divinely Inspired Events divinelyinspiredevents@gmail.com
_________________________________________________________________________________
Kids & Pups Expo RULES:
1) Small Dogs, 35 lbs or less allowed on premises.
2) DOGS MUST BE LEASHED AND UNDER CONTROL AT ALL TIMES, current on all vaccinations, and wearing a current rabies tase. Aggressive dogs are not permitted on the premises. Dogs must be removed at the first sign of aggression. By bringing a dog to this event, you are taking responsibility for any damage or injury caused by that dog to any person or other animal.
3) In addition, if you or your dog are injured or suffer damage from a dog at this event, you agree that Mini Academy 4 Kidz, Mini Blessing 4 Kidz, Divinely Inspired Events, Its Successors and or assigns are not responsible for the damage or injury.