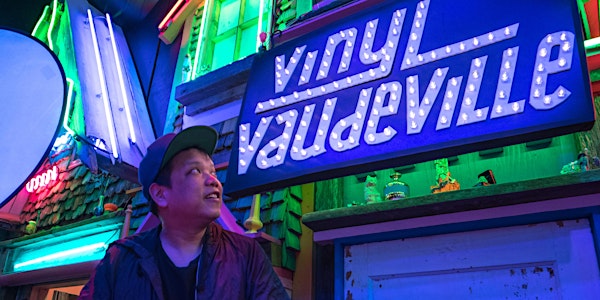 Kid Koala's VINYL VAUDEVILLE / Adira Amram and the Experience
City Farm Presents Summer Series at Industry City
Location
Industry City
238 36th Street
Courtyard 1-2 (Food Hall Entrance)
Brooklyn, NY 11232
City Farm Presents:
Summer Series at Industry City
✹ Kid Koala's VINYL VAUDEVILLE
✹ Adira Amram and the Experience
About this event
Doors 2:00PM ✹ Show 3:00PM
$25 ADV ✹ $30 Day of Show ✹ All Ages!
$15 Teen Ticket - for teens 11-15 years old
$50 Family Pack Ticket - buy two adult tickets and get one free ticket
**CHILDREN 10 AND UNDER GET IN FREE!
ABOUT SUMMER SERIES AT INDUSTRY CITY▶
Created by the team behind Brooklyn venues The Bell House and Union Hall, City Farm Presents returns to Industry City for a second summer of outdoor shows in Courtyard 1-2! From June-September, this season features an expanded schedule with more than 35 concerts and dance parties. Audiences can expect to discover a diverse line-up featuring genres spanning rock, soul, electronic, jazz, world and beyond. This summer will introduce thoughtful artist curation to an already unique and creative space, bringing a fresh take on the New York City outdoor concert experience. For more information, visit our Website or the City Farm Presents Facebook, Instagram or Twitter.
All Summer Series shows are located at Industry City in Courtyard 1-2 (info and directions below).
Doors open one hour prior to performance unless otherwise noted.
VENUE ADDRESS ▶
Industry City - Courtyard 1-2
Entrance at 238 36th Street (Food Hall Entrance)
Brooklyn, NY 11232 | Google Maps
DIRECTIONS TO THE VENUE ▶
☞ BY CAR
There is a paid designated parking lot accessible via 2nd Avenue between 32nd Street and 36th Street
☞ BY PUBLIC TRANSPORTATION
D / N / R to 36th Street
B63 Bus to 36th Street
☞ BY BIKE
There are bike racks located throughout the Industry City campus.
There is a Citi Bike bike sharing station located at 2nd Ave between 36th Street and 35th Street, and another at the corner of 2nd Ave and 39th Street.
FOOD OPTIONS AT INDUSTRY CITY▶
Eat your heart out Brooklyn. From Korean comfort food to Instagram-famous Avocado toasts, Industry City's Food Hall is a delicious culinary gathering place in the center of campus. Stroll along Innovation Alley and beyond to discover other Brooklyn-based purveyors serving up local craft spirits distilled on site and some of the country's best BBQ.
Table 87 Pizza
Burger Joint
Ends Meat
Avocaderia
Taco Mix
Recently opened Japan Village (Building 4)
Hometown BBQ (Building 5 - Opening Soon!)
Click Here For Food Options Near Courtyard 1-2 in Industry City
VENUE BAR HOURS ▶
Our venue bar is open for all scheduled performances at doors, and in addition to:
Thursday-Friday: Opens at 4:00PM
Saturday-Sunday: Opens at Noon
✴ Happy Hour! ✴
Weekdays 4:00pm-7:00pm, $1 off all beer, wine and well!
RAIN OR SHINE POLICY▶
All Performances are Rain or Shine. In the event of dangerous weather we will be communicating updates on our website, Facebook, Instagram Stories and Twitter.
✹✹✹✹✹✹✹✹✹✹✹✹✹✹✹✹✹✹✹✹✹✹✹✹✹✹✹✹✹✹✹✹✹✹✹✹✹✹✹
ABOUT KID KOALA'S VINYL VAUDEVILLE ✹
Now featuring TURNTABLES! DANCERS! GIANT SPIDERS! GIANT PENGUINS! BRASS PLAYING ANTS! DANCING LAPTOPS! SINGING ROBOTS! 9 FOOT OGRES! GIANT PAPER AIRPLANE FIGHTS!
JOIN US as KID KOALA and an amazing team of DANCERS and PUPPETEERS throw the SILLIEST PARTY in the HISTORY OF SILLY PARTIES!
HEAR classic KID KOALA tracks from every era as well as brand new unreleased tracks created especially for this show! IN TOWN FOR ONE NIGHT ONLY! NOT TO BE MISSED! KID KOALA's VINYL VAUDEVILLE EXPANDED! NOW IN IT's 4th YEAR! and STILL THE SILLIEST SHOW ON EARTH!
FUN FOR EVERY GENERATION!
COME JOIN THE FUN!
Kid Koala is a world-renowned scratch DJ, music producer, film composer, video game composer and award winning graphic novelist. He has released six solo albums, the most recent being Music To Draw To: IO featuring Trixie Whitley. He has also released two graphic novels: Nufonia Must Fall and Space Cadet. He has also been involved in collaborations such as Gorillaz, Deltron 3030, and The Slew.
Kid Koala has toured with the likes of Radiohead, the Beastie Boys, Arcade Fire, Money Mark, A Tribe Called Quest, Mike Patton, Jack Johnson, DJ Shadow, and The Preservation Hall Jazz Band. He has contributed to scores for the films Baby Driver, The Great Gatsby, Looper, Shaun of the Dead, and Scott Pilgrim vs. The World. He has composed music for The National Film Board of Canada, The Winter Olympic Games, the Cartoon Network, Sesame Street, and Adult Swim. He scored and sound designed the Floor Kids video game, the world's first hand-drawn animated freestyle break battle game on Nintendo, PS4, XBox.
Kid Koala's unforgettable live shows range from silly touring turntable carnivals like Vinyl Vaudeville (a scratch-infused variety show including dancers and giant puppets) to quiet-time events like Satellite Turntable Orchestra, and Nufonia Must Fall, a live animated graphic novel performed, filmed, projected, and scored in real time by a team of 15 using multiple cameras, miniature sets, puppets, a string quartet, and Kid Koala on piano and percussion.
ABOUT ADIRA AMRAM AND THE EXPERIENCE ✹
ADIRA AMRAM & THE EXPERIENCE is a satirical musical comedic group. Adira is a comedian, singer/songwriter, dancer, choreographer and writer. Jessi Colon is a dancer, teacher and choreographer as well as an accomplished pole dancer. Maresa D'Amore-Morrison is a multidisciplinary dance artist and choreographer. They are frequent collaborators of Kid Koala in addition to performing with other artists including Ophira Eisenberg, Broad City, Arden Myrin and Kristen Schaal. They released their first record Hot Jams For Teens on North Street Records. Their music videos have been featured on funnyordie.com, huffingtonpost.com and ucbcomedy.com.
Sign up for our newsletter! http://eepurl.com/geb4kf