KICKSTARTER LAUNCH PARTY & BIRTHDAY GALA FOR VEENA K. @ THE 5 STAR "TULSI"

Saturday, July 27, 2013 from 8:00 PM to 11:30 PM (PDT)
Event Details
www.icpentertainment.com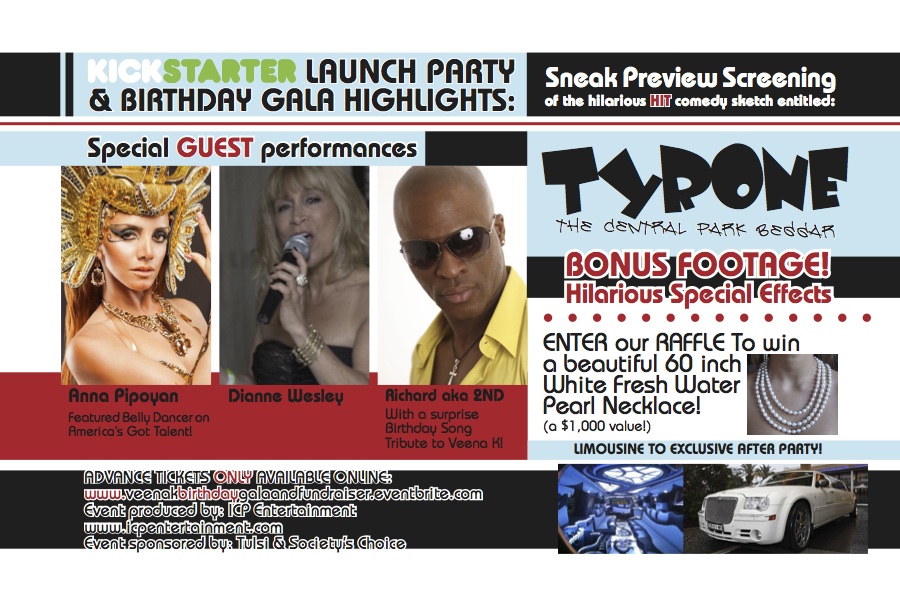 ICP Entertainment Invites you to attend the official KICKSTARTER LAUNCH PARTY & Birthday Gala for Veena K. (Kondapalli) www.facebook.com/veena.kondapalli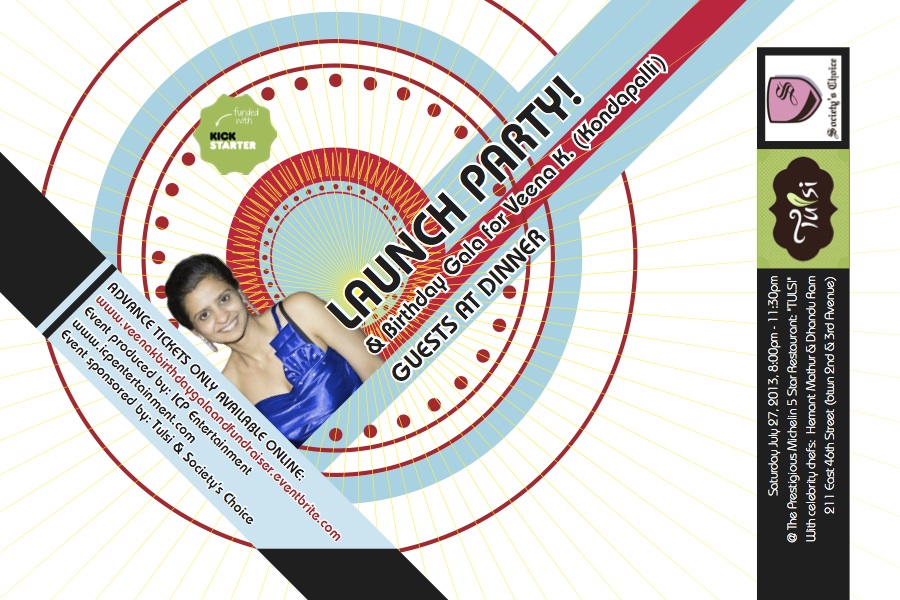 The Production Manager for The Rhyme Impersonator Show!.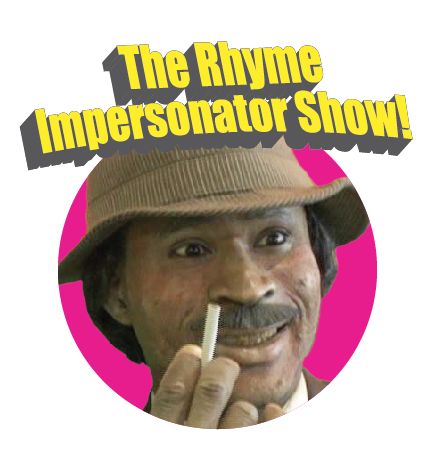 "A hilarious new half hour comedy series set in new york city featuring original characters and celebrity impersonations"
The event will be hosted at the 2 time Prestigious Michelin 5 Star rated  Restaurant! "TULSI" www.tulsinyc.com  
Saturday July 27, 2013, 8:00pm-11:30pm
211 East 46th Street 
(btwn 2nd & 3rd Avenue)
With celebrity Executive Chef's "Hemant Mathur" and "Dhandu Ram!". These magnificent Chef's will be cooking up various indian fusion dishes for Veena K., her invited guests and the entire Cast & Crew of The Rhyme Impersonator Show! Your admission price will include a $40.00 Pre-Fixed 3 Course Meal, with 1 Cocktail Drink on the house (Add Tax & Tip = $55.00)
COMPLIMENTARY WINE & DRINKS WILL BE SERVED IN THE LIMOUSINE AS WELL! Whoa! :-)
The Limo will arrive @ Midnight @ Tulsi to escort all of our guests to our official AFTER PARTY SPOT @ 
THE PRESS LOUNGE
653 11th Ave
(between 47th St & 48th St)
New York, NY 10036
http://www.thepresslounge.com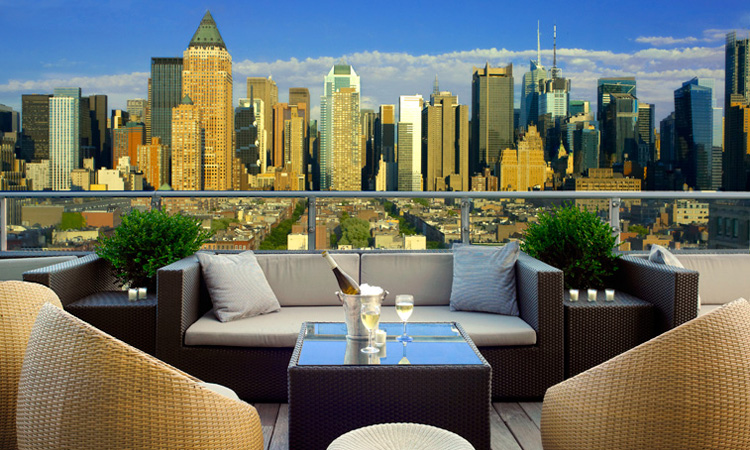 Our $100.00 Early Bird and $200 Late Bird Specials have both expired and tickets are now $300 per person.
BUT WE ARE NOW OFFERING A "GROUP DISCOUNT INCENTIVE!" FOR ALL LATE COMERS. PLEASE MESSAGE "VEENA K." (KONDAPALLI) @ https://www.facebook.com/veena.kondapalli?fref=ts or email her @ veena099@yahoo.com FOR MORE DETAILS ON YOU AND YOUR FRIENDS CAN GET INTO THE HOTTEST UPSCALE PARTY OF THE SUMMER!!!
DO NOT WAIT! PURCHASE YOUR ADVANCE TICKETS ONLY! @ http://veenakbirthdaygalaandfundraiser.eventbrite.com 
ADDED PERKS FOR OUR AMAZING NIGHT:
A $5.00 "RAFFLE" SEGMENT! (A $2,000 VALUE!)

PRIZE #1:

A beautiful 60 inch "White Fresh Water Pearl Necklace!"
One that can be wrapped around several times or worn as one long necklace)
Gift compliments of our sponsors from Society's Choice! https://www.facebook.com/SocietysChoice?fref=ts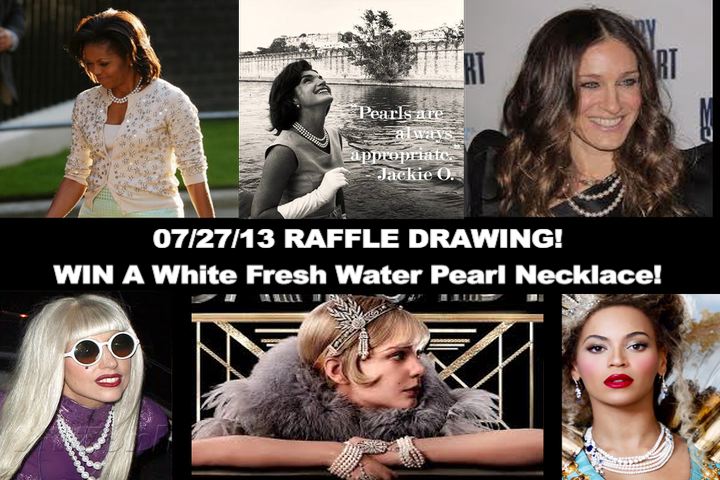 PRIZE #2: 
A 10% OFF HAMPTON'S WEEKEND VACATION!
Compliments of our sponsors: http://davidshapiro.net/
(Offer can be used for 1 or 2 guests booking an individual non-holiday weekend. Please note that rooms are shared with multiple guests. Offer is subject to restrictions and availability.)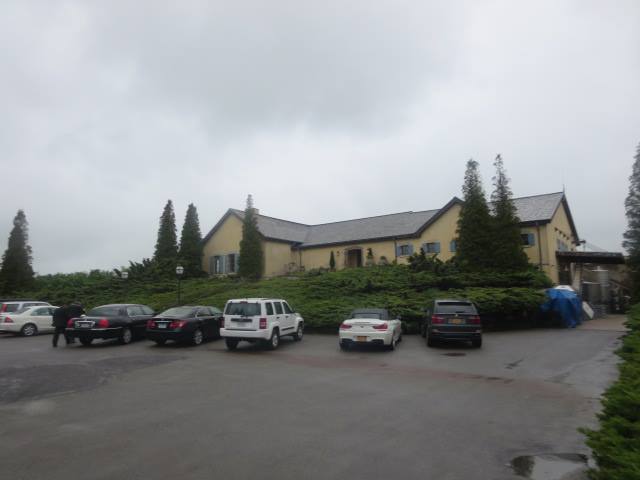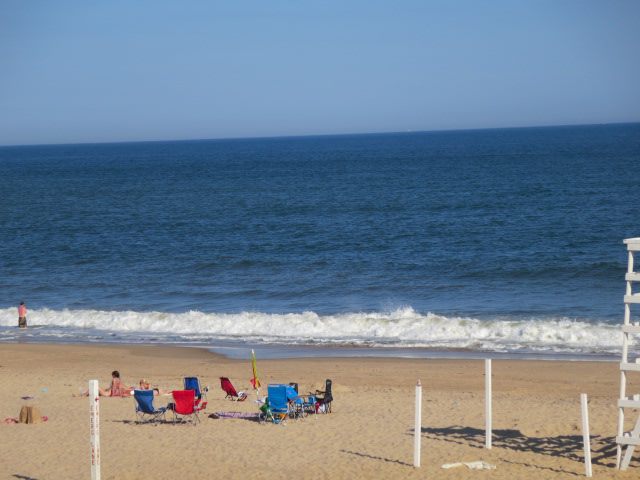 Authentic Jamaican Fruit Rum Cake!
(Topped with delicious Rum Sauce and Cream Cheese Frosting) Exclusively catered for all guests by the Executive Producer of the show! - Topped with delicious rum sauce and cream cheese frosting you truly cannot eat just one piece of this classic dessert, a true fruit cake connoisseur's delight!
Surprise Gift Bags! - For all guests and attendees.
Celebrity Fashion Photographer "Patrick Cashin" https://www.facebook.com/patrick.cashin.14 
ENTERTAINMENT HIGHLIGHTS!
Special Guest Performance by Celebrity Belly Dancer
"ANNA PIPOYAN" http://annapipoyan.com 
Featured on the HIT TV SHOW: "AMERICA'S GOT TALENT!"
WATCH HERE! http://youtu.be/t7wGgfVKSmM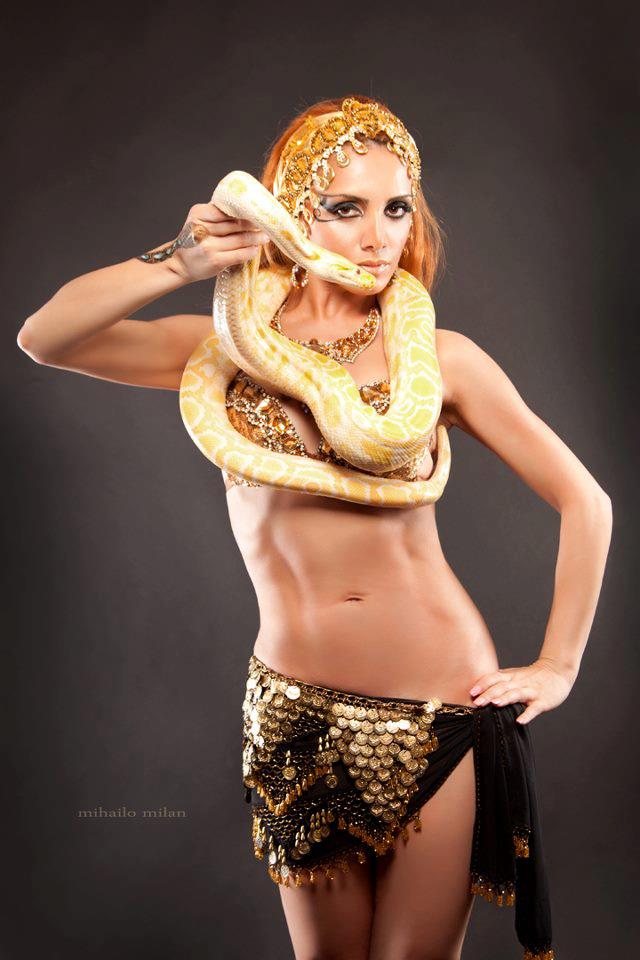 Special Guest performance by the beautiful and talented vocalist: 
"Dianne Wesley" https://www.facebook.com/diannewesleyofficialfanpage 
Special Guest Performance by vocalist & Executive Producer of The Rhyme Impersonator Show "Richard aka 2ND"
www.facebook.com/pages/2ND/43132122752?ref=hl
With a Surprise Birthday Song Tribute for Veena!
Sneak Preview Screening of the hilarious "HIT" comedy sketch entitled: "Tyrone The Central Park Beggar", one of the very first skits filmed for the The Rhyme Impersonator Show!. http://youtu.be/gdwBBL7l41U
THE BACK STORY
Veena K. (Kondapalli) a native of Hyderabad in India helped to orchestrate a successful Kickstarter campaign on 11/04/2012 which funded 5k for her production (http://www.kickstarter.com/projects/rhymeimpersonator/the-rhyme-impersonator-show) 
Since then with the help of our talented cast and crew we have successfully completed "3 Comedy Sketches" that our now in Post Production, but we have yet 1 more Sketch to film to complete our official half hour Comedy Show Pilot. 

The last sketch that we would like to film is far more challenging then the first three because it will be our first "Celebrity Skit" and the set will be much more bigger and elaborate so more crew hands and extras will be needed, and this is why we are launching another KICKSTARTER to pay everyone involved and complete the entire project by september of 2013.
Producing a comedy show production of this magnitude in NYC is a very expensive undertaking, so Veena is asking for the continued support of her family, close friends, backers, contributors and business associates, to invite guests to her special Birthday Gala and Fundraising Event. 

We are so very very close to finishing our pilot, BUT WE CAN'T DO THIS WITHOUT YOU!. Because "YOU" the backers of our Kickstarter are the sole reason that we have gotten this far, and our faith has not wavered. We believe in this show and the caliber of talent and original comedic material that it has to offer. And we are confident that when completed that "YOU" will love it too and find it hilariously "FUNNY!".

And with your help we will complete our official Comedy Show Pilot in september of 2013. And "YOU" will be apart of our journey and ultimate success, and you and all your friends will be invited to our "NYC Premiere Pilot Screening and Wrap-Up Party" @ a Super "HOT" NYC After Party Spot! A STAR STUDDED RED CARPET AFFAIR!
Please Join Us On This Special Night in July For a "DOUBLE TREAT" Our Kickstarter Launch Party and Veena K's Spectacular Birthday Gala!. Come and Enjoy Amazing Entertainment, Networking, and of course Delicious Indian Cuisine at the Prestigious 2 time Michelin 5 Star rated  Restaurant! "TULSI" www.tulsinyc.com
On behalf of Veena K. (Kondapalli) and the entire cast and crew of the Rhyme Impersonator Show, WE THANK YOU IN ADVANCE FOR YOUR SUPPORT OUR MOST SPECIAL DAY! - Shukriyah, Obrigado
Event Sponsors:
Tulsi, Society's Choice, DavidShapiro.net & ICP Entertainment! 
Thank You!
ICP Entertainment
When & Where

TULSI

New York, NY 10017


Saturday, July 27, 2013 from 8:00 PM to 11:30 PM (PDT)
Add to my calendar
Organizer
ICP ENTERTAINMENT
ICP Entertainment is a Multi-faceted video production company based in New York, providing both the corporate, commercial, and entertainment genres with hi-end event coverage, hosting and production services along with ingenious digital and branded content to help grow and expand their business.
We also take great pride in providing creative platforms and opportunities for artists to step out of their comfort zone and nourish their inner talents"
Brainstorming, formulating and implementing new and ingenious marketing, promotion and advertising ideas, methods and strategies to help established brand names or independent companies expand their business is what we strive for.
We are working very closely with a creative team of professionals to also aid in your film production needs.
Our goal is to Promote, Market and Advertise our clients brand by using various unique and creative methods, to insure its ultimate success. Bringing your brand exposure up to speed with the current trends of today that will further establish and enhance your brand name and increase its exposure to much wider and global audience.
We pride ourselves as supreme innovators, always learning, evolving and changing with the times, our team of professionals will be 100% committed to your dream and your project, bringing you and your brand, screenplay or up and coming event, - "A New Vision of Excellence"
We hope you enjoy our Monthly NYC events! And we look forward to a long-lasting and working relationship with you in 2016.
For more information on our services please visit our website at:www.icpentertainment.org

Email: icpentnyc@gmail.com
KICKSTARTER LAUNCH PARTY & BIRTHDAY GALA FOR VEENA K. @ THE 5 STAR "TULSI"