Description
Does this sound familiar?
Daily you are battling traffic and the hustle and bustle of the city, the checking off the to-do list, dealing with work pressure, have an unappreciative boss, constantly running errands, driving kids to after school activities that are never ending and your only me time is in the shower, if you are lucky. The holidays are upon us and just thinking about it makes your jeans tighter. Having a glass of wine to take the edge off the day has become routine and eight hours of solid peaceful sleep is a dream come true.
Want to start the new year feeling like a new you? Want to connect with your deeper, authentic self so that you can step into a fuller, richer life? Want to be supported in the sacred space of a women's circle? If YES, then join us Jan.5-6 at Serenbe Farms for a transformative event
Kelley Anne Smaha is committed to helping people step away from their world and taking a moment to pause and be still to renew, restore and awaken. She is bringing the best-in-class speakers and yoga instructors together to allow you to go inward and make positive changes for a joyful 2018. Included in this amazing package is a welcome dinner serving all natural gourmet farm to table cuisine by the Executive Chef of Serenbe Farms. You will leave feeling lifted, loved, inspired, connected and have more clarity on your truth and meet amazing like minded women. The keynote transformational speaker and author, Suzanne Adams, has been featured on FOX News, NBC, Huffington Post, Hayhouse Radio, Atlanta&Co to name a few. She is extremely talented and has natural gift coaching and working with women seeking their purpose. Highland Yoga has partnered with us and providing best in class yoga on Friday led by Caron Christison to deepen your practice whether you are beginner or advanced. For the full day of fun Ashley Lorenzo, will be energizing and restoring our attendees on Saturday and offering 1-on-1 consults.
Retreat Package is One or Two Day optional!
$299/2day
-SOLD OUT
$199/1day
-Limited spaces:

Jan 6th, 7am-6pm
-Includes Hot Breakfast
Value packed and includes:
Vinyasa Yoga Daily with phenomal instructors

Deep Transformational Motivation

al Workshops

Meditation Daily

One-on-one Time with Suzanne Adams (Friday only)

Rich and Deep Bonds with Women

Serene Guided Nature Walk

Farm to Table Gourmet Welcome Dinner

Hot Farm to Table Breakfast

Bon fires to warm your soul and ignite your zest for life

Free time to enjoy the beautiful ground, activities, and shops at Serenbe
Optional:
Nutritional Class, Biblical Meditation, 1-on-1 Yoga Consultations, Vision Board Workshop, Reiki and more.
Self love is the key ingredient. Give yourself a dose of it and join us at Serenbe Farms.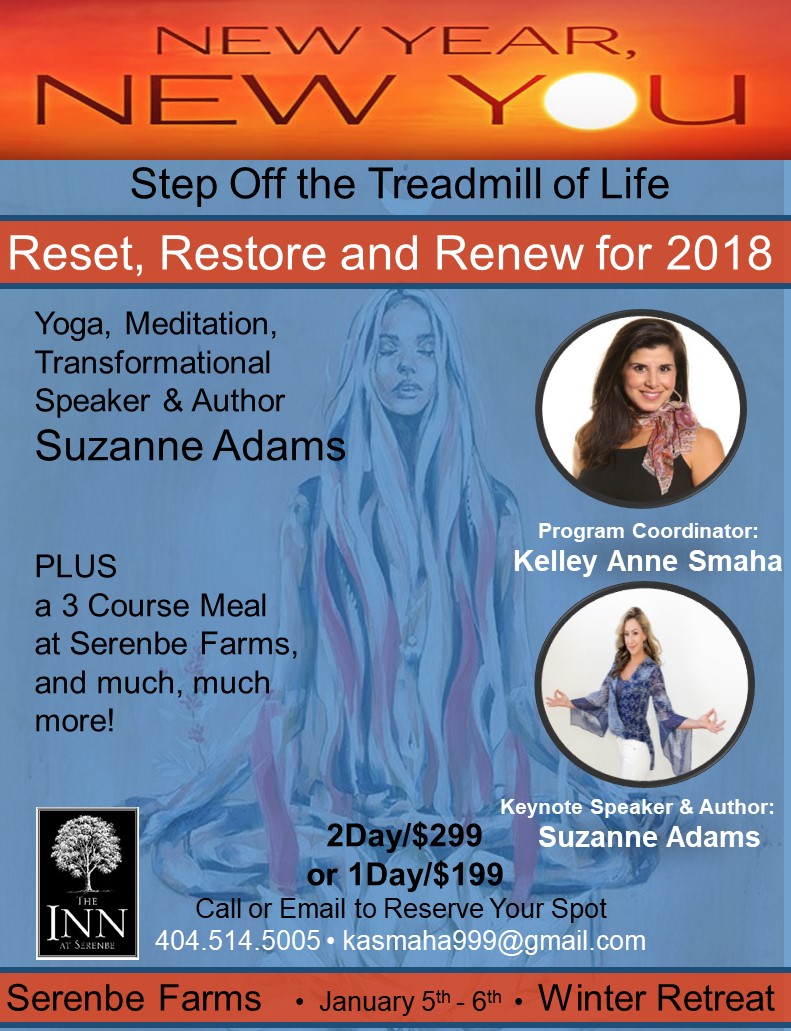 Lodging: Rooms are exclusive to the retreat package should you choose to book one evening and depart Saturday, choose to have roommates, or enjoy a long weekend at Serenbe. To book your room contact The Inn at Serenbe and let them know you are with the New Year, New You retreat for the discounted group room block. Phone: 770-463-2610
Website: www.serenbeinn.com
Cancellation Policy: It is your responsibility to read and understand our cancellation policy before making a reservation. If you cancel your trip, New Year, New You Retreat does not offer refunds for any reason due to our contractual agreement at Serenbe Farms. We will gladly transfer your credit to another guest.