Description
Join us for a kickoff party celebrating the launch of Huntsville's first-ever NASA Space Apps Challenge!
The Plan
We'll meet at Real Estate Row's gorgeous 300-person showroom for a celebration including food, drink, and several inspiring speeches. Meet the organizing team behind Huntsville's Space Apps Challenge, meet each other, form teams, and learn about the event. Bring your friends and significant others.
- 5:00pm:
- Team building, socializing, food, drinks
- 6:00pm:
- Toni Eberhart: New Leaf Digital: Who, What, Why
- Matt Brooks: Event logistics
- Tracie Prater: Challenges, Judging, Prizes
- Hal Brewer: President of Intuitive Research, STAR Sponsor
- David Burns: Head of Science & Technology @ NASA
- Eric Anderson: NASA's SERVIR Program
- 7:00pm:
- Python workshop from HACKBAMA
- Daniel O'Neill from NASA will present a web-based Space Mission Visualization (WSMV): This workshop reviews the WSMV tutorials and demonstrations referenced in the resources section of the "1D, 2D, 3D – Go!" challenge.
- Everyone else socializes, forms teams
Our Speakers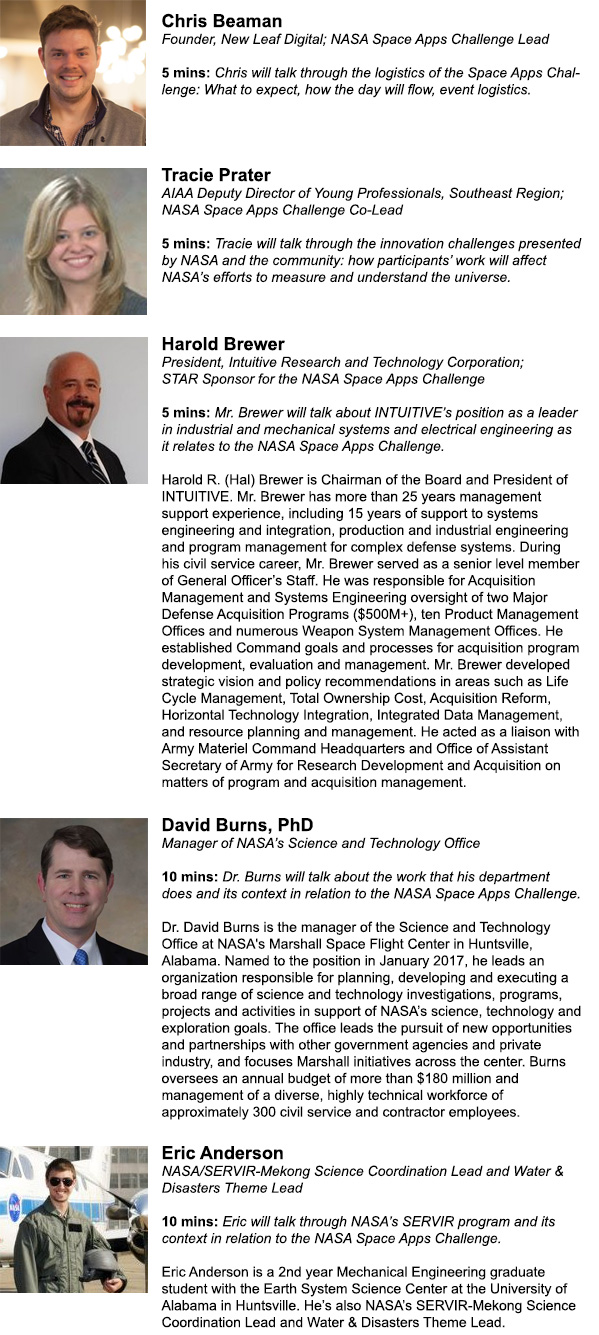 Photo of the venue:

Organizer of KICKOFF PARTY for NASA Space Apps Challenge: Huntsville
We are Alabama's most dynamic non-profit accelerator that Propels Ideas Forward.
Urban Engine empowers and supports the next generation of thinkers, makers, doers, leaders and founders to succeed. We support the growth of North Alabama's economy by connecting aspiring entrepreneurs and established business leadership to educational resources, talent, and community.