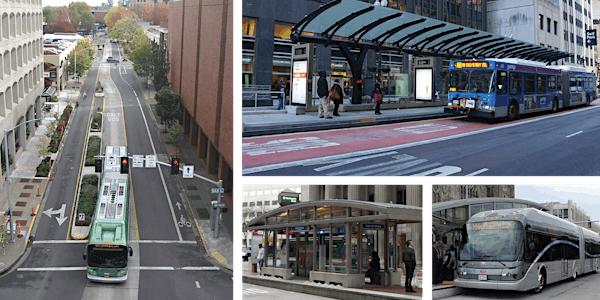 Kickoff Open House: Madison East-West Bus Rapid Transit Planning Study
When and where
Location
Madison Central Library - Room 302 201 West Mifflin St Madison, WI 53703
Description
Madison East-West Bus Rapid Transit (BRT) Planning Study: Kickoff Open House & Presentation
Public Engagement Meeting 1 of 4
**Presentation begins at 6:30 p.m.**
Meeting Purpose
Join the City of Madison at a kickoff meeting to explore the Madison East-West Bus Rapid Transit Planning Study goals and to learn more about what BRT could mean for Madison. The City is implementing a broad public engagement effort to ensure that Madison's first BRT route accurately reflects a range of community needs, concerns and priorities. We hope you can join us!
Visit www.madisonbrt.com to learn more and to sign up for project updates.
Everyone is Welcome!
Spanish and sign language interpreters will be available at this meeting.
Se proveerá de intérpretes de español en todas las reuniones públicas.
If you need an interpreter, materials in alternate formats, or other accommodations to access this meeting, contact the Madison Parking Division Dept. at (608) 267-8751 or email parking@cityofmadison.com. Please do so at least 48 hours prior to the meeting so that proper arrangements can be made
Si usted necesita un interprete, materiales en un formato alternativo u otro tipo de acomodaciones para tener acceso a esta reunión, contacte al Departamento de División de Estacionamiento de la ciudad al (608) 267-8751 o correo electrónico a parking@cityofmadison.com. Por favor contáctenos con al menos 48 horas de anticipación a la reunión, con el fin de hacer a tiempo, los arreglos necesarios.
Yog tias koj xav tau ib tug neeg txhais lus, xav tau cov ntaub ntawv ua lwm hom ntawv, los sis lwm yam kev pab kom koom tau rau lub rooj sib tham no; tiv tauj (608) 267-8751 lossis email ntawm parking@cityofmadison.com. Thov ua qhov no yam tsawg 48 teev ua ntej lub rooj sib tham kom thiaj li npaj tau.
如果您出席会议需要一名口译人员、不同格式的材料,或者其他的方便设施,请与 Madison Parking Dept. 联系,电话是 (608) 267-8751 或电子邮件 parking@cityofmadison.com。 请在会议开始前至少 48 小时提出请求,以便我们做出安排。
---
Project Description
The City of Madison is exploring options for a new east-west bus rapid transit (BRT) line to make our city's transit system work faster and smarter. BRT uses dedicated lanes and modern stations to provide fast and cost-effective service to jobs, entertainment, and schools. Madison's BRT will complement existing Madison Metro routes and be our city's next big step toward a sustainable local transit system.
The goal of this project is to select design details for the first segment of the BRT system. Once a design details have been chosen, the city will apply for federal funding to help develop the system. The anticipated schedule for this project is 12 months. Among the details to be identified through this study are the start/finish, station locations, potential routes, and the use of BRT infrastructure including dedicated bus lanes.
---
Stay Informed & Get Involved!
Visit the project website at www.madisonbrt.com to learn more about the Madison East-West BRT Planning Study and to sign up for project updates. An online survey will be available soon.
Las novedades sobre el proyecto así como la información sobre las reuniones abiertas al público se publicarán en: www.madisonbrt.com.