Event Information
Location
Hyatt Ziva Los Cabos
Paseo Malecón Sn Lote 5
Zona Hotelera, San Jose del Cabos
San Jose del Cabos
Mexico
Description
WE ARE HEADING TO LOS CABOS
Please plan to join Awesome Travel & Special Events as we travel to beautiful Los Cabos, Friday, August 10 to Tuesday, August 14, 2018!

STEP 1: Once you have officially registered via this Eventbrite Registration Page, you will receive an Eventbrite Email Acknowledgement.
STEP 2: Shortly after receiving the Eventbrite Email Acknowledgement, you will receive another email from Awesome Travel & Special within 24-48 business hours containing the GOOGLE ONLINE TRAVEL REQUEST FORM. You will be required to complete the TRAVEL REQUEST FORM.
STEP 3: Once you have completed the TRAVEL REQUEST FORM, you will be contacted by Awesome Travel & Special Events with 24-48 business hours, at this point you will be required to present your Credit Card Information to be used for the initial deposit.
STEP 4: After providing your credit card information you will receive an invoice from (Invoices2Go) reflecting your initial deposit, and suggested monthly payment options.
EXPLORE LOS CABOS - Los Cabos, located at the tip of the 1,000-mile long Baja Peninsula, is one of the world's most diverse tourist destinations. Boasting a dramatic desert backdrop nestled by coastlines of the Pacific Ocean and Sea of Cortez, Los Cabos is home to award-winning resorts and culinary offerings considered some of the finest available anywhere.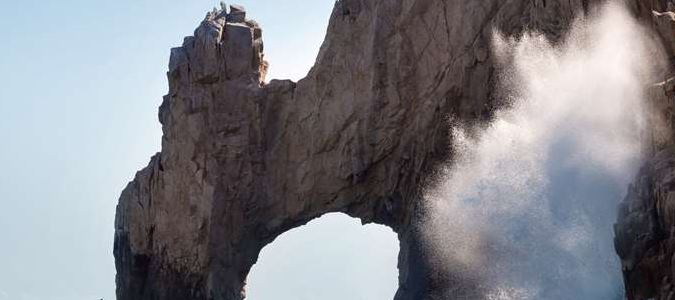 A growing list of championship golf courses, rejuvenating spas, world-renowned sport fishing tournaments, and state-of-the-art convention facilities add to the destination's unmatched appeal.
Los Cabos is comprised primarily of two towns, San Jose del Cabo and Cabo San Lucas; which are linked by a 20-mile corridor lined with world-class resort properties and championship golf courses.
Cabo San Lucas, noted for its vitality and nightlife, offers a variety of attractions including the Marina (featuring 380 slips accommodating vessels up to 200 feet), which is regarded as offering the highest quality services and amenities luxury yachters have come to expect.
The attractions in San Jose del Cabo are just as interesting as the more upbeat Cabo San Lucas. The old Jesuit Mission, known as Parroquia San José, dates back to the 1730's, and the Estero, an estuary with an endless variety of colorful birds and wildlife, are just two of the town's many attractions.
As Mexico's premier tourism destination, Los Cabos is home to some of the world's most luxurious hotels and resorts, outstanding spas, award-winning restaurants and top ranked golf courses.
Whether celebrating one year or 50, a trip to Los Cabos is a vacation you will never forget. The pristine blue waters of the Sea of Cortez create the perfect backdrop for any kind of getaway. If you're planning your next adventure, ready for some fun with friends, family, the love of your life or fortunate enough to conduct business on the beach, Los Cabos holds the key to every door in your imagination.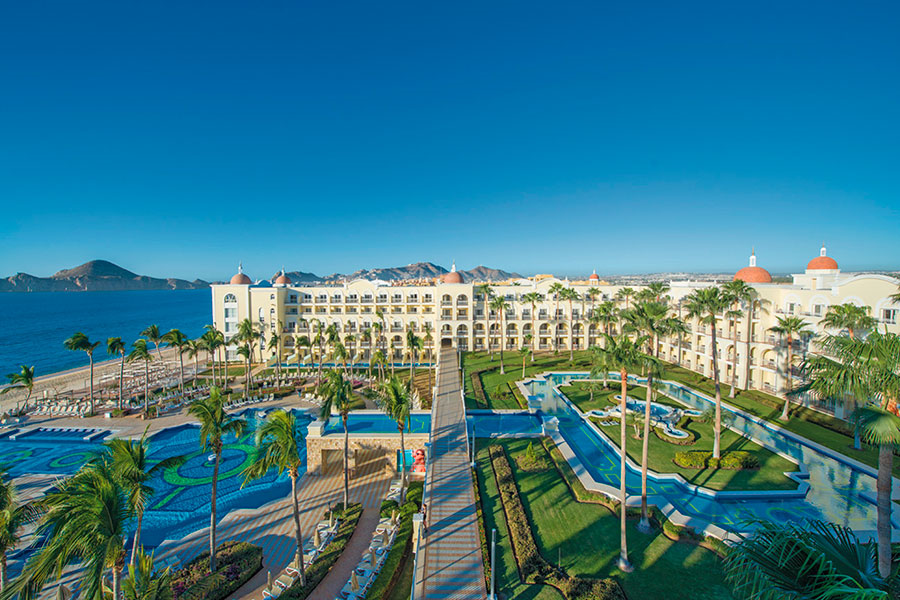 SWIM-UP SUITES: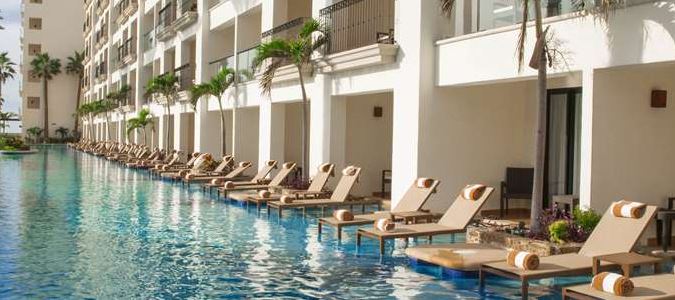 POOL VIEW: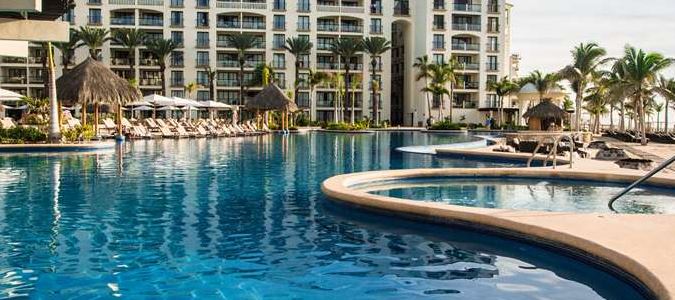 POOL VIEW: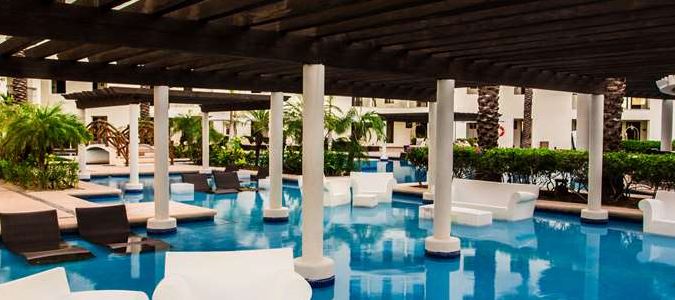 BEACH FRONT MASSAGE: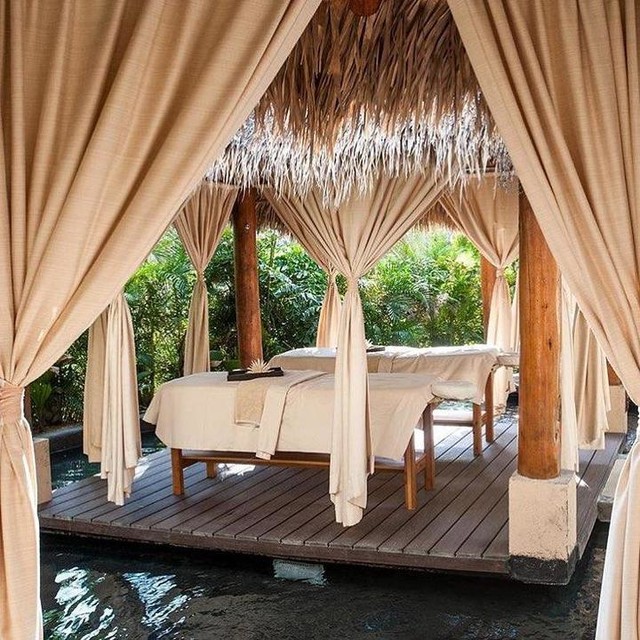 Hyatt Ziva Los Cabos-All Inclusive Resort located on the tip of Baja Peninsula with spectacular views of the Sea of Cortez, Hyatt Ziva Los Cabos is an all-inclusive all-ages oasis with a distinct Baja flavor. Our Cabo luxury resort features magnificent suites with ocean views, four spectacular pools, two hot tubs and world cuisines that take you on a culinary journey, from Mexico to Asia. From the dramatic lobby to the sea-kissed beach, Hyatt Ziva Los Cabos will captivate your spirit. Bring your imagination and enjoy exceptional moments.
Features:
- 12 unique restaurants, bars and lounges
- 34 swim-up suites
-Luxury spa and beauty salon
- Italian restaurant on the beach
- Authentic Mexican Plaza with a Taqueria
- KidZ Club and Kid's Pool
- Minutes from San José del Cabo and Los Cabos International Airport
All Inclusive Plan Includes:
- Luxurious suites featuring the latest amenities, many with ocean views
- Fine dining at 7 à la carté and gourmet buffet restaurants as well as 24-hour room service
- Top-notch entertainment featuring live music and performances
- Unlimited alcoholic cocktails, beer, wine, soft drinks and snacks at lounges and bars
- Unique daily and nightly activities
- An infinity pool, main pool, one adult-only pool, and one kid-friendly pool and two hot tubs
- Fitness Center, relaxing shade shelters and a kid's pool
- Beach and pool butlers
- Nightly entertainment featuring live music and performances
- Family friendly activities and KidZ Club
- Basic Wi-Fi Internet Access
- Dramatic destination with adventure opportunities like fishing, scuba diving, and golf (extra fees)
-Impeccable service
- All resort taxes and gratuities

******************************************
VACATION PACKAGE INCLUSIVE OF:
Round-Trip Airfare on American Airlines from Chicago/O'Hare (via connection)
Airport Shuttle Service/Transfers (in Los Cabos)
5-Star All-Inclusive Resort Accommodations
24-Hour Room Service
Various Lounges/Bars/Restaurants
NOT INCLUDED:

All-In-One Vacation Protection @$80.99 Per Person
Private Party
On-site or Off-Site Tours and Activities
PRICING DETAILS:

STANDARD MASTER GUEST ROOM:
$0.00 PER PERSON, SINGLE OCCUPANCY (SOLD-OUT)
$1,060.00 PER PERSON, DOUBLE OCCUPANCY
POOL VIEW MASTER GUEST ROOM:
$1,460.67 PER PERSON, SINGLE OCCUPANCY

$1,083.23 PER PERSON, DOUBLE OCCUPANCY
OCEAN VIEW MASTER GUEST ROOM:
$1,534.08 PER PERSON, SINGLE OCCUPANCY
$1,129.08 PER PERSON, DOUBLE OCCUPANCY
CLUB OCEAN FRONT GUEST ROOM:
$

1,766.37 PER PERSON, SINGLE OCCUPANCY

$1,197.87 PER PERSON, DOUBLE OCCUPANCY
SWIM-UP SUITES:
AVAILABLE UPON REQUEST ONLY
***********************************************
RESORT ONLY PACKAGE INCLUSIVE OF:
AVAILABLE UPON REQUEST ONLY
Please be advised, rates are subject to change without notice, and is NOT guaranteed until an initial deposit or full payment has been provided.
AIRLINE RESERVATIONS: If you are flying out of Chicago, your vacation package includes airfare on American Airlnes (via connection), there are NO direct flights in/out of Los Cabos..
If you are flying from any other city/location, and need assistance booking your flight arrangements, Awesome Travel would be more than happy to assist you.
If you are planning to book & confirm your own flight arrangements, please remember to forward a copy of your FINAL Travel Itinerary to us via email, so we can ensure that you are added to the arrival/departure manifest for ground transfers upon your arrival in Los Cabos.
- INITIAL DEPOSIT: $200.00 per person will be required to reserve your slot.
- FINAL PAYMENT: Will be due on or before Friday, June 22, 2018. NO EXCEPTIONS!

- IMPORTANT! If you are booking double occupancy, and sharing a guest room, both parties must provide their initial deposit at the same time.
VACATION PROTECTION: Although Vacation Protection is not mandatory, it is highly recommended. Should you decide to purchase vacation protection at $80.99 per person, the cost must be included at the time of your initial deposit.
BENEFITS OF PURCHASING VACATION PROTECTION: By purchasing our All-In-One Travel Protection plan, travelers can relax and have confidence in their vacation investment. If needed, travelers can cancel their trip for any reason. Simply call us at any time prior to departure to cancel and receive a refund, minus the cost of the All-In-One Travel Protection. Other benefits include the ultimate in "no fees" for vacation revisions, special hurricane protection, and during travel benefits such as 24-hour emergency assistance, baggage protection and more.
Plus, when purchasing the All-In-One Travel Protection on Mexico, Caribbean, Hawaii and Central America vacations, travelers also receive our Price Protection Guarantee --- where if the hotel portion of the vacation price decreases after the booking is made, the traveler will receive the lower rate.
CANCELLATION: If your plans have changed, and you will no longer be able to join the couple in Los Cabos, if you purchase the Vacation Protection you will receive a refund minus the cost of the Vacation Protection. Should you chose not to purchase the Vacation Protection all deposit monies will be NON-REFUNDABLE.

IMPORTANT! A valid Passport will be required to travel to/from Los Cabo. As a rule, Passports should have at least six months of validity when traveling internationally. Most countries will not permit a traveler to enter their country unless the passport is set to expire at least six months after the final day of travel.
SPACE IS LIMITED: Reservations will be accepted and processed on a first-come, first- served basis, so please confirm your reservation today!
​
*~*~*~*~*~*~*~*~*~*~*~*~*~*~*~*~*
Awesome Travel & Special Events
Tyrell & Wanda Henry Travel Consultants
Phone: 708.829.9721 or 9722
Hours: 9:00 am - 5:30 pm, CST - Monday-Friday
Date and Time
Location
Hyatt Ziva Los Cabos
Paseo Malecón Sn Lote 5
Zona Hotelera, San Jose del Cabos
San Jose del Cabos
Mexico