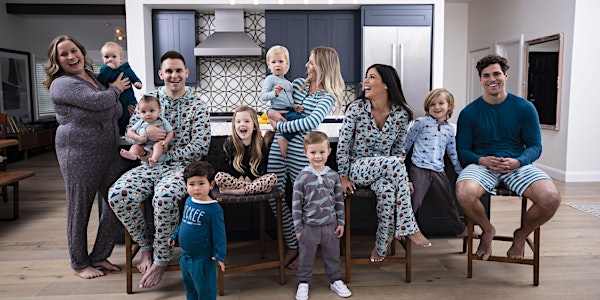 Kickee Pants Annual Spring Sample and Clearance Sale- Dallas, TX
Kickee Pants Annual Spring Sample and Clearance Sale in Dallas, TX at the Hilton Anatole in the Imperial Ballroom
When and where
Location
Hilton Anatole 2201 North Stemmons Freeway Dallas, TX 75207
Refund Policy
Contact the organizer to request a refund.
About this event
We are super excited to hold our Annual Kickee Pants Spring Sample & Clearance Sale in Dallas!! We can't wait to see old friends and new faces on Saturday, March 4th! For the safety of our guests and Event Staff, advance tickets are available for $10 and will be sold for a specific entry time window. There will be no overnight line to receive wrist bands, as you will receive your time for shopping at the time of ticket purchase. We are bringing sizes preemie through youth XL, blankets, crib sheets, swimwear, men and women's items from KICKEE, plush toys, books, and so many other items, including samples from our Fall Anniversary, Decades 20's-40's, Winter Celebrations, and Nautical Mini Collections!  These are amazing deals you will NOT find anywhere else!  Everything is heavily discounted, 40-80% off of retail shopping. You don't want to miss this opportuntity to stock up on your favorite brand!  Please read the details below, especially if this is your first sample sale.  We want you to have fun and get the most out of your experience!
Tickets are available by time slot. We want to ensure that you know we are bringing a TON of stuff and will be releasing new and exclusive items all day long, so please do not worry if you miss early morning tickets! Sample Sale veterans will tell you that some of the best finds happen during the last couple of hours of the sale. ;)
IMPORTANT INFORMATION
 Some tips!
1. Consider coming later in the day if you prefer to avoid crowds. For this sale, this simply means choosing a later entry time window.
2. We love your little ones, but please consider leaving them at home during sale. If you choose to bring them, please make sure to keep them close while you shop for their safety and in consideration of other shoppers.
3. The Sample Sale is cash only, we are unable to accept checks or credit cards at this event.
4. Please bring your paper ticket or have your e-ticket ready for check-in! You will be given a wristband when lining up for your entry time.
5. We will be limiting the number of people allowed to enter the sale at any given time to keep it safe and comfortable. There will be a two (2) hour shopping time limit. 
6. Refunds available through February 4th through Eventbrite.  Advanced ticket sales close on January 1st but are likely to sell out quickly. We will release any cancelled tickets as soon as we can to allow who missed out a chance to buy a ticket. See below regarding the waitlist.   
7. Purchase a ticket by the end of December to be eligible to win a Front of the Line Pass!  Hop to it!
FAQs
What is the KicKee Pants Sample and Clearance Sale?
Our KicKee Pants Sample and Clearance Sales are a ton of fun!  We bring merchandise from our sample collections, which are used by our reps or photographer to display our future collections for purchase, as well as clearance and overstock items pulled from our warehouse directly.  All samples will be marked in some manner (tags marked or cut) which will not effect the wearability of the merchandise.  All items are new and deeply discounted, from 40-80% off retail prices.  Wowzers!  All sales are final.
Can I bring my children?
Absolutely, you may bring your child/children.  We strongly encourage you, however, to consider the shopping environment, the safety and well being of both your child/childen and shoppers.  
Do you accept credit cards at the sample sale? 
Our Samples Sales are cash only.  We are unable to process any other forms of payment at this time.
Do I need to buy a ticket in advance to attend the sale?  Yes, for this sale, all tickets will be sold in advance of the sale to ensure the safety of our guests and staff. All ticket transactions must be done through eventbrite. Please note that our sample sales have SOLD OUT in the past, so it's best to plan early and get your ticket!
The tickets are sold out!  Now what?!?
In the event of a sell out, a waitlist will be organized via Eventbrite.  To join the waitlist, click on TICKETS.  A pop up will appear with a button at the bottom that says JOIN WAITLIST.  Click on it and follow the prompts. The waitlist is a great way to get a ticket if you missed out. We refund people regularly who's plans change and immediately release their ticket to the waitlist in order.
Is there a limit to the number of items we can purchase?
There is no limit, buy it all!  
Please note that we may bring items that are sold exclusively at the sample sale.  In this case, we may limit these specific items so that the most people have the opportunity to get one as possible.  Limits will be lifted at a certain time on each day, to be announced, stay tuned.  
How does the ticket/wristband system work?
You will need to bring your e-ticket or paper ticket to the sale to gain entry.  
You are purchasing a specific time window and will gain entry at the start of that time window. You will receive a colored wristband on your way in to help us identify your time window. You will have 2 hours to grab all the KP merchandise your heart desires and check out.  At the end of two hours you will be reminded that your time is up. There may be a second chance to shop for free at the end of the day on Sunday. Your cashier will let you know when you can come back!
Can I give my ticket to someone else?
Yes!  All ticket transactions and changes need to be done through eventbrite.  To learn how, please visit:
https://www.eventbrite.com/support/articles/en_US/Q_A/how-to-transfer-tickets-to-someone-else?lg=en_US
When will the wrist bands be passed out?
Wristbands will be passed out at the door approximately 15 minutes before your entry time. Our Entry Team will scan your ticket, give you a wristband, and direct you to our Giveaway area where you will spin the wheel and receive a prize!
Can I come back and shop a second time later in the day?
We'd love it!  Our afternoon shopping period is usually pretty relaxed.  If all customers in line have had a chance to shop we will open the sale up to shoppers a second time. The last shop window will be dedicated to anyone who wants to shop again.  Just come back and check with event staff members at the door.  We want to make sure every customer has an opportunity to shop once before allowing others back in for round two.  You must have purcahsed a ticket for an earlier slot to gain re-entry.
My plans have changed, can I get a refund?
Refunds can be issued up until February 4th via eventbrite.  After this time, refunds will not be issued, but we recommend you sell your ticket to another Kickee customer as there is a good chance someone wants it!  
Can I bring items from retailers/website to the sample sale to return?
Things are really busy for us during the sale and we'd like to ensure that your returns are resolved smoothly and quickly through our regular channels of customer service. Therefore, we will not be accepting returns from retailers/website at the sample sale.  If you'd like to return something, please contact hello@kickeepants.com
Will there be a Meet and Greet?
We like to schedule Meet and Greets the evening before the sale, who doesn't love a party!?!?   It is a fun time for us to meet and thank our awesome and supportive customers.  It also gives our customers an opportunity to meet our amazing team including one of our founders Aerin Nicole and Nick Cloke and the Kickee Kids, our customer service division (aka The Lotus Dots), and members of our warehouse team who help fulfill customer and retailer orders.  We've loved connecting with our customers at previous Meet and Greets and hope to continue this tradition at our Tulsa Sample Sale.  Please follow KicKee Pants on Facebook and check your email regularly. Stay tuned!  https://www.facebook.com/kickeepants
Is there an ATM at the hotel?
Yes! 
Help!!! I have questions, who can I contact?
 Please email events@kickeepants.com.