Veranstaltungsort
Grundmühle Hohnstein
Schandauer Straße 24
01848 Hohnstein
Germany
Chinkilla Kickass Camp 2022 - Kickboxen - Muay Thai - Yoga - Kampfsport - Fitness
Zu diesem Event
Es wird Zeit dem Alltag zu entfliehen. Das Ziel: unser "Kickass Camp" in der wunderschönen Sächsischen Schweiz. 4 Tage & 3 Nächte in wunderschöner Natur - mit intensivem Kampfsport-Training! Boxen, Kickboxen und Muay Thai von Frauen für Frauen! Boxbandagen an, Handschuhe eingepackt und Schienbeinschoner festgezurrt: you're in for some next level butt-kicking.
-----------------------------------------------------------------------------------------
|ENG| Get away from the daily grind and treat yourself to a mini-vacay in the rolling hills of the Sachsiche Schweiz Naturepark region! The Kickass Camp is a 4-day, 3-night stay with intensive fighter training - that includes boxing, kickboxing, and muay thai with an awesome girl squad! So wrap your hands, grab your gloves, and pull on your shinguards: you're in for some next level butt-kicking.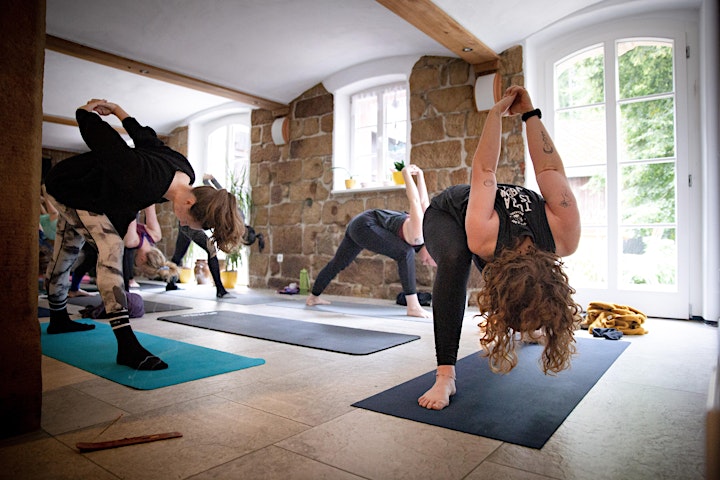 DAS PROGRAMM
Tag 1
Unser tägliches Programm beginnt mit einem essentiellen Element, das jede Kämpferin braucht: einem klaren Kopf. Bewusstsein & Atmen ist unser Fokus, wenn wir zum morgendlichen Lauf in die Natur aufbrechen. Zurück in der Unterkunft gönnen wir uns frisch gebrühten Kaffee und ein gesundes, frisches Frühstück.
Bereit für den Tag und voller Energie beginnt das Kampfsport-Training. Tag 1 wird deinen Oberkörper fordern - am Vormittag geht es an's Boxen. Erholung und Stärkung folgt in der Mittagspause - damit ihr für die "tödlichen Waffen" des Muay Thai am Nachmittag bereit seid.
Tag 2
Der zweite Tag dreht sich am Vormittag um's Kickboxen und all die Strikes, die in euer Repertoire gehören. Mittags werden gesunde Kohlenhydrate und Protein getankt, damit ihr für den Nachmittag gewappnet seid!
Wir beenden jeden Trainingstag mit Martial Arts Stretching und einer geführten Meditation. Unsere Küchen Crew beköstigt euch am Abend mit einem frisch zubereiteten Abendessen. Später könnt ihr euch am Lagerfeuer entspannen oder an der "Game Night" teilnehmen, bevor es in die wohl verdiente Nachtruhe geht.
Tag 3
Am dritten Tag könnt ihr all das Gelernte bei Combo & Sparring Challenges unter Beweis stellen. Hier wird jede Teilnehmerin je nach Erfahrung und Level auf ihre Kosten kommen. Alles kann, nichts muss! :) Wir beenden jeden Trainingstag mit Martial Arts Stretching und einer geführten Meditation. Unsere Küchen-Crew beköstigt euch wie jeden Abend mit einem frisch zubereiteten Abendessen. Später könnt ihr euch am Lagerfeuer entspannen oder an der "Game Night" teilnehmen, bevor es in die wohl verdiente Nachtruhe geht.
-----------------------------------------------------------------------------------------
|ENG| PROGRAM:
Day 1
Our daily program starts with a key element that every great fighter needs: a clear mind. Mindfulness & breathing are the early morning focus with a jog outdoors in nature, tuning into your breath as you take in the fresh forest air. Head back to the accommodation afterwards for a steamy cup of coffee and a hearty breakfast. Ready to take on the day!
Full on oxygen and energy, it's time to train like a warrior. Day 1 will challenge you with an upper body focus on Boxing in the AM to fire up your shoulders. Recover during lunch break, so that you're ready for the lethal "weapons" of Muay Thai in the afternoon. Pace yourself and test your stamina!
Day 2
The second training day focuses on Kickboxing in the morning to put all the strikes in your toolbox together. Fuel up on healthy carbs and protein at the lunch station so that you're ready for the afternoon fun: a chance to test out all your combos and techniques in partner Sparring challenges! We end each training day with Martial Arts stretching to cool down, and a guided Meditation for calming the mind, regulating the breath, and resetting the nervous system. After you freshen up from training, our kitchen crew will greet you with a delicious and nutritious 3-course meal for dinner. For the Evening Program, you can relax around a summer bonfire or enjoy a chill game night before tucking in for a well-earned sleep.
Day 3
On the third day you can at all the learned Combo & Sparring Challenges prove. Every participant will come here according to experience and level at their expense. Everything is possible, nothing is neccesary! :) We end every training day with Martial Arts Stretching and a guided meditation. Our kitchen crew celebrates you like every night with a freshly prepared Dinner. Later you can relax at the campfire or participate in the "Game Night" before it goes into the well-deserved night's sleep.
Unterkunft
Der Stadt entfliehen.
Das gemütliche, erst kürzlich renovierte Bauernhaus der Grundmühle in Hohnstein wird unser Zuhause in den Wäldern der Sächsischen Schweiz. Jedes Zimmer (Einzel-, Doppel und Dreierzimmer) ist mit einem eigenen Bad ausgestattet. Der frühere Stall der Mühle wurde zu einem gemütlichen Gemeinschaftsraum umgebaut. Die großzügige Außenanlage lädt zum Sport machen oder zu einem abendlichen Lagerfeuer ein.
Das Haus befindet sich im Herzen des Waldes, mit Wanderwegen und Kletterareale in der Nähe. Die Elbe und der Nationalpark liegen quasi direkt vor der Tür. Unsere Empfehlung: bucht euch eine oder zwei extra Nächte in der Nähe und erkundet die umliegende Natur!
-----------------------------------------------------------------------------------------
|ENG| LOCATION:
Escape the city
The cozy, newly-renovated Grundmühle Farmhouse will be our forest home in Sachsiche Schweiz. Each residential unit is equipped with a modern shower and toilet. The former stable of the farmhouse was recently renovated and is available as a comfy common room. There is also a spacious outdoor area that can be used for working out or just relaxing by the campfire in the evening.
The house is nestled in the heart of the forest, with hiking trails and climbing peaks in the area, as well as the Elbe River and Sandstone Mountains within driving distance. Our recommendation: book an extra night or two in the area to explore the natural surroundings!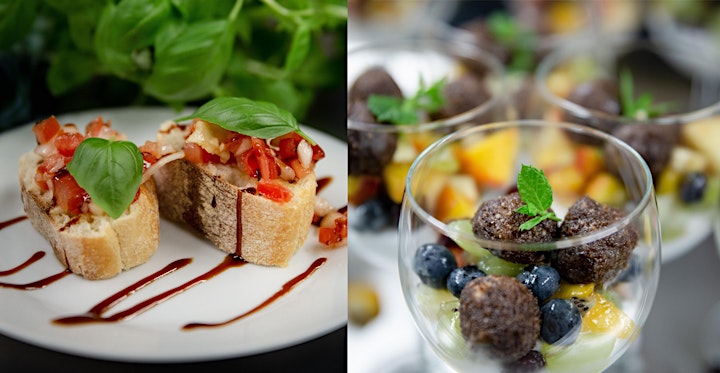 Verpflegung
Lecker & nahrhaft.
Unsere täglichen Mahlzeiten werden vom chinkilla Team persönlich zubereitet: unsere gesundheitsbewusste Küchencrew verfügt über Erfahrung im Ernährungsbereich und wird ausschließlich vegetarisch/vegan aus frischen Zutaten kochen. Wir nehmen auch Rücksicht auf eure Allergien und Unverträglichkeiten - lasst es uns einfach im Anmeldeformular wissen!
Jeder Tag im Kickass Camp beginnt mit einem kulinarischen Feuerwerk aus verschiedenen Obstsorten, Vollkornbrot, veganen Aufstrichen, Müsli und verschiedenen Sorten Joghurt (Mandel, Soja etc). Nach der Vormittags-Session versorgen wir euch mit einem leichten, aber stärkendem Lunch. Am Ende des Tages dürft ihr euch auf ein 3-Gänge Menü á la chinkilla freuen. Schmecken lassen!
-----------------------------------------------------------------------------------------
|ENG| DAILY CATERING:
Delicious & nutritious
Our daily meals are prepared by our very own chinkilla team: our nutrition-conscious kitchen crew has experience and competence in cooking delicious healthy meals with fresh vegan and vegetarian ingredients. We also adjust to your allergies and food intolerances: just let us know in the sign up form.
Each camp day starts with a balanced breakfast - wholegrain bread, rolls, vegan spreads, muesli and different types of yogurt (almond, soy). You'll also find fresh fruit for making your own smoothies - vegan protein powder included. After the first training session, head over to the sandwich and snack bar for a light lunch to fuel you through the afternoon. After the training day ends, your warm-cooked dinner consisting of three courses awaits you - tuck in!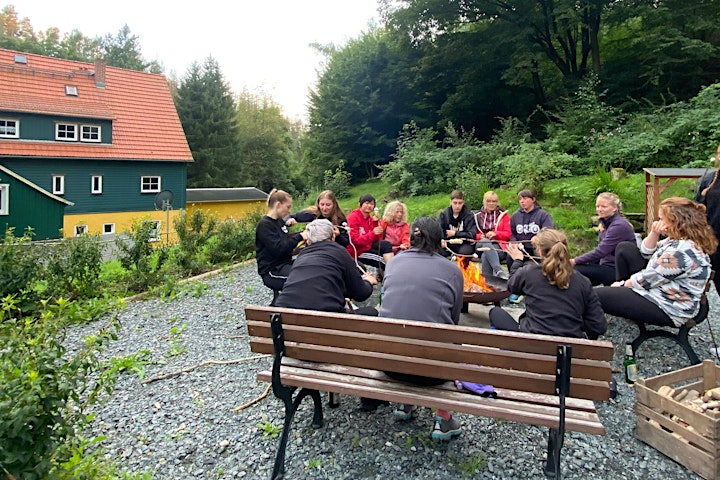 IM TICKET INBEGRIFFEN:
4 Nächte im Bauernhaus der Grundmühle
4x Frühstück, Mittagessen & Abendessen (vegetarisch/vegan)
3 intensive Trainingstage (2-3 Sessions am Tag)
1 Personal Training Session
Kickass Camp 2022 Welcome Package
Boxhandschuhe müssen selbst mitgebracht werden. Wir empfehlen, ebenfalls Mundschutz und Schienbeinschoner einzupacken. Es kann auch Ausrüstung vor Ort erworben werden!
WER KANN TEILNEHMEN?
Es kommen sowohl Fortgeschrittene als auch Anfänger auf ihre Kosten. Beim Kickass Camp geht es um intensives Kampfsport-Training und allem, was dazu gehört. Aber natürlich achten wir auf die individuellen Bedürfnisse jeder Teilnehmerin - wer eine Pause braucht, nimmt sich diese. Wer bis zum Limit gepusht werden möchte, wird nicht enttäuscht werden ;)
Kampfsporterfahrung ist KEIN Muss. Wir trainieren Anfänger und Fortgeschrittene individuell. Abhängig davon wie erfahren du bist, finden wir die passende Partnerin für dich! Uns ist es wichtig, nicht nur Frauen zu unterstützen, die bereits Kampfsportlerinnen sind, sondern auch jene, die ihre Martial Arts Reise gerade erst begonnen haben.
ANFAHRT
Ihr könnt ab 16 Uhr anreisen. Unser Team wird euch willkommen heißen, bevor es gegen 19 Uhr zum Abendessen und Meet & Greet geht!
Adresse:
Ferienhof Grundmühle, Schandauer Str. 24, 01848 Hohnstein
Wir helfen euch auf Anfrage auch gerne, eine Mitfahrgelegenheit mit einer der anderen Teilnehmerinnen zu finden!
-----------------------------------------------------------------------------------------
|ENG| ALL-INCLUSIVE STAY
4-night stay in Ferienhof Grundmühle
4x breakfast, lunch, and dinner (all vegetarian and vegan)
3 full days of training (2-3 sessions per day)
1 Personal Training Session
Kickass Camp 2022 welcome package
Boxing gloves are a requirement. We also recommend bringing shinguards and a mouthguard for comprehensive protection. Equipment will also be available for purchase onsite!
WHO CAN JOIN?
There are both advanced as well as beginners at their expense. The KICKASS CAMP is about Intense Martial Arts Training and everything that belongs to it. But of course we pay attention to the individual needs of each participant - who needs a break, takes themselves. Who wants to be pushed up to the limit will not be disappointed;)
Martial trajectory is not a must. We are training Beginners and advanced individually. Depending on how experienced you are, we find the right partner for you! It is important to us not only to support women who are already martial artists, but also those who have just started their Martial Arts trip.
GETTING THERE*
Arrival begins at 4pm. Our friendly team will show you to your room so you can get settled in and freshen up before dinner and meet & greet!
Address:
Ferienhof Grundmühle, Schandauer Str. 24, 01848 Hohnstein
*If you need help finding a ride with one of the other participants, let us know and we'll help out!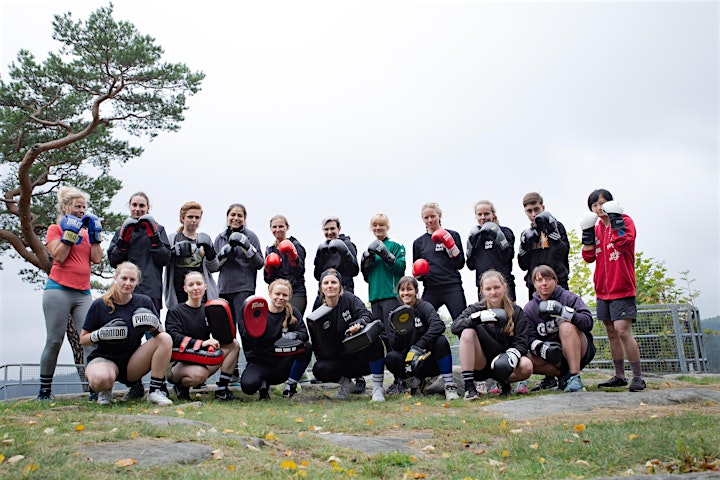 KOSTEN
ein Bett im Dreibettzimmer: 549€
ein Bett im Doppelzimmer: 579€
Queen Size Bett im Dreibettzimmer: 569€
Queen Size Bett im Doppelzimmer: 599€
Jedes Zimmer hat eigenes Bad mit Dusche.
-----------------------------------------------------------------------------------------
|ENG| COSTS
single bed in triple room: 549€
single bed in double room: 579€
queen size bed in triple room: 569€
queen size bed in double room: 599€
No matter what option you select - each room has a private bathroom including shower!