Description
APLD Bay Area District Designer Forum Series:
KICK YOUR CAREER INTO HIGH GEAR:
Get The Most From Your APLD Membership
a panel discussion with Patricia St. John, APLD and Maryanne Quincey, APLD
Are you ready to take your career to the next level?
Join us for a panel discussion about ways to use your APLD membership to advance your landscape design career through participation in APLD leadership and recognition of your talents with APLD awards and certification.
Have you always wondered if it was worth it to go through the process of applying for APLD awards or certification? Two veteran APLD members, who have been through it, Maryanne Quincy, APLD and Patricia St. John, APLD, will walk us through the process and benefits of each. They will also talk about how they were personally affected by getting deeply involved in APLD leadership and receiving APLD awards and certification.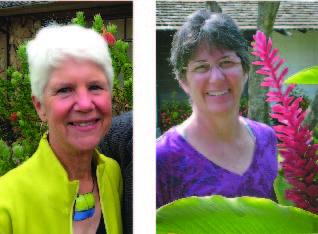 This program = 1.0 APLD CEUs
---

About APLD Design Awards:
The APLD International Landscape Design Awards Program honors excellence in landscape design. Projects in eight different categories are judged on the basis of difficulty, craftsmanship, attention to detail and execution. More information is available at apld.org
Patricia's thoughts about APLD Design Awards:
"The APLD International Landscape Design Awards have meant a lot to me professionally. The awards are affirming of good design and wonderful collaboration with clients wanting excellent gardens. The submittals are judged by professional writers, garden editors and landscape design leaders in the industry and this means a lot in terms of recognition, but also in terms of exposure of one's work on a broader scale.
As a result of this exposure over the last 15 years, from my first-place winning garden in 2002, several in between, to the gold and silver awards these last two years (pictured below), I have been published in 7 garden design books by Taunton Press, Timber Press, Sunset Publications, etc., including one book on garden design published in Germany. My gardens have also been featured in Better Homes and Gardens Magazine, Sunset Magazine, several blogs, and the Palo Alto Times and San Francisco Chronicle.
This would have never have happened without the exposure and recognition from the APLD International Landscape Design Awards program: several times it's been the judges who have approached me about featuring my gardens. The winning gardens are also featured in the APLD Designer and Design On-Line Publications, which means more exposure of our work."

---





About APLD Certification:
APLD certification program provides professional recognition to landscape designers based on established standards of excellence. This process encourages self-assessment by offering guidelines for achievement. Certification is available for Professional APLD members in good standing, who have been practicing landscape design for a minimum of two years.
Our certification process is to evaluate the candidates' submitted work. It is not an educational curriculum. The submission consists of three installed projects and requires drawings, plant list, design intent statement and photographs.
The certification committee has developed a review process for landscape designers to become certified. Ours is the only international certification program for landscape designers. The evaluation process includes review of submitted plans and other data as well as keeping track of and assigning CEUs, which are required for maintaining certification. Committee members are divided regionally. All submissions are kept confidential.
The APLD Certification Review Panel convenes two times each year to review applications for Certified Professional Membership. The current review schedule is February and September. Applications are due by the first of the month.
Maryanne's thoughts about APLD Certification:
APLD members often wonder if they should become Certified. It seems like a lot of work and for what return. In speaking with many Certified designers, I realize that there are many different reasons to become certified, but they all have a common thread - that APLD Certification demonstrates a commitment to the profession of landscape design and the desire to never stop improving.
For me, the decision to become APLD Certified was a personal one. It was an opportunity to have my designs reviewed by my peers, and upon passing, demonstrate to my clients and the contractors I work with that I am a qualified designer, dedicated to my profession.
Some Certified members find certification a boost to their practices. Certified member Marti Neely, APLD, notes, "I don't think I would be in my position without having achieved certification. To me it's a barometer of one's willingness to do what is necessary to excel, pure and simple." Rick Laughlin, APLD, says "I pursued certification with APLD to prove to myself and everyone else that I had achieved a high goal. I wanted to set myself apart from my competition."
The drive to improve and become part of a group of designers dedicated to the integrity and growth of landscape design is a driving force behind many members seeking certification. It also plays a very important role in advocacy for our profession, both on a local and a national level. Laurel von Gerichten, APLD, comments, "I viewed certification as an opportunity to gain approval from APLD. This endorsement gave me elevated status in the unregulated landscape design profession."
While the submission process may seem daunting, it can be done over time and is a wonderful opportunity to visit previous jobs and view your accomplishments. Laurel adds, "The process of preparing the certification materials required a critical look of my work to see what the reviewer's would find important. I learned things about past projects that could have been improved as well as things that made me happy with my work. I feel that the effort to put together the certification package was well worth it, as was the boost I got from passing."
Patricia St. John, APLD, said it best: "It's amazing the certainty and quiet confidence that certification brings." Who could ask for anything better? "
More information is available at apld.org

---
About our speakers:
Patricia St. John, APLD, has been designing gardens for over 20 years, first on the San Francisco Peninsula and then moving to the East Bay 15 years ago. The essence of her business is creating gardens that uplift the spirit and inspire joy and reconnection with the natural world.
Having started her career as a nursery woman, plants have always been a focus for her. So it was a natural for her to teach in the Merritt College Landscape Horticulture Department. She has taught plant identification and edible landscaping for the past 9 years.
As an APLD certified landscape designer, she has designed over 500 gardens, some of which have been on garden tours, featured in books, magazines and local newspapers. Her APLD International Landscape Design awards span the years from 2002 to 2016.
She feels it's essential to be an active part of the community and to add her energy and enthusiasm to support her professional organizations. She has served on several boards including the Gamble Garden Board, Palo Alto, the Western Horticultural Society Board, APLD International board (7 years, President, 2010), the APLD East Bay District board (4 years, Pres. 2015), Berkeley Garden Club board (many years, Pres. 2014-15).
Maryanne Quincy, APLD has been creating garden designs for over 20 years. A key portion of Maryanne's design process is centered around the incorporation of her clients' visions of their gardens. She listens to their desires to create workable design solutions. By using this process, Maryanne is able to create a garden that is comfortable for each client. Whether the client is an active gardener or a passive one, Maryanne believes that the living space should not stop at the door of the home, but should extend into the surrounding garden. She strives to create a space that is both functional and aesthetically pleasing, drawing the client out to enjoy the garden that they helped create to fit their lifestyle.
Maryanne received her BS in Ornamental Horticulture from Cal Poly, San Luis Obispo. Her experience includes both the retail nursery industry as well as landscape design and construction. She spent several years prior to starting her own design firm designing for a landscape contractor design and build firm, which gave her first hand experience with garden installation.
Maryanne is proud to be a Certified Member of the Association of Professional Landscape Designers (APLD®), an international organization whose purpose is to provide a forum for the advancement of the profession of landscape design. As a Certified Member, Maryanne is required to uphold the standards of practice prescribed by the APLD as well as complete at least 30 hours of continuing education in each three-year period. She also holds a liaison position with APLD, is an affiliate member of the California Landscape Contractors Association (CLCA), and Gamble Gardens in Palo Alto where she volunteers on a regular basis.
---
About the APLD Bay Area District Designer Forum Series:
Landscape Designers gather in small groups to share ideas and conduct round-table discussions about a particular topic. Online registration required.