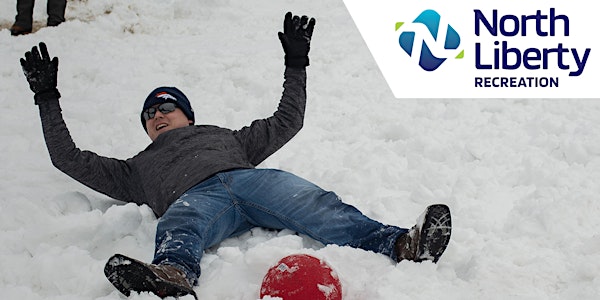 KICK Winter in the SnowBALL Tournament
You've never played kickball like this. Trudge through the snow for North Liberty's annual winter kickball tournament on Saturday, Feb. 4.
When and where
Location
Penn Meadows Park North 310 North Dubuque Street North Liberty, IA 52317
About this event
You've never played kickball like this. Trudge through the snow for North Liberty's annual winter kickball tournament on Saturday, Feb. 4 in Penn Meadows Park.
The 2023 KICK Winter in the SnowBALL tournament will have eight teams. Registration is $10/player before Dec. 31, $15/player if registering between Jan. 1 and Jan. 27. This is an adult tournament, however parents may use their judgement and sign up their teens. All ages of spectators are welcome.
To play with a friend, register for the same team. Each team is guaranteed two games prior to elimination.
Each player on the last team standing will be awarded a Beat the Bitter KICK Winter in the SnowBALL champion medal. 
While alcohol is usually prohibited in public parks, this event has been permitted for BYOB (cans only, no glass). Alcohol must only be consumed within the dugouts. Alcohol will not be for sale.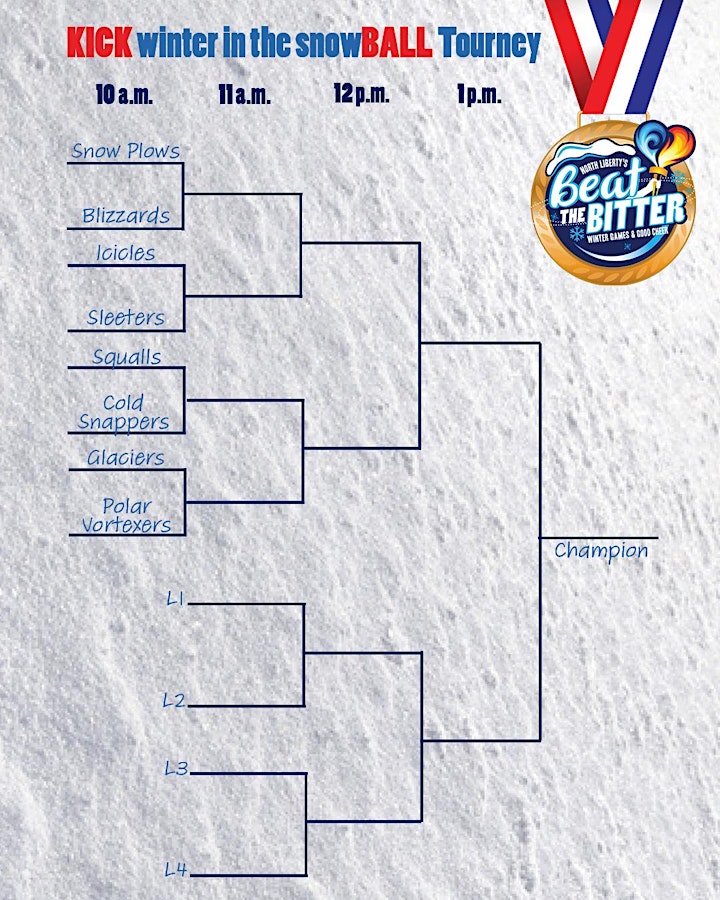 Tournament Rules
GENERAL RULES
No more than 9 players may play the field at one time.
The strike zone is 2 feet on each side of home plate.
Kickers cannot cross home plate to kick.
Any fielder must kick, but players are not required to field in order to kick.
Kicking order can only be changed with opposing team's consent
Substitutes from the bench can be made for injuries.
Each game lasts five innings or 45 minutes, which every occurs first. (Games may be shortened due to weather conditions, per organizers)
Each team is responsible for tracking runs. Home team is responsible for reporting final score.
Don't be a jerk.
PLAYING RULES
Each at kick: kicker gets three pitches in the strike zone to kick the ball, regardless of foul or missed kick
Any roll outside of the 2-foot strike zone is a ball
Four pitched balls outside of strike zone is a walk.
A foul ball is anything outside of the base lines, or a ball that is kicked and the ball hits the kicker, or hits the backstop
No bunting; must take a full kick.
The pitcher cannot sidearm or overhand roll the ball
The ball must roll prior to hitting the home plate.
Any roll inside or touching the 2-foot strike zone is a fair ball
Runners cannot run outside of the baselines
No stealing or leading off. Sliding is allowed, but at the runner's risk.
No in-field fly rule; if ball is caught in the air in the infield, runners may touch base and advance at their own risk
Runners can be hit with the kickball by the fielder. If a runner is hit above the shoulders they are safe.
Runners can over run first base if they curve to the right. Curving to the left indicates the play is live and can be tagged out.
Runner is out if hit by a kicked ball from the kicker
Runners can advance until the ball is controlled by the pitcher and is in the mound area
Runners cannot advance on foul balls
The pitcher must stand on the mound to start pitch
Fielders cannot block the bases. If obstructed by a fielder, the runner is safe
Reminder: Don't be a jerk.
Rulings by referees are final.