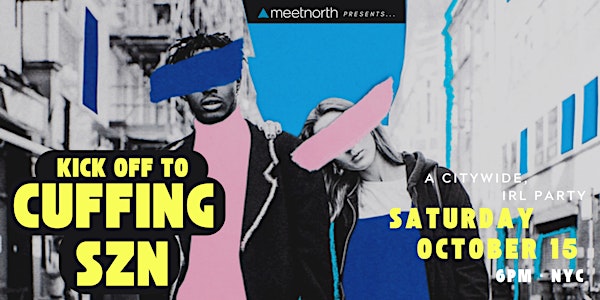 KICK OFF TO CUFFING SZN
Instantly connect with new people—where talking to strangers is encouraged!
About this event
Meetnorth Presents...
Kick off to Cuffing Szn!
Citywide Happy Hour in NYC/Brooklyn • Saturday, October 15th • 6:00 pm
You're invited to join Meetnorth app in celebrating one of New York's favorite unofficial seasons: Cuffing Szn. If you are looking for a new romantic partner, friend or buddy to spend the long NYC winter with, we suggest starting early, which means October. We got you covered with a city-wide Kickoff to Cuffing Szn Happy Hour experience featuring our favorite NYC bars paired with some of the hottest emerging alcohol brands. Guests who are in the first round to arrive will receive one complimentary beverage (while supplies last.)
Let's get this party started, download the app to begin!
Event Details:
5:00 pm: The Pre-Game
Login to the Meetnorth map and press Go on your desired Cuffing Szn venue. This enables others to see where you'll be.
6:00 pm: Let the Festivities Begin
At the door, have your app open to show the bouncer you are with Meetnorth. Press Meet to check into the Cuffing Szn venue.
To break the ice with others in the room, press the Say Hi button on the app. Rinse and Repeat.
We can't wait to kick off the szn with you!
About Meetnorth:
Meetnorth's technology was created to bridge the gap between dating apps and in-person meetings. Allowing users to make spontaneous connections from across the room — talking to strangers is encouraged!
Venues & Sponsors:
Ainslie Bowey
Ainslie Williamsburg
Blue Haven East
Carroll Place
Clinton Hall Williamsburg
Clinton Hall 36
e's Bar
Haswell Green's
LiFE Rooftop
PRESS Premium Alcohol Seltzer
Qui Platinum Extra Añejo Tequila
Smoke Lab Vodka
VanBrunt Stillhouse- The Original Spirit of Brooklyn
__________________________________________________________
Reserve your spot by clicking the registration link above.
Download the app to get started: