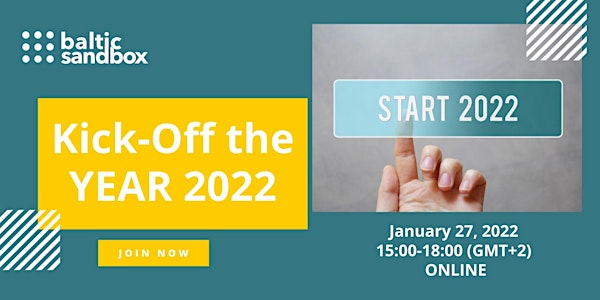 Kick-Off the YEAR 2022
The 2022 Year's opening event by Baltic Sandbox.
About this event
Welcome to join the Kick-Off the YEAR 2022 on January 27, 2022 - an opening event by Baltic Sandbox!
Let's start the year together: startups, investors, experts.
The year 2021 appeared to be the greatest-ever tech boom. Global venture capital was crushing previous records in 2021. Investment in European startups was more than $100 billion in 2021.
98 new unicorns were announced in 2021 in the EU and UK. The decacorn herd — startups worth $10bn+ — has more than doubled in size.
American VCs are flocking to Europe; hence 2021 saw a major jump in US institutions that have got involved in at least one round, as a number of North American institutions stepped up their presence in the region.
Alongside this, the pool of investors continues to expand. The number of unique institutions active in Europe increased by more than 25% in 2021, with the biggest changes at growth stages of funding; investors involved in rounds of $100m or more increased by nearly 200%.
We are excited to start the new year in our friends and colleagues' warm and excellent company!
The agenda of the event:
15.00 - 16.00 EET - Panel discussion: 2021 vs 2022. Will 2022 hit the investment records of 2021? 2021 overview, trends, prognosis for 2022.
16.00 - 17.00 EET - Pitch session
17.30 - 18.30 EET - VCs and angel investors networking event | Invite only