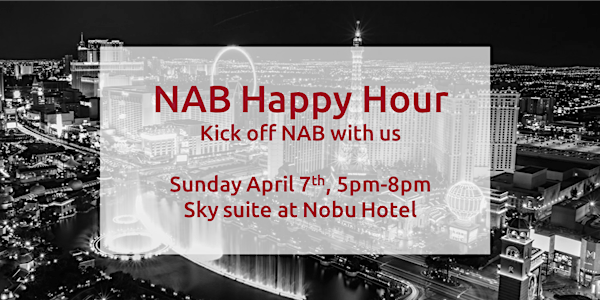 Kick off NAB 2019 with us!
When and where
Location
Nobu Hotel at Caesars Palace 3570 S Las Vegas Blvd Las Vegas, NV 89109
Description
Kick off NAB 2019 with us!
Join us for a fun networking event where you'll get to meet with industry professionals from across the world in a relaxed environment with drinks and snacks in one of the finest penthouse suites in Vegas.
The event kicks off at 5pm on Sunday, April 7th in the Penthouse Suite at Nobu Hotel. Don't miss out. Tickets are limited! So hurry up and RSVP to reserve your ticket today!
Date: Sunday, April 7th 2019
Where: Penthouse suite, Nobu Hotel at Ceasars Palace Las Vegas

When: 5PM – 8PM
We are looking forward to seeing you there!
The event is hosted by:

Piksel (www.piksel.com)
Piksel has been building successful online video businesses for over a decade. The company's unique combination of professional and managed services is underpinned by Piksel's state-of-the-art video platform, the Piksel Palette™. This microservices architecture has been harnessed to enable broadcasters and services providers to make successful digital-first transformations, unifying workflows, reducing operational overhead and creating more revenue responsive services.
Piksel's unrivaled expertise is in designing, building and managing online video solutions for the likes of Sky, Channel 4, Discovery Communications, Liberty Global, VRT and OSN.
Headquartered in York, UK, Piksel offices can be found throughout Europe and the Americas.
VionLabs (www.vionlabs.com)
Vionlabs was founded by people with background in special effects and tech with one mission, to improve user experience for all TV and movie lovers out there.
Content investments are at all time high, and growing rapidly. However, content won't change the world if you do not understand how to sort it, thereby enabling your end-users to navigate in the ever growing world of content.
Over the last decade we have developed a truly unique platform, powered by AI, to serve the purpose of increasing time spent watching by reducing time searching for content. Vionlabs' offering comprises a unique palette of products, all built on Vionlabs' fully-automated platform, providing an efficient and truly unique approach to the analysis of content and customer preferences.

MPP Global (www.mppglobal.com)
MPP Global delivers eSuite, the world's smartest subscription & billing platform providing enterprises with the freedom to deploy flexible business models that drive recurring revenue streams. eSuite provides next generation lifecycle management that enables the identification, acquisition and retention of customers. With offices throughout the Americas, Europe, Middle East and Asia Pacific, MPP Global has an impressive track record of maximizing customer lifetime value. Clients include Sky, McClatchy, L'Équipe, Bonnier, Specsavers, Daily Mail, Racing Post and the New Zealand Herald.

24i Media (www.24i.com)
24i is a leading vendor in video streaming apps for all devices including mobile, Smart TV, Set-top-boxes, Pc/ Mac, game consoles etc., empowering broadcasters, content owners and operators with future-proof and flexible tools to create and monetize personalized video apps, while accelerating time-to-market and reducing cost.
24i's technology framework powers the digital experience for leading brands around the world, including RTL, Fox Sports, Viacom Media Networks, Televisa, Fuse Media and many more. 24i Media is headquartered in Amsterdam, with offices in Los Angeles, Buenos Aires, Copenhagen, Madrid and Brno.