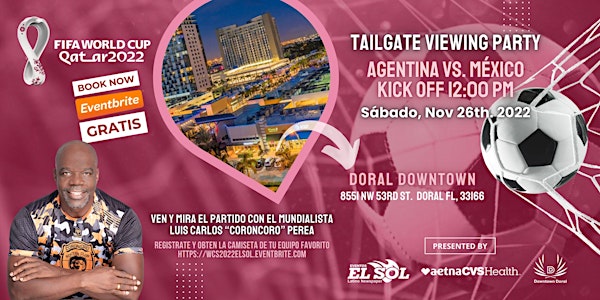 Kick Off Argentina Vs México
Ven y disfruta, Argentina se medirá ante México en la segunda jornada de la Copa Mundial 2022 de la FIFA.
When and where
Location
8551 NW 53rd St 8551 Northwest 53rd Street Doral, FL 33166
About this event
Argentina vs. México, el partido más apetecido para Qatar 2022
Join us to enjoy this great match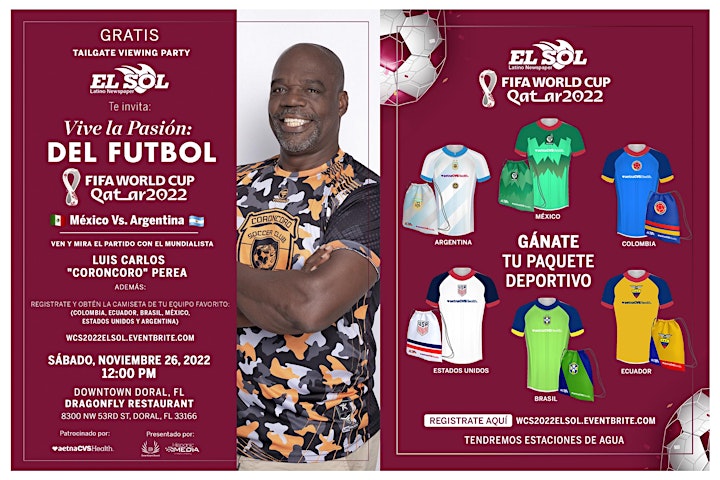 Fútbol coming home
The big screen is ready to show the World Cup 2022
Eventos El Sol Latino together with Aetna CVS Health present [Kick-off Soccer Game] an event within the framework of the Futbol World Cup Qatar 2022
Book your seat now to ensure you have a great view! Saturday 26th November 2022 12:00 PM Argentina vs Mexico Tailgate Viewing Party.
Please arrive half an hour before kick-off. We have plenty of parking all around us, with multiple parking garages around us
The event will take place on November 26 from 12 p.m. at Downtown Doral 8551 NW 53rd St, Doral, Florida, 33166
Argentina have won all three World Cup meetings with Mexico (1930, 2006, 2010), including two Round of 16 matches: a 3-1 win in 2010 in South Africa and a 2-1 extra-time victory in Germany.
Tickets for this year's rematch and competition between Argentina and Saudi Arabia at the 80,000-capacity Lusail Stadium are sold out.
Qatar represents another chance for one of the gaming giants to rewrite its World Cup legacy.
Messi, 34, played in his first of four World Cup round of 16 tournaments in 2006 and came closest to winning the coveted title in 2014 when Argentina lost to Germany in the final.
***************************
Eventos El Sol Latino junto a Aetna CVS Health presentan [Kick-off Soccer Game] un evento en el marco del Mundial de Fytbol Quatar 2022
Argentina ha ganado los tres encuentros de la Copa del Mundo con México (1930, 2006, 2010), incluidos dos partidos de octavos de final: una victoria por 3-1 en 2010 en Sudáfrica y una victoria por 2-1 en la prórroga en Alemania.
Las entradas para la revancha de este año y la competencia entre Argentina y Arabia Saudita en el Estadio Lusail, con capacidad para 80.000 personas, están agotadas.
Qatar representa otra oportunidad para que uno de los gigantes del juego reescriba su legado mundialista.
Messi, de 34 años, jugó en su primero de cuatro torneos de octavos de final de la Copa del Mundo en 2006 y estuvo más cerca de ganar el codiciado título en 2014 cuando Argentina perdió ante Alemania en la final.
About Hispanic Media LLC:
Hispanic Media LLC is a business organization with strengths in creating editorial content from diverse sources, published in traditional media and also on different digital platforms.
It has many years of experience in the media with offices in Miami, Philadelphia and Bogotá and is the publishing firm of El Sol Latino Newspaper, Latinas LifeStyle and Estylo Magazine. Hispanic Media specializes in providing media messages in the form of audio, video, digital, print and event marketing.