Multiple Dates
Kick Off and Orientation-Teen Small Business Summer Camp
Event Information
Location
Two Locations- PLEASE SEE DESCRIPTION
827 Exposition Avenue
Impact House
Dallas, TX 75226
Description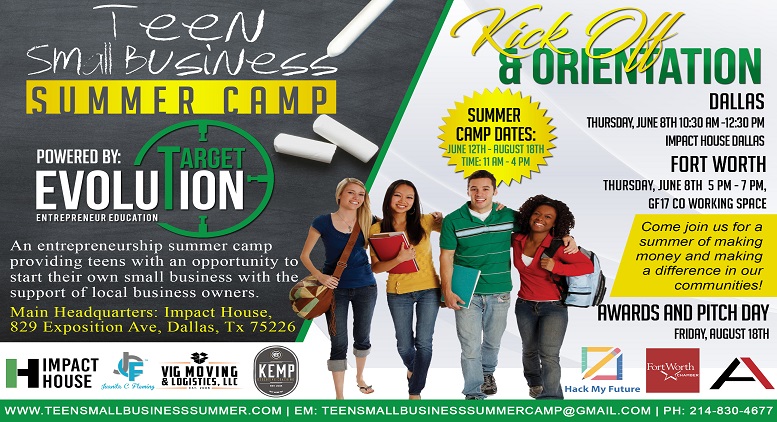 The Teen Small Business Summer Camp is a 10-week total immersion entrepreneurship program hosted in Dallas and Fort Worth. Parents and teens must attend the Kickoff Orientation in order to participate.
The Kickoff is Thursday, June 8th, 2017 at 10:30 am in Dallas at Impact House and 5 pm in Fort Worth at GF17 CoWorking Space. The address to the afternoon Kickoff is 210 South Freeway, Fort Worth, Texas
Refreshments will be provided. The Kickoff Orientation is absolutely free, if the teen is accepted into the camp, it is $25 per week per person.
Come meet the teams and learn more about how our program works!
For more information visit www.teensummerbusiness.com OR send email to teenbizcamp@gmail.com
Location
Two Locations- PLEASE SEE DESCRIPTION
827 Exposition Avenue
Impact House
Dallas, TX 75226