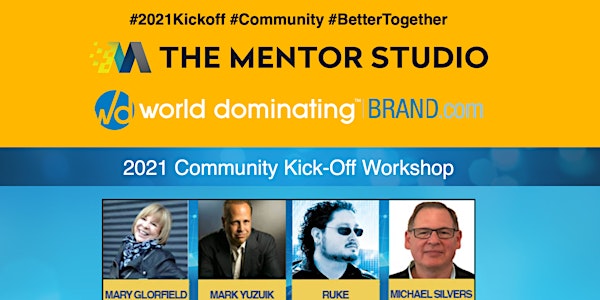 KICK OFF 2021 NOW! WORKSHOP
KICK OFF 2021 NOW! With Hosts Mary Glorfield, Michael Silvers, RUKE, and Mark Yuzuik!
About this event


KICK OFF 2021 NOW!
WORKSHOP
PRESENTED BY THE MENTOR STUDIO AND WORLD DOMINATING BRAND
Your New 2021 Community is Ready to Support YOU in creating the LIFE YOU DESERVE. 
Personal Coaching and Development
Professional Empowerment and Positioning
Journey Together in Community Building Success
Grow personally and professionally so that you can step into the life that you deserve with a community you love. This 2021 Kick Off Workshop features  host Mary Glorfield, who served 18 years as Executive VP for Tony Robbins and 12 years in Speaker Development for T. Harv Eker.
Additional speakers include Michael Silvers, RUKE and Mark Yuzuik. Start with a great kick-off workshop to THRIVE personally and professionally in 2021.  
Imagine if YOU had direct access to positive role models, resources, and information from influential and accomplished global professionals in the community, and business world.
Friday, December 18, 2020
2pm - 7pm EST / 11am - 4pm PST
#2021Kickoff #Community #BetterTogether
Open to Public