KICK IN THE BASS - Presented by L.A.B.A.

Friday, March 14, 2014 at 9:00 PM

-

Saturday, March 15, 2014 at 3:30 AM (PDT)
Event Details
Join us March 14 as we celebrate our Pre-Record release on Booty Trax Records a track called "Dancing to the Bassline" Featuring A.S. Beat and Alaska MC remixes by DJ Oscure, DJ Loomer, and Blacklist. Out March 17th on Beatport and where available.  
We got a great dj line up for you plus the amazing LABA Fly Girls. <3
Djs:
Oscure & The LABA Flygirls 
Loomer
Josh Chambers
Eva
Hyjynx 
Abide 

9PM - 3:30AM
Free Cover before 10PM  - $20.00 at the Door
21 and Over 

Located at the King King Hollywood 
6555 Hollywood Blvd  
more into at:  www.templeofbreaks.com
The Green Approach to Tickets:
When purchasing tickets here you will be automatically added to our list and will receive an email confirmation. You can just show us your tickets confirmation on your phone or print the tickets We prefer the green approach and just show us your id, or email confirmation from your smartphone and save some trees.  General Admission Tickets will be available at the door. Cash or Credit Cards(add $1.50 per ticket) will be accepted. 
TIME SLOTS
Abide - 9:00pm - 10:30pm
Hyjynx - 10:30pm -11:30pm
Loomer - 11:30pm -12:30pm
Josh Chambers - 12:30am - 1:30am
Oscure - 1:30am - 2:30am
Eva - 2:30am - 3:30am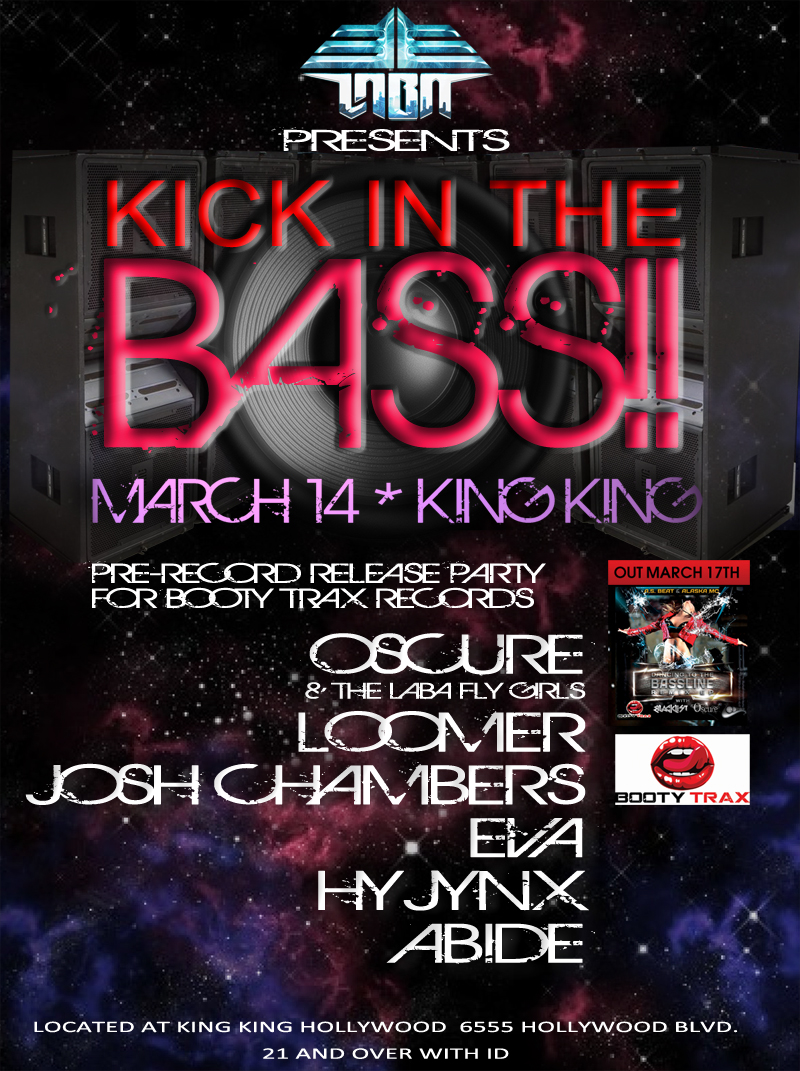 About the Djs:

OSCURE
http://soundcloud.com/djoscure
http://twitter.com/djoscure
DJ/Producer-Founder of L.A.B.A.
Los Angeles Breakbeat Association
Oscure has been one of the integral pioneers of the Los Angeles Underground Dance music scene. Djing, producing and remixing music under the moniker or DJ OSCURE, FUNKY GHETTO PHONICS, and SKAMA87. His friends and fans have named him the Godfather of Breaks in LA, not only for his dedication to the breaks genre, but for laying down the ground work for many djs, and upcoming producers alike. DJ OSCURE is the founder of LABA-Los Angeles Breakbeat Association and now a proud new member of the EMA-Electronic Music Alliance.
Oscure's track selection combinded with turtable skills keeps the dancefloors rockin, there's a reason why his dj schedule has not taken a pause since the late 1990′s. His original music productions have been licensed and released on several labels including his own indie label LABA Recordings. Some of his Studio collaborations include musicians like Run DMC, Sula, Medusa & the Feline Science, ILL Knob(Wu-Tang), Stacy Brandt, and recently Eastern Sun. Check out his latest release coming out on Booty Traxx March 17
_______________
LABA FLY GIRLS
https://www.facebook.com/labaflygirls
LA's very own LABA Flygirls are the official dance crew for the Los Angeles Breaks Association. These girls rock the bass like no other.
The LABA FLY GIRLS rock the bass like no other with their hyphy steeze and bad a$$ moves they always bring the supa fly vibes. We are a multi talented group of dancers and performers with skills ranging from hooping to twerking. We bring the vibes and the looks making every LABA performance fresh and fun...trust us you want the Fly Girls at your event ;)
_______________
LOOMER
https://twitter.com/theloomer
https://www.facebook.com/djloomer
https://soundcloud.com/djloomer
DJ Loomer's sound fuses funky and driving Breakbeats, dirty Electro, Nu-Disco and Minimal Techno-Soul for a journey that crosses genres and generations.
Loomer produces and performs Breakbeats and Dirty House Music with intricate melodies, abstract vocal phrasing, and phat, dusty bass to activate body and mind. DJ Loomer's sound is characterized by lots of changes, many layers of broken beats and provocative lyrical snippets which narrate a labyrinthine journey across time and space.
Remix tracks are available on Teknical Funk and illeven:eleven recordings. His next release, "Dancing to the Bassline" (Loomer Remix) is due on Booty Trax on March 17, 2014. An original LP is on the way. The Loomer can be found rocking dance floors from Coachella to Electric Daisy Carnival, from Lightning in a Bottle to Burning Man.
In addition to performing at events and festivals in the US and abroad, Loomer (aka David Loomstein) produces live events with partner Art Cruz and the Southern California-based Cruz Coalition.
_______________
JOSH CHAMBERS
https://twitter.com/DJJoshChambers
https://www.facebook.com/DJJoshChambers
https://soundcloud.com/djjoshchambers
Having participated in the breaks scene since the 90s, Los Angeles-based Josh Chambers has seen electronic dance music rise, fall, and then rise again – and time has told that no matter the trends, he's not going anywhere.
Chambers was born in North Carolina and spent his formative years there. At age 18, he saw local DJ Phat Rabbit throw down a breaks set that would prompt him to pursue music as a lifelong passion. Over the next three years he honed his craft playing gigs all over the East Coast, opening up for big-name acts such as DJ Icey, Baby Anne, Frankie Bones, DJ Dan and Carl Cox. At age 21, he relocated to Los Angeles to educate the West Coast in the art of breaks, carving out a considerable niche for himself while bringing others up along the way.
After holding down residencies at The Orion and Qtopia among other gigs in and around Los Angeles, Chambers decided to teach himself how to produce his own tracks in 2010. He released his first single, "Ghetto Punk," on Toast & Jam records – and was pleasantly surprised by the warmth of its reception. In 2013, he started his own label, Booty Trax, distributing for artists such as KidPanel, JDouble, KL2, Synthetic Hype and Blacklist. Roughly 95% of their releases have been featured on music download giant Beatport's Top 100 Breaks charts; Chambers' own most recent releases, "Bounce Like This" and "So Damn Cold have landed at #16 and #50, respectively.
While he cites artists like Stanton Warriors and Krafty Kuts as early inspirations, his most recent influences include DJ Fixx and Keith MacKenzie. Unlike many artists
with his tenure, Chambers continues to value his fans. Whether at his shows or online he engages them with respect and gratitude, never falling short of the expectations of his innumerable supporters. As far as the world of breaks is concerned, he's well on his way to becoming a household name – one that fans ranging the entire dance music spectrum ought to keep an eye on.

__________________
EVA
https://www.facebook.com/evilbunnie
https://twitter.com/imeltyourface
http://soundcloud.com/imeltyourface
FACE MELTER
Eva's east coast roots have helped develop her taste in dark, dirty and raw beats ranging from electro bass and breakbeats to dubstep, and everything in between. Her stylized selections have brought her to audiences around the nation, sharing the stage with such notable international artists including Crystal Method, Stanton Warriors, Reid Speed, DJ Icey, Deekline & Wizard, Freestylers, Krafty Kuts & Uberzone; as well as Miami based legends and personal heroes Jackal & Hyde, Hydraulix, Supernaut, Merlyn, and many more. In addition to a rigorous solo dj schedule Eva's ongoing creative collaborative efforts also include extensive work with an all female roster of divas: JULZ MC is a frequent partner in crime as are her dj crews, Bitches on the Switches & White On Rice, Divas. Her most successful pairing has been with So-Cal electro bass pioneer Athena, together known as Kimchee Love. You can catch her locally without fail at her Hollywood breakbeat monthly BROKE AS F**K, formerly (BROKE on Sundays) steadily keeping the breakbeat vibe alive in Los Angeles since 2007. Look for her as she continues to rinse out sweaty crowds across the nation.
_____________________
HYJYNX
https://www.facebook.com/tommy.hyjynx
http://www.mixcrate.com/hyjynx
HYJYNX has been moving souls and blowing minds for over the past decade as a founding member of Ninja Skillz in Los Angeles. His style is an ever evolving blend of uplifting swing house, progressive breaks, dirty electro, and techno/tech house. This BurnLA resident & Buckeye native has performed at events ranging from Ohio to Black Rock City and all the way down to Mexico; at festivals all over Southern California; and in countless warehouses, lofts, art galleries, and clubs. With HYJYNX at the helm, every set is an epic adventure across the globe, bridging the gap between the past and the future!

______________________
ABIDE
https://www.facebook.com/DJAbid3
https://soundcloud.com/dj-abide
DJ Abide comin' at 'cha! Electro House, House, Deep House, Funky House, ITS ALL GOOD BABY!!!
Ask your party promoter when DJ Abide goes on!!
________________________
www.templeofbreaks.com
When & Where

King King
6555 Hollywood Blvd
Los Angeles, CA 90028


Friday, March 14, 2014 at 9:00 PM

-

Saturday, March 15, 2014 at 3:30 AM (PDT)
Add to my calendar
Organizer
L.A.B.A. - Los Angeles Breakbeat Association
LABA is a Los Angeles based record label with a roster of talented Djs and Producers. Keeping the torch lit for the Breakbeat scene in Los Angeles since 1996. This crew is one not to be wreckoned with. You're bound to dance your pants off when any of these guys and gals throwdown at a club or event near you. Be sure to catch them at this upcoming event with their hot dancers the LABA Fly Girls.
www.laba.org
KICK IN THE BASS - Presented by L.A.B.A.