Sales Have Ended
Ticket sales have ended
Thank you! See you at the park!
Sales Have Ended
Ticket sales have ended
Thank you! See you at the park!
Join soundXperiment for two full days of bass music, live art, vendors, and more at Oak Canyon Park!
About this event
soundXperiment PRESENTS: Kick Back at the Park!
Kick Back at the Park is an electronic bass music concert. Experience a variety of bass music at a beautiful park in Southern California! This is an outdoor, open-air concert on grass! 2 Stages of bass music, a lounge, 70,000 WATTS of PK Sound, Live Art, Vendors, 35+ DJs and multiple surprise guests!
Featuring Yheti, Truth, Tsuruda, Jantsen, + Many More on July 10-11th, 2021 from 12:00pm - 10:00pm.
Oak Canyon Park | Silverado, CA.5305 E Santiago Canyon Rd., Silverado, CA 92676 (Please use Google Maps)
Gates open at 11am to begin parking each day, please do not arrive before 11am.
This concert is strictly 18+. One ticket per attendee is needed.
Government Issued ID Required For Entry.
Please follow the direction of security, parking attendants, and venue staff.
* All CDC and State of California guidelines will be enforced. Our team is working closely with Orange County Fire, Health Department, and Sheriff agencies to ensure this concert meets and exceeds all recommended standards. To ensure safety, maintain safe social distancing practices, we have an entire park and beyond adequate sound system for all to enjoy.
NO large Passenger Vans, RV's, Trailers, or Commercial Vehicles will be permitted.
Staff and security teams will be roaming grounds while completing safety checks. Please be friendly, remain distant, and enjoy the concert!
FULL PK SOUNDSYSTEM, concert production and shaded Canopy Lounge!
Live art, Vendors, 2 music areas!
Bass music all day!
FOOD VENDORS: TBA
VENDORS: TBA
LIVE ARTISTS: TBA
DO's
DO maintain a social distance from others, there's a whole park and more than adequate PK system for all to enjoy!
DO bring your Friends, Flow Toys/light up poi, Lights, Hula Hoops, and Blinky Toys are all permitted and encouraged.
DO bring Blankets, Chairs, Snacks, Water Bottles, Hammocks, Inflatables, Layered Clothes, Sunscreen. It's a day at the park, plan accordingly!
DO clean up after yourselves and take all trash with you. Pack it in, pack it out!
DON'Ts
DON'T come to Kick Back if you are feeling ill or have any COVID-19 symptoms. It is all of our responsibility to remain as considerate as possible
DON'T bring external subs or speakers.
DON'T bring tents, canopies, tables, BBQ/Grills, coolers, fire toys, lasers.
DON'T go back and forth from your car, NO INS AND OUTS! Plan to stay inside the park all day and arrive with everything you need!
DON'T bring illegal substances.
DON'T bring any Alcoholic Beverages. This includes beer, wine, hard alcohol, seltzers, hard kombucha, etc.
DON'T bring any weapons, blades, firearms or fireworks.
DON'T bring any paint, markers, aersol cans, stickers, flyers, posters.
DON'T bring professional cameras (DSLRs), cameras withdetachable lenses, video cameras/equipment, and drones.
DON'T leave any trash. Pack it in, pack it out!
For more information please check our FAQ at www.soundXperiment.com/FAQ
Security Policy
All attendees, items and cars are subject to search upon entry by security and law enforcement.
Security personnel reserve the right to prohibit items seen as harmful, dangerous or not in the best interest of the concert and its attendees.
** All attendees, items and cars are subject to search upon entry by Security and Law Enforcement**.
Photo & Drone Policy
By attending Kick Back at the Park in (the "Concert") you consent to being filmed and or photographed, whereas your image, voice, and likeness may be used by soundXperiment for promotional purposes.
Any photography or video taken at the Concert, whether in digital or analog format, is subject to a mandatory, non-exclusive license to soundXperiment for use in promotional purposes.
Any artwork or performances sponsored by the Concert or taking place on Concert grounds is also subject to a mandatory, non-exclusive license to soundXperiment for use in promotional purposes.
All photographers using DSLRs or cameras with detachable lenses are required to have media credentials to take pictures or video at the Concert.
To ensure the safety and enjoyment of all Concert attendees, artists, and staff, soundXperiment strictly prohibits the operation of or use of any unmanned aerial cars (UAVs), also known as "Drones", on, from, or above Kick Back at the Park in premises, concerts or venues without specific written permission from an official of soundXperiment. This includes all UAVs regardless of size, weight, or purpose. If you are found to be using or in the possession of a UAV or "Drone" while at Kick Back, it will be confiscated by ground staff and held for the remainder of the concert.
Refund Policy:
All sales are final. This Concert is Rain or Shine. It is up to every attendee to read and comply with our concert regulations, all listed on our FAQ. www.soundXperiment.com/faq
Cancellation Policy:
If the concert is canceled, you will have thirty (30x) days after the concert date to request a refund. Any concert that is postponed or rescheduled, is not eligible for refunds. All previous tickets will automatically carry over to the new date.
Any attendees found acting in an unsafe manner will be ejected from Kick Back. NO refund will be given for anyone removed from Kick Back for unsafe behavior.
Connect with us!
www.soundXperiment.com
IG| @_soundXperiment
FB| /soundXperiment
TW| @_soundXperiment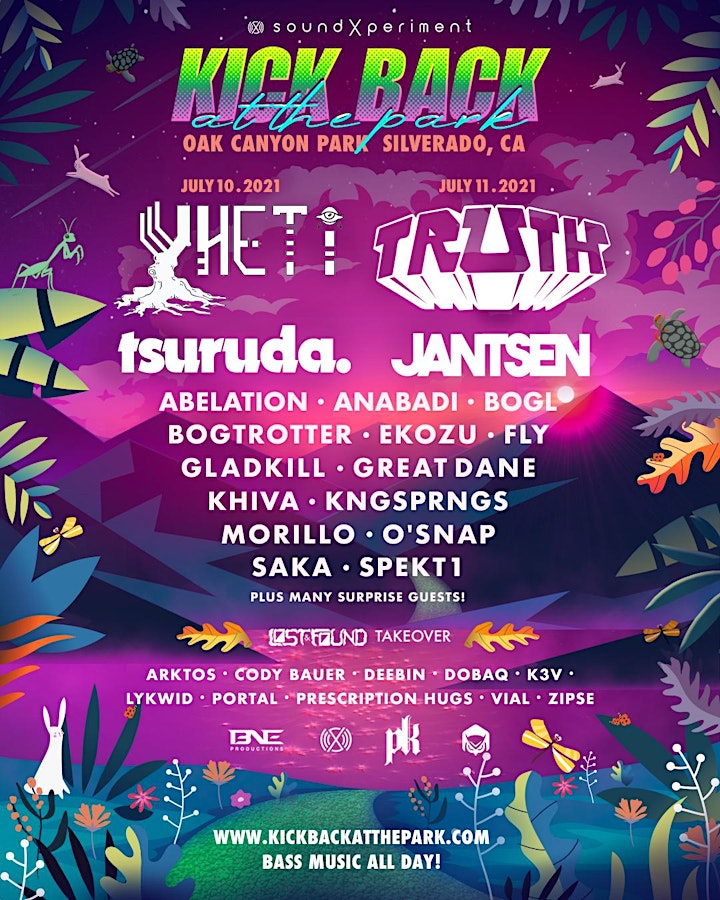 Organizer of Kick Back at the Park! | Yheti, Truth, Tsuruda, Jantsen & More!