The fifth art project by the Kids Having Fun Collective.
About this Event
Kids Having Fun (KHF) is where street art and skate boarding meet humanitarianism. Come join us for an evening of Art, Tie Dying, Food, Drinks, and our second installment of the 4/20 Olympics.
Whether it's an event, curated clothing or guided classes we do dope ass shit.
Covid-19 Protocol
We will be following all Massachusetts Covid-19 guidelines for events.
Temperature checks upon entry
Gloves, Masks and Hand Santizer available
Masks mandatory inside of the gallery.
Vendors stationed atleast 6ft apart
For full list of guidelines please click here
Activities:
Tie Dying
Go home with your own fire ass 1 of 1 custom tie dyed KHF tee. Our artist friends will help you pick colors and a design and then watch as they breathe magic into your shirt. Less green on your hands and more green in your bowls.
Tee shirt cost: $25
Art Gallery
Don't forget to check out the art displayed inside the gallery. All art on display is available for purchase.
Works by:
THE 4/20 Olympics!!!
Our second installment of this hit event. Three categories, 10 contestants in each category and multiple winners per category. You get to keep the product that you rolled.
Each Category $20.
1. Best Blind Folded Blunt Roll
[Rules: Each person gets a set amount of time to roll a joint or blunt blind folded. 3 Judges will decide winners based on look of finished product and overall time spent. With time being the tie breaker]
2. Fastest Blunt Roll
[Rules: All about speed. Roll a joint or blunt and place it on the table and you are finished.]
3. Most Creative
[Rules: Each person is given 5-10 mins to roll a blunt/joint that they will see in an image. Who ever gets closest to the actual design wins.]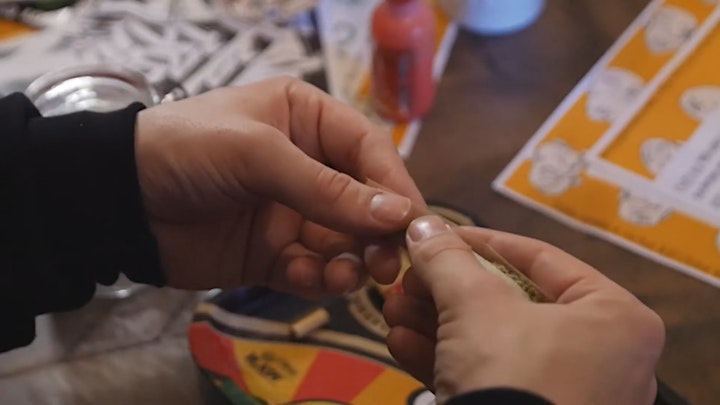 Vendors
_whozwho_ / Hoodies and Socks
illaisland / Keychains, Rolling Trays, Grinders,Stickers
AbadJewelry/ Bracelets
Rem Remedies / Fresh Juice
Food & Drinks
Food and drinks available for purchase. Trust us you are going to get hungry.
Food by PigPensBBQ.
Non Alcoholic Beverages.
Free Wine and Beer available 21+
Raffles
learn more about our various raffles at the event. We will have staff asking if you would like to participate in a 50/50 or various other raffles.
All Access Passes:
Hippie Pack - $30 (save 15%)
Custom KHF tie dye tee
1 Free infused Juice
Stoner Pack - $50 (save 15%)
Entry to all three 4/20 events:
Blind Folded Roll
Fastest Roll
Creative Roll
Connoisseur Pack - $75 (save 20%)
Custom KHF tie dye tee
Gift Bag
1 free infused juice
Entry to all three 4/20 events:
Blind Folded Roll
Fastest Roll
Creative Roll