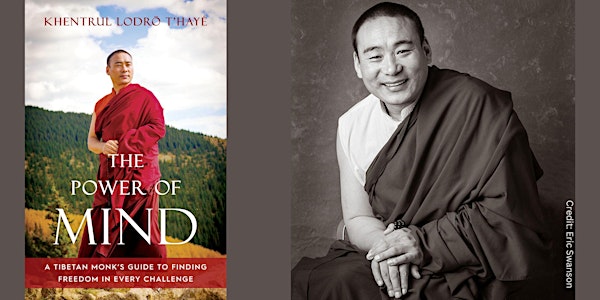 Khentrul Lodrö T'hayé Rinpoche -- "The Power of Mind"
Khentrul Lodrö T'hayé Rinpoche will speak about and sign his new book, "The Power of Mind," at Boulder Bookstore.
When and where
Location
Boulder Book Store 1107 Pearl Street Boulder, CO 80302
Refund Policy
Contact the organizer to request a refund.
About this event
Khentrul Lodrö T'hayé Rinpoche will speak about and sign his new book, The Power of Mind: A Tibetan Monk's Guide to Finding Freedom in Every Challenge, on Thursday, January 26th at 6:30pm, at Boulder Bookstore.
About the Book:
We've all heard platitudes about cultivating love and compassion, but how can we actually develop these qualities in ourselves and—crucially—share them in our world? The Power of Mind provides the proven path of lojong, or mind training, for changing our experience from the inside out.
Regardless of what's happening in our lives, Khentrul Rinpoche teaches that our route to freedom lies in our minds. A thousand years ago, the Indian saint Atisha risked his life to seek out lojong teachings in Indonesia, and then brought them to Tibet, where they flourished and spread to the rest of the world. This book introduces those teachings—the Seven Key Points of Mind Training—which have been passed down from teacher to student for centuries. Khentrul Rinpoche was inspired by his own teachers, who like alchemists, were able to follow these techniques during the Cultural Revolution and transform their immense suffering into something positive.
The Power of Mind guides the reader through these transformative practices one by one—from recognizing the value of our human life to overcoming the sources of suffering, together with meditation advice for incorporating these insights into our daily lives. This wisdom is accessible to everyone—whether Buddhist or not. As Khentrul Rinpoche states, "Peace and happiness can be attained, but not by searching for something in the outside world. They start within us then extend out to the entire globe."
_________________
IMPORTANT TICKETING AND EVENT INFORMATION
*Tickets are $5 (plus a small processing fee).
*A coupon good for $5 off a copy of The Power of Mind, or a purchase on the day of the event is included with your ticket. You will receive this coupon at the event.
*COVID-19 measures: Admission to this event will be limited, and masks are encouraged for all attendees.
*After purchasing your tickets, send an email to bbsvirtualevents@gmail.com if you're a Readers Guild member and you'd like to reserve a seat at this event. Seats must be reserved before 5pm on event day.