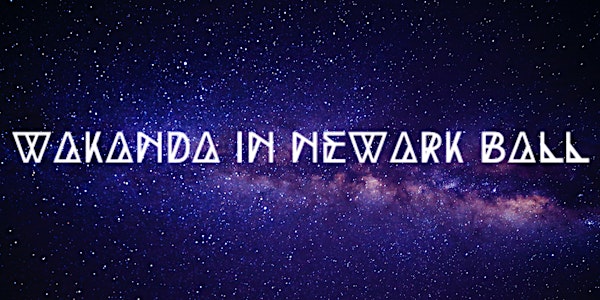 Khem Fest 2022 Wakanda in Newark Ball
Khem Fest and Khem Animation Film Festival (KAFF) hosts the Wakanda in Newark Ball, September 17th, 2022, 6:00 pm - 10:00 pm
When and where
Location
Hahne & Co The Future is Black Afrofuturism Art + Tech Gallery 609 Broad St. Newark, NJ 07102
Refund Policy
Refunds up to 30 days before event
Eventbrite's fee is nonrefundable.
About this event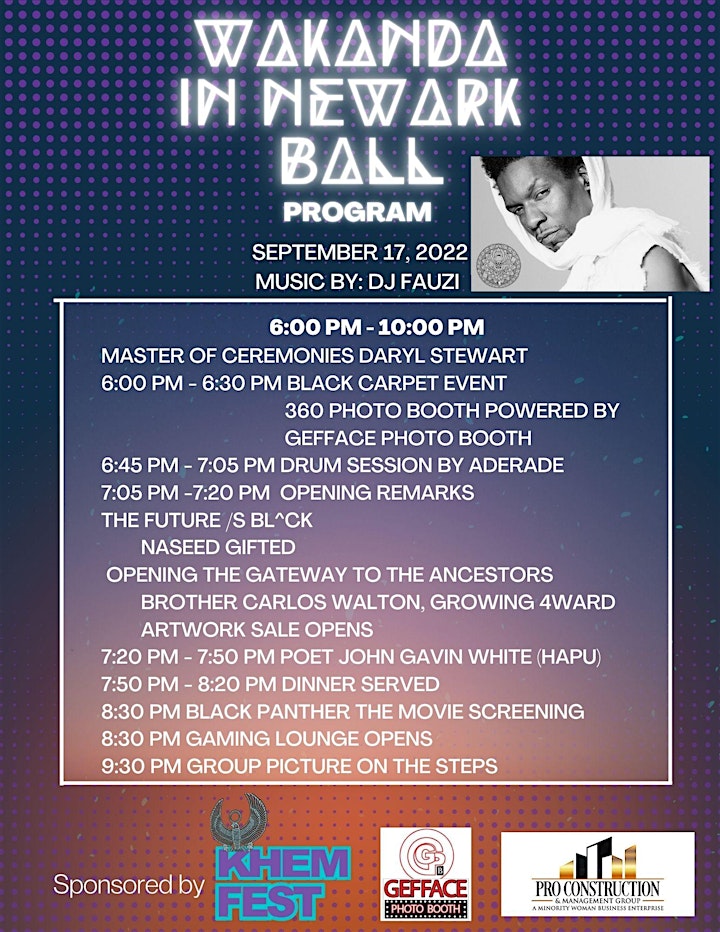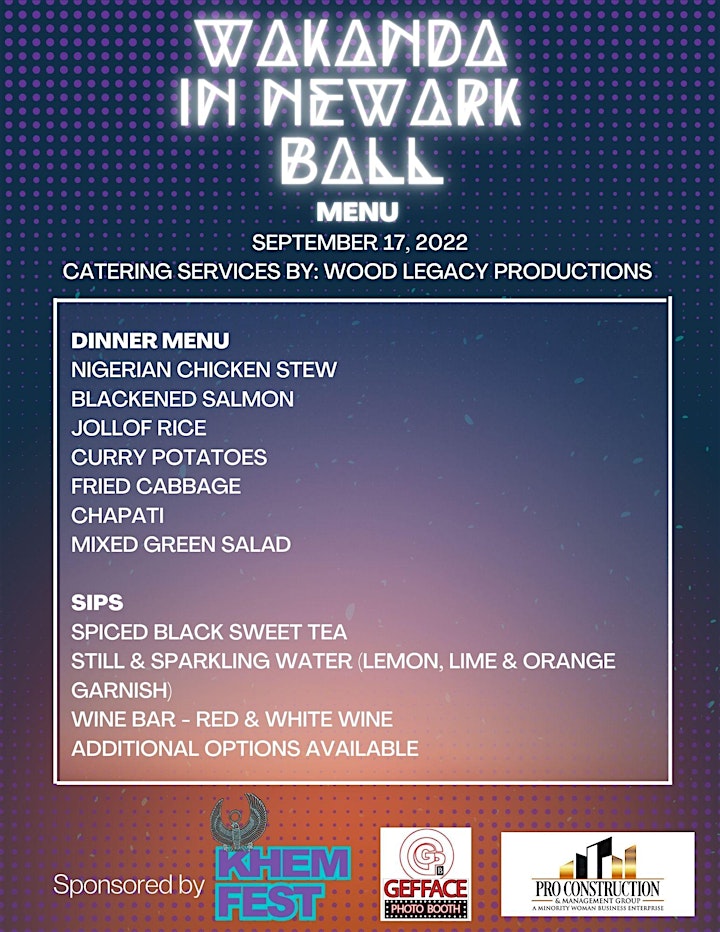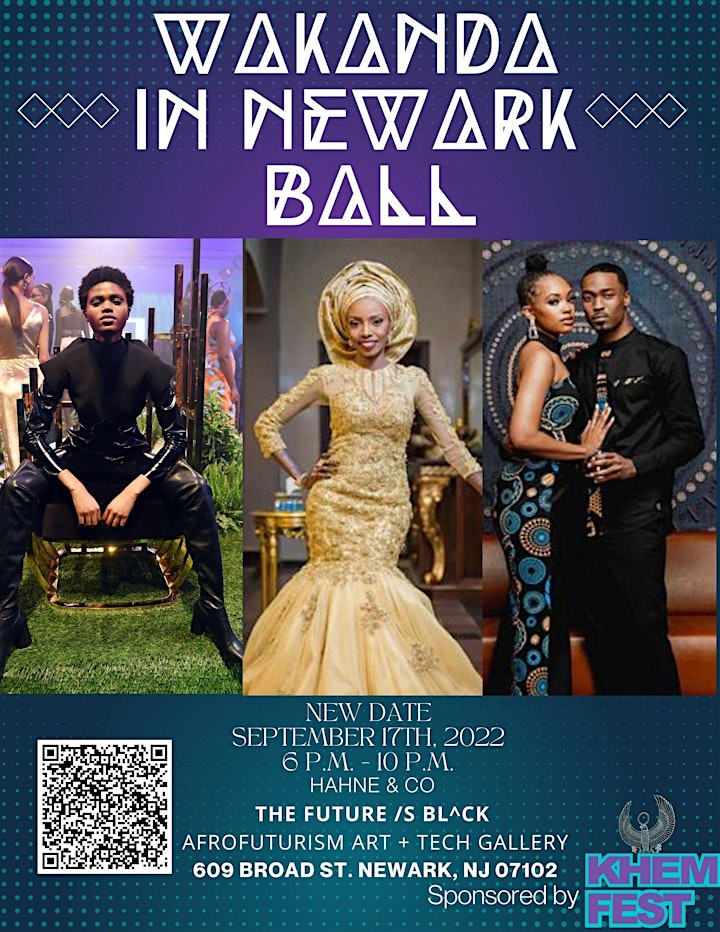 We cordially Invite you to join KHEM FEST for the ultimate Afrofuturism experience as we bring Wakanda to Newark:
WAKANDA IN NEWARK BALL
KHEM FEST and KHEM Animation Film Festival (KAFF) will host our 2022 Wakanda in Newark Ball on September 17th, 2022, from 6:00 pm - 10:00 pm EST at THE FUTURE IS BLACK Afrofuturism Art + Tech Gallery in downtown Newark. All proceeds will go towards both the KHEM FEST S.T.E.A.M. (Science, Technology, Engineering, Arts and Mathematics) initiatives and the KAFF Animation Film Scholarship Fund. These funding opportunities aid KHEM FEST in awarding scholarships, fund S.T.E.A.M. student-centered programming, and help with needs-based requests impacting minority students attending KHEM FEST.
Tickets cover admittance, entertainment, dinner, and drinks. A separate Cash Bar will be available to those of legal age limit (21) to consume alcohol. Valid ID required. COVID-19 protocols observed.
We invite you to wear your formal Dashiki/Kitenge garment or your formal after five wear as the Royal guest of your Kingdom (futuristic fiction)we celebrate in the make-believe land of Wakanda in Newark.
This event is open to the public, with all nationalities, ethnic groups, and sexual orientations welcomed.
Visit the event website for more information and details.
All a part of the 8th Annual Khem Fest taking place September 23rd-25th, 2022
Khem Fest is a convention, festival, and celebration. Our goal of the event is to use comic books, animation, films, and popular culture to develop youth literacy and expression through S.T.E.A.M. (Science, Technology, Engineering, Arts and Math). Hence, we created a festival that will feature and promote creators of comics, animation, books, film, and other media with a focus on people of color; culture, concepts, and interests. Our festival is for everyone and a diverse networking event for professionals as well as enthusiasts to aspire, inspire and appreciate people of color contributions as it relates to Popular Arts media. KHEM FEST is not limited to comics. Our events highlight other literary genres like speculative fiction, as well as video games, collectible toys and models, films/documentaries, and all other media related to the Popular Arts.
KHEM FEST will also provide relevant, engaging, informative entertainment and professional networking opportunities for the Newark community. Among the attractions provided are interactive activities which include; Animation Film Festival, Marketplace, Comic Book workshops, Panel Discussions, Screenings, and Gaming Lounge. Our organization works with its community partners to promote awareness of the competition and the many activities taking place to serve as a bridge to bring the community together.
For more information go to http://khemfest.com
Khem Animation Film Festival/Awards Show
Welcome to Khem Animation Film Festival (KAFF) a new addition to the annual Khem Fest to acknowledge and celebrate the outstanding creative talent we have within Animation, VFX and Gaming industries. The Awards ceremony will take place at Hahne & Co. Building in Newark, NJ on Friday the 23rd of September 2022.
The KAFF MISSION is to promote public awareness of animation and the opportunities for minorities within the profession.
The KAFF is an independent event putting together an international competition of talented filmmakers and groundbreaking stories, from traditional hand drawing to the new century techniques of design.
Our passion for animated films stimulate from being raised in the '80s with Saturday Morning Cartoons, and we want to celebrate those who create them.
For more information go to http://filmfreeway.com/kaff