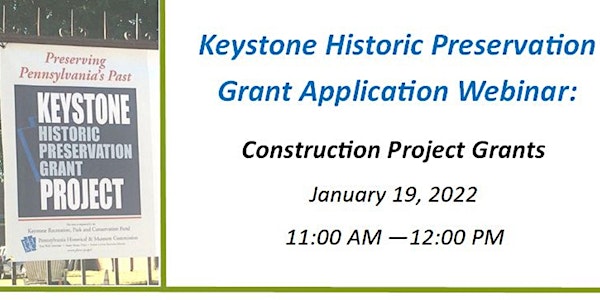 Keystone Historic Preservation Grant Webinar 2022 - Construction Grants
Join PA SHPO for an informative webinar about applying for a Keystone Historic Preservation Construction Grant.
About this event
The Keystone Historic Preservation Grant program is administered by the Pennsylvania Historical & Museum Commission and support projects that identify, preserve, promote, and protect Pennsylvania's historic properties for the benefit of the public and the revitalization of communities.
PA SHPO is offering an informative webinar for anyone interested in learning more about the Keystone Historic Preservation grant program, creating a competitive application, and connecting with program staff.
Construction Project Grants Webinar
Join Keystone Grant Manager Karen Arnold and PA SHPO staff to learn more about grants in the construction category. Topics include:
Program Requirements such as the Secretary of the Interior's Standards
Prevailing Wage
Eligible activities and developing the right team
Certified Local Government partnership
Evaluation Criteria and Selection Process
Tips for pulling together a competitive proposal
Expectations as a Grantee
Organizer of Keystone Historic Preservation Grant Webinar 2022 - Construction Grants

The Pennsylvania State Historic Preservation Office (PA SHPO) is the official historic preservation agency for the Commonwealth of Pennsylvania. A bureau within the Pennsylvania Historical and Museum Commission (PHMC), the PA SHPO administers several Federal programs created by the National Historic Preservation Act of 1966, as amended (NHPA), as well as many state programs authorized through the Pennsylvania History Code.