Description
Apply promotional code "SleepWell" to get 40% off your event pass**
Emerge Thriving: Keys to Unlock Restful Sleep
Infant & Child Sleep Hacks | Reduce Stress | Manage Your Sleep Habits
Getting quality sleep is critical for a healthy and productive life, which often means ensuring our family sleeps well too. Learn how to manage your sleep, help your children sleep soundly, reduce anxiety and tap into inner peace so you can sleep deeply and be productive during the day.
This is a limited opportunity to learn from a panel of sleep experts and get free advice! Join us for a fresh perspective so you can begin living your thriving life.
Our Expert Panelists: Personal Energy & Potential Coach, Mag Secretario, (www.goodlifesleep.com) and Pediatric Sleep Coach, Desiree Baird (www.pediatricsleepcoach.com).

---


Event Schedule
5:30pm | Networking & Meet the Experts
6:00pm | Panel: Keys to Unlock Restful Sleep
Creating Healthy Sleep Habits

Managing Infant & Child Sleep

Reducing Stress

Healthy Sleep Resources




Q & A
7:00pm | Networking & Meet the Experts
Our expert panelists would love to meet you! Please feel free to share your thoughts, ask questions and seek support. This is a rare opportunity to hear from multiple experts at one time and get free one on one advice, so please join us for our networking sessions before and after the panels to make the most of this experience.
Stopping by right after work? We've got you covered. Small bites and beverages will be provided.
---




Meet Mag Secretario, Personal Energy & Potential Coach.
Visit www.goodlifesleep.com to learn more about how Mag can help you get deep, peaceful, and restorative rest. Don't let your potential slip through your fingers! You can succeed, and Mag is here to help you discover the right tools to create your best life.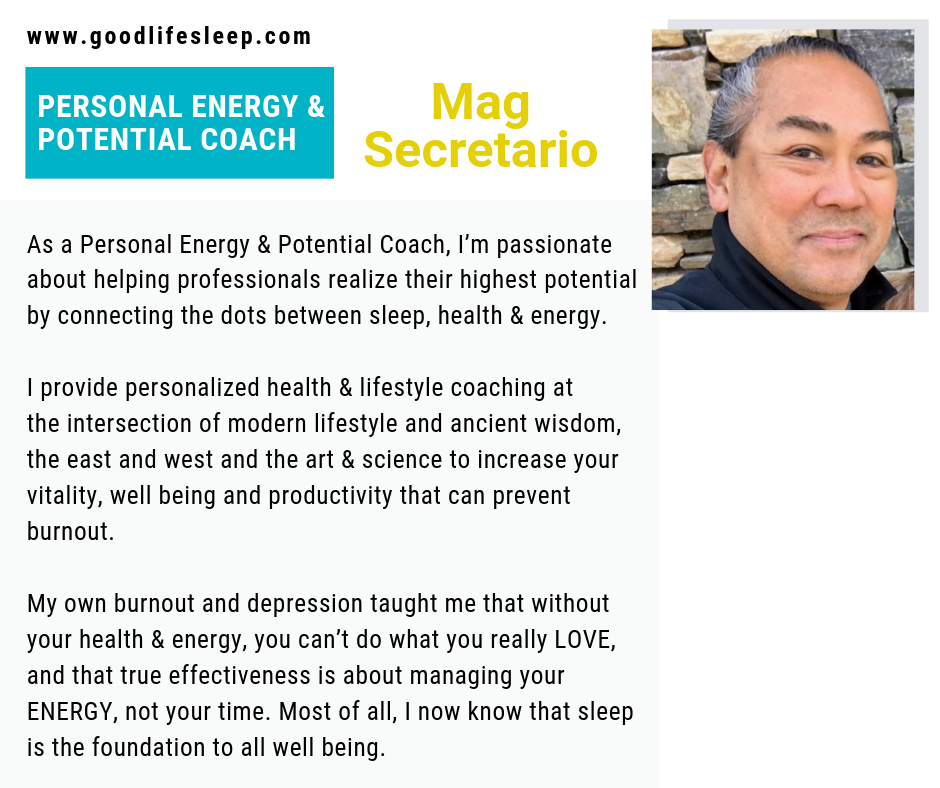 Meet Desiree Baird, Pediatric Sleep Coach.
Visit www.pediatricsleepcoach.com to learn more about how Desiree can help you, and your family, get the much-needed rest you deserve. Don't wait to live your best life; get the help you need to succeed.