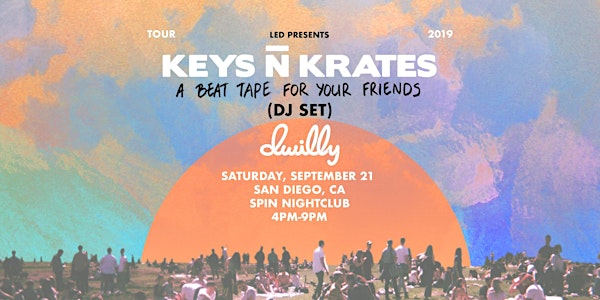 KEYS N KRATES + DWILLY
KEYS N KRATES + DWILLY AT SPIN NIGHTCLUB
When and where
Location
Spin Nightclub 2028 Hancock St San Diego, CA 92110
Performers
Headliners
More Performers
About this event
LED presents...
Keys N Krates
dwilly
Keys N Krates
Since forming a decade ago in their native Toronto, Keys N Krates have carved their own path via a bass-centric, sample-driven sound which melds the realms of electronic, hip-hop and beyond. The group—composed of drummer Adam Tune, keyboardist David Matisse and turntablist Jr. Flo.—has built a venerable reputation as one of the leading live electronic acts today on the strength of their onstage instrumentation and energetic sets. Keys N Krates now elevate their craft with Cura, their debut artist album.
Website: www.keysnkrates.com
dwilly
South Carolina native David Wilson, commonly known as dwilly first broke into the electronic music scene while attending Berklee College of Music in 2016. Currently based in LA, dwilly is a producer, songwriter, and vocalist that blends elements of hip-hop and EDM. With releases on Monstercat Records and Majestic Casual Records, dwilly has songs that have peaked at #24 on iTunes Pop Charts, #10 on US Viral 50 Spotify chart, and #48 on the Global Viral 50 Spotify Chart. dwilly has amassed over 10 million streams in 2018 and has been featured in New Music Friday US. 'Having cooked up quite the sonic formula' (Hillydilly), dwilly has built notoriety as a producer having three top 5 Splice sound libraries becoming well-known for his unique approach to sound design.
Soundcloud: soundcloud.com/itsdwilly
Twitter: twitter.com/itsdwilly
Instagram: instagram.com/itsdwilly
- - - - - - - - - - - - - - - - - - - - - - - - - - - - - - - - - - - - - - - - - - - - - - - - -
Spin Nightclub
www.spinnightclub.com/
www.twitter.com/spinnightclub
www.instagram.com/spinnightclubsd
For VIP/bottle service inquiries please contact Chance at (858) 205-9604
- - - - - - - - - - - - - - - - - - - - - - - - - - - - - - - - - - - - - - - - - - - - - - - - -
LED presents
www.myLifeEveryDay.com
www.twitter.com/LEDpresents
www.instagram.com/LEDpresents