Description
The National Association of Latino Arts and Cultures presents a keynote lecture by performance poet, playwright and theatre director Magdalena Gomez. This talk is free and open to the public.
Keynote Address by Magdalena Gomez
18th NALAC Leadership Institute
Saturday, July 21, 2018 at 2:00pm
UTSA Downtown
RSVP: https://nli18keynote.eventbrite.com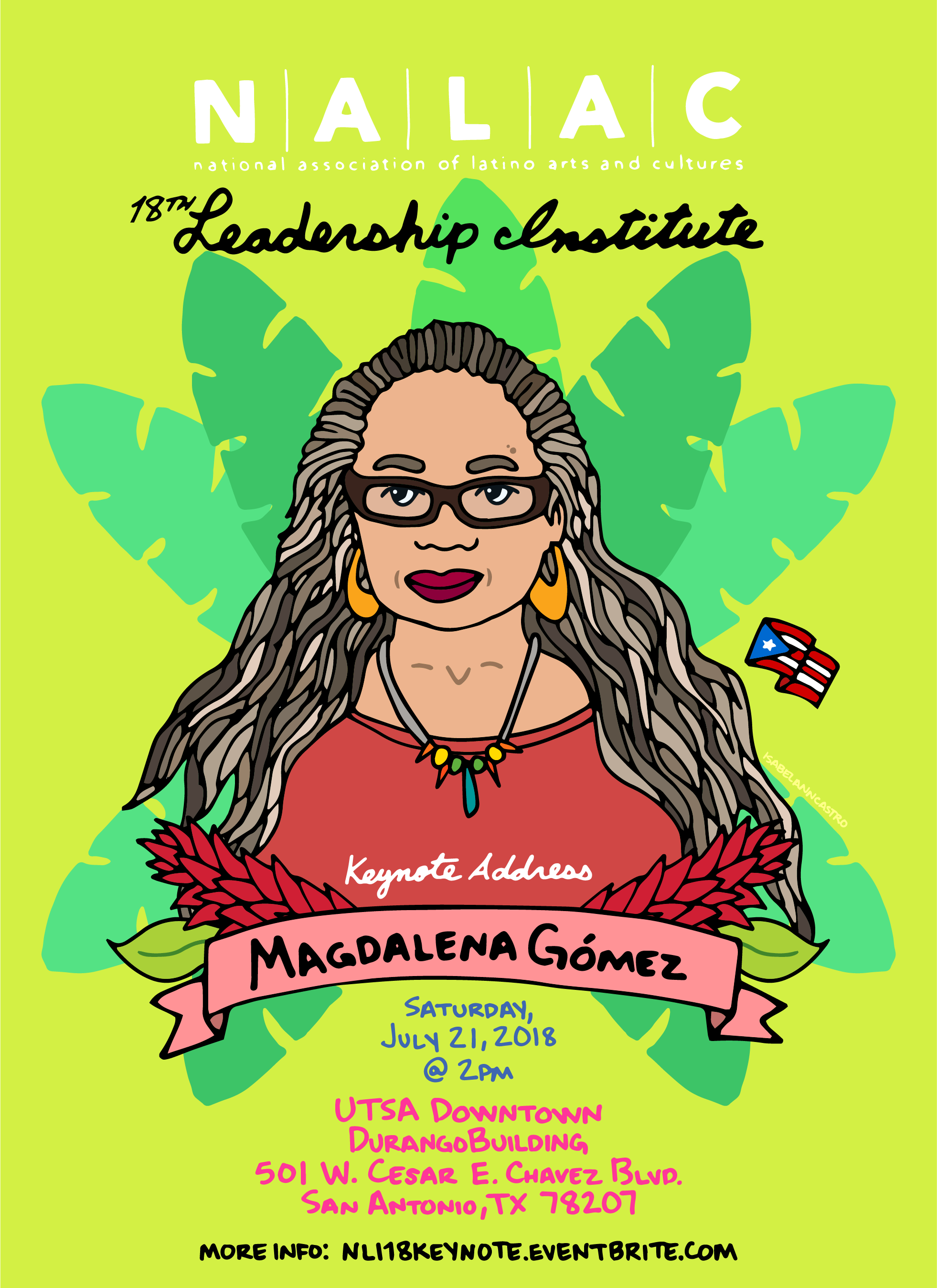 ABOUT MAGDALENA
Magdalena Gómez is an award-winning performance poet, playwright and theatre director. Dancing in My Cockroach Killers, a dramatization of her poems, has been performed to the critical acclaim of Off-Broadway audiences. She is the co-founder of Teatro V!da, the first Latin@ theater in Springfield, Massachusetts, and founder of the Ferocious Women's Group bringing to public view voices of women and girls through writing and performance. For ten years, Ms. Gómez performed with the late baritone saxophonist, Fred Ho as part of the ¡Caliente! Tour. Ms. Gomez is also master teaching artist, New England Public Radio commentator, national speaker and columnist. She also co-edited Bullying: Replies, Rebuttals, Confessions and Catharsis, the first multicultural and intergenerational anthology on bullying. Ms. Gómez may be reached at www.magdalenagomez.com
SUPPORTERS
The NALAC Leadership Institute is made possible thanks to generous support by Southwest Airlines, National Endowment for the Arts, Surdna Foundation, W.K. Kellogg Foundation, The Nathan Cummings Foundation, Texas Commission on the Arts, Southwest School of Art, San Anto Cultural Arts, SAY Sí, individual donors, NALAC members and volunteers.