Actions and Detail Panel
Keynote Dinner: Transform Your Thinking: How a Consumer Mindset Benefits th...
Thu, May 18, 2017, 5:00 PM – 8:00 PM CDT
Description
EVENT OVERVIEW:
Business-to-business marketing has been challenged to consider the "C." While B2B2 Customer trends have challenged marketers, one truth remains: consumers' need for information about their products impacts supply chain decisions. Marketers who move beyond simply integrating buzzwords into their labels and instead transform their brands with a strategic understanding of consumer thinking are going to bring the most positive change to their companies. For example, consumers want food that is safe, made naturally and maybe even locally. They want household goods that are free from the chemicals outlined in an evening news exposé. Brands are affected by these demands at every step of the supply chain. How a brand handles this disruption will affect its success.
In this presentation, Bader Rutter's Jeff Young will help marketers understand why they are best positioned to advocate for a voice-of-consumer approach in business-to-business marketing and what steps they, as well as communicators, can take to adapt to the challenges their businesses face.
SPEAKER BIO: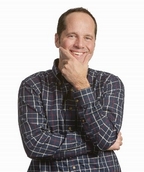 Jeff Young is responsible for the operations of Bader Rutter (BR), where he focuses on growing the agency's offerings and fostering a dynamic work environment for employees. He's been with BR for more than 24 years, starting as a public relations writer and moving on to management roles in PR and account management. Follow BR on Twitter at @bader_rutter.
EVENT DETAILS:
Thursday, May 18, 2017
5:00 – 5:45 p.m. Pre-networking
5:45 – 6:30 p.m. Chapter business and Honoring of the BMA Milwaukee Past Presidents
6:30 – 7:30 p.m. Keynote presentation
7:30 – 8:00 p.m. Post-networking
VENUE:
Cocktail Lounge (6th Floor)
University Club of Milwaukee
924 E Wells St, Milwaukee, WI 53202
PARKING
Indoor parking included with your registration. Enter parking garage from Prospect Street. Garage door will open automatically once you've driven up close to it.
REGISTRATION INFORMATION
Early bird (Register by May 11) — Member: $45, Non-member: $65
General registration — Member: $55, Non-member: $75
BMA Milwaukee VIP Visionaries — Attend for free!
For more information about the new BMA Milwaukee VIP Visionary exclusive opportunity click here.
In order to receive a refund, cancellations must be made by the Monday prior to the event. If you have a last minute conflict, please feel free to send someone in your place.
SPONSOR:

Official Hospitality Sponsor: University Club of Milwaukee