Actions and Detail Panel
KEY5 Speaker Conference 2017
Sat, January 7, 2017, 7:30 AM – 1:00 PM EST
Description
---


What is this event?
Experience speakers who will intrigue, inform and surprise you with their 5-minute Keynote presentations. It's a high-energy, premier environment with interesting people and a ton of giveaways for the participants. You are a part of the experience, as you respond to what is shared in this live-recorded event.
Why attend this event?
You're energized by new information, would enjoy a buffet of knowledge from 21 diverse speakers, sharing 5 minute concise messages, and you find being a part of a groundbreaking concept is exciting. Or maybe you like to get free stuff. We have an amazing line-up of giveaways ($1000 worth of prizes) planned for participants before, during and after the event: from the latest Amazon Echo, to Android tablets, fitness wearables, giftcards and more. See the full list!

(no image? click here to see full list)
Or maybe you like to meet interesting people, and watch and participate in the interaction of engaging speakers and an audience. Maybe you're even tasked with finding great speakers for other events? If so, this is a quick, low cost way to meet and see 21 professionals as they deliver with passion, a bite of their content.


Who is speaking?
These are top-shelf, professional speakers who have honed their message into 5 minute Keynotes. Substance - no fluff. Some of the areas include leadership, strategy, sales, productivity, entrepreneurship, and marketing. To view the bios of the speakers, and learn more about each one, click HERE.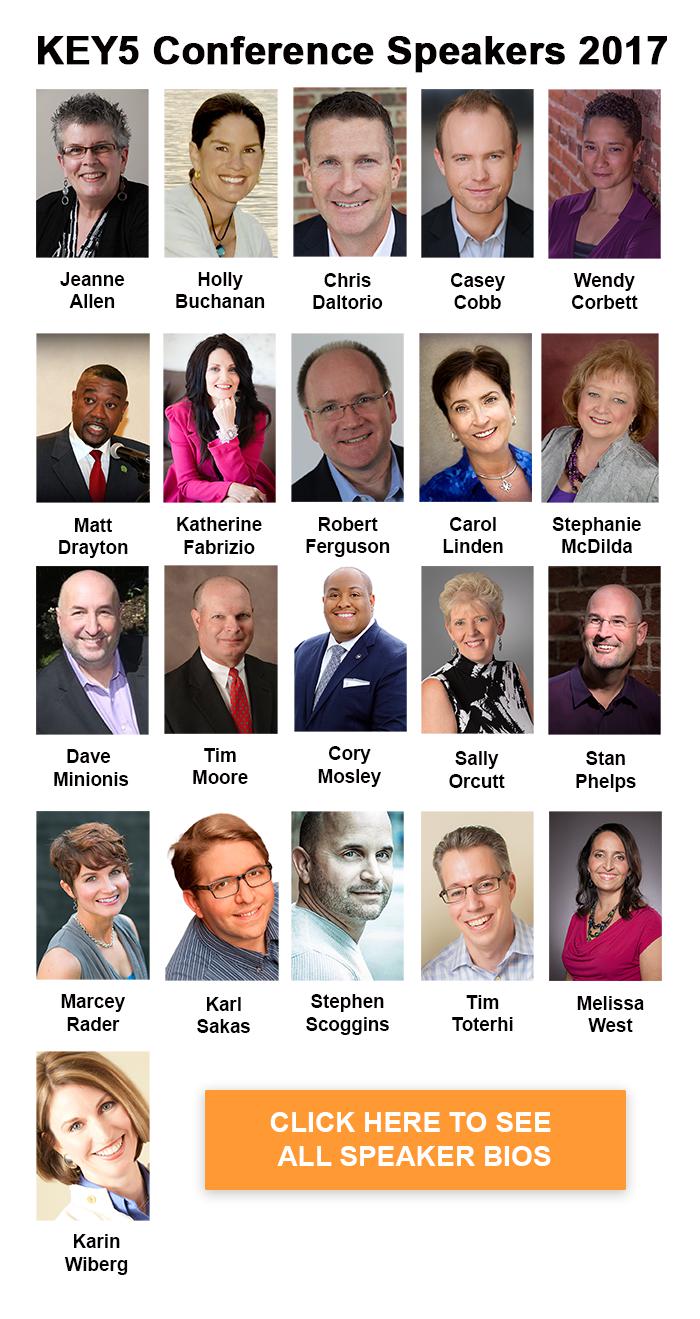 (no image? click here to view images & bios)

When is it and what's the agenda?
This half-day conference will be on January 7th, 2017. Here is a basic agenda:
7:25 AM - registration opens

8:05 AM - conference begins (11 speakers)

10:15 AM - mid-morning break for refreshments and a few giveaways

10:45 AM - conference continues (10 speakers)

12:20 PM - closing remarks and final giveaways

12:40 PM - continued networking and conference ends
Where is it?
The KEY5 is at the upscale, luxury hotel - Embassy Suites by Hilton at RTP - in a decked-out ballroom with a professional setup of lighting and sound for recording. Seating is banquet style, with breakfast munchies, and tea/coffee provided. Want to make it a week-end experience? Then take advantage of our discounted block of rooms. For more info on booking rooms and directions click HERE.
Questions? Reach out to the KEY5 organizers HERE.
Begin 2017 with a bang! Attend the KEY5 Conference and be amazed and energized!
Want to see more? Watch the 30 second trailer:

*this event will be recorded and the footage will be used by the speakers for promotional purposes