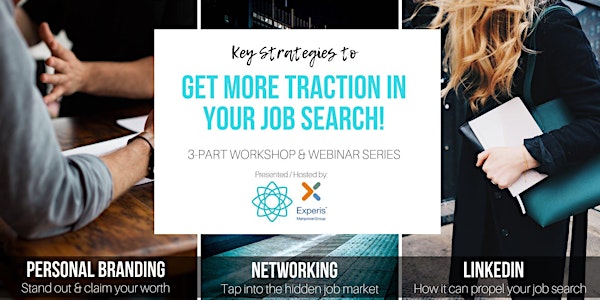 Key Strategies to Get Traction in Your Job Search - 3 Part ONLINE WEBINAR
Description
3 PART WEBINAR SERIES:

Part I: Personal Branding June 5th*

Part II: Networking June 12th

Part III: LinkedIn June 19th
+ Access to limited time replay
*NOTE: As Part I on Personal Branding took place already, the promotion gives you access to the remaining live webinar (Networking + LinkedIn) and the recording of the Personal Branding webinar.
Why are Personal Branding, Networking & LinkedIn Key to Your Job Search Success?

The job search market has changed considerably in the last few years. Thanks to platforms such as LinkedIn, employers and recruiters are now overwhelmed with applications (LinkedIn reports an average of 250 applicants per job opening). This has triggered the use of various software aiming to screen out and reduce the number of potential candidates, namely the so-called ATS which makes it even more difficult for candidates to screen in and get noticed.

So what can job hunters do to navigate the realities and challenges of this competitive job search market? This is what you will learn in this 3-part workshop in which I will present the key personal branding, networking and LinkedIn strategies that job hunters need to leverage for job search success.
Simply put this workshop will provide you with practical and step-by-step approaches to:

Build a solid brand allowing you to stand out of the crowd, show how you add value and thereby position yourself as THE candidate of choice and claim your worth

Build and expand a solid network that will give you access to the hidden job opportunities (that's 60-80% of opened positions not advertised online) and most importantly, how to convert your networking activities into concrete job leads that will lead you to your next job offer!

Masterfully use LinkedIn to propel your job search using the latest strategies (and some touches of digital marketing) to further build and establish your professional brand, get visible and find hidden jobs!
_________________________
What you will learn in this 3-part workshop
Part I: PERSONAL BRANDING (June 5th + replay)
How to propel your job search with personal branding and storytelling
Finding your unique branding and positioning that will make you stand out of the crowd
Finding and pitching how you "add value" to make yourself THE candidate of choice for employers
Using storytelling to address and disarm any concern with your specific profile (career transition, work gap, job hopping, etc.)
Addressing the double personality dilemma
How to build your Personal Branding into your LinkedIn profile
Part II: NETWORKING (June 12th + replay)
The key secrets behind networking for your job search
Step-by-step networking approaches that will not feel salesly or pushy
How to successfully build your job search network, especially if you are in a new field, industry or in a foreign country
4 strategic channels to optimize your job search and results
How and where to find the "hidden jobs" representing 80-90% of opened positions not advertised on mainstream job boards
Crafting reach-out messages that get answered
How to go from connecting to concrete results for your job search
Part III: LINKEDIN (June 18th + replay)
How to build a profile that will get noticed and be search optimised
How to establish your expertise online and be seen as a leader in your field
The new way to use LinkedIn for Job Searching
Creating an action plan that will boost your visibility
Top 6 LinkedIn best-kept secrets for job hunters (including how to connect with people out of your network, how to send emails to non-connections without using InMail credits, how to "SEO or Search Engine Optimise" yourself on LinkedIn, etc.)

Where and how to find hidden jobs on LinkedIn
**BONUS: Behind the scene introduction to the LinkedIn candidate searching tool with Experis Recruiters
_________________________
Additional bonuses:
Access to the limited time replay

65euros gift certificate applicable to private coaching packages

Behind the scene introduction to the LinkedIn candidate searching tool with Experis Recruiters
_________________________
Workshop Agendas:
19.00-21.00 WORKSHOP

_________________________
Testimonials:
"There's a whole dimension of job searching I had no clue even existed - and it works! I got a great job offer less than 2 months after the workshop!" Finance Manager


"Simply put: I landed an amazing job thanks to the strategies Catherine shared in her webinar."
Senior Candidate, Banking Industry
_________________________
**GDPR STATEMENT - PLEASE READ**:
By signing up for and attending this event you consent that the organization can use the following captured data for the stated purposes that are necessary to ensure the best experience for the participants as well as organizational purposes:
Your name & email address: generating your tickets in the WebinarJam platform, sending you your event tickets, notifying you about event updates, reminders, and post-event follow-up details, information and offers

Documentation of the live event through video/audio recording: the material may be used for online versions of this workshops and/our course materials, archived for future reference to enable content improvements and reuse, and promotional materials for future events
Here's our full Terms & Conditions, Disclaimer and Privacy Policy