Key Person of Influence 4th Annual Collaborative Book Launch

Tuesday, February 28, 2017 from 6:00 PM to 9:00 PM (EST)
Event Details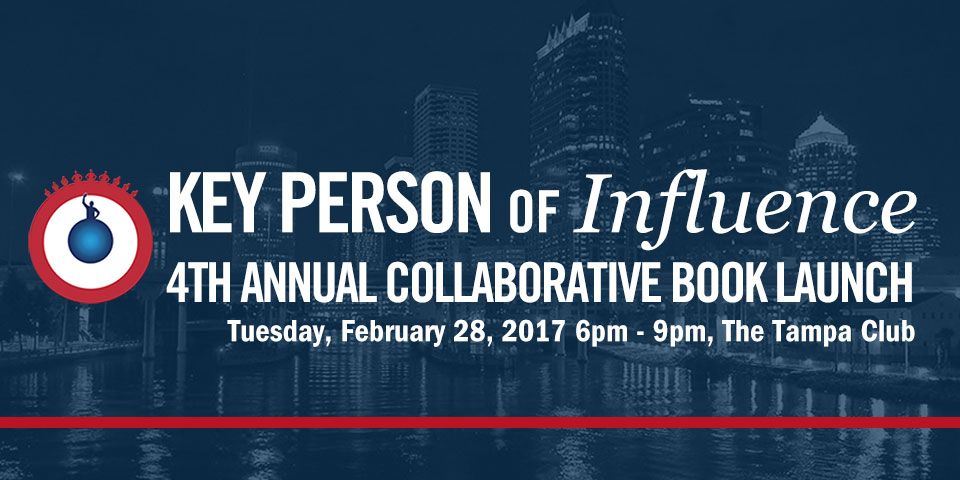 Key Person of Influence proudly presents our eleven newest authors in our 4th annual collaborative book launch.
Enjoy a panoramic sunset with the best views of Tampa Bay from the tallest vantage point in the city.  Meet 12 local business leaders who are all launching their books in this collaborative, elegant atmosphere.
CLICK HERE FOR DIRECTIONS AND PARKING INFORMATION
This is an opportunity for you to pick up their newest books, have them signed, and celebrate with some of Tampa Bay's most innovative and forward-thinking business leaders.  Appearing at this event:
---
Topher Morrison - The Book On Public Speaking                    

The Book on Public Speaking takes a head-on approach and challenges the status quo for business leaders who speak in front of their staff, board of directors, and the public.
 
Karen Rowe - Behind The Cover

If you've been procrastinating writing that book and need just the right mix of inspiration and strategy, this book is chock-full of exquisite advice that will legitimately support you to finally get your book written and published.
Steve Parker - Lighting The Way To North America

A step by step approach to setting up a lighting business by an industry veteran who has specialized in startups. This book covers everything including: where to source products , legal requirements, warehousing, and more.

Coleen Sterns Leith - High Def Marketing

High-Def Marketing discusses our proprietary 5-step marketing process for tech companies and includes insider information for the CTA (consumer tech), CEDIA and InfoComm channels.
Kiana L. Wilson- Too Sharp To Fail

Too Sharp to Fail is a modern-day parable for the young, driven, and courageous career-minded professional that wants to advance their career, gain a competitive edge and thrive in the workplace.
Emery Ellinger III - Turn Your Blood Sweat & Tears into Cash

This must-have manual is a comprehensive guidebook to sell a business, covering everything from pre-sale preparations, to what you can expect during the process, and skillfully describing both mechanisms for success and common pitfalls to avoid.
Sarah McDugal - OneFace

Leaders risk devastating exposure and failure to achieve long-term success when their internal values fall out of alignment with their external message. In ONE FACE you will learn how to: articulate and discover your own values, make regret-free leadership decisions, and transform the gift of feedback into growth.
Brad Hubbard, PE - Flood Money

A comprehensive guide to reducing or eliminating your flood insurance premium.
Liza Marie Garcia - "My calendar is written in Crayon" Smart Advice from Working Single Mom's 

This collaborative author book by Liza Marie Garcia, Shirley Jump and christian radio host Abby Brundage, tells of current motherhood tips specifically to address Single Working Moms.
Christopher S Pascucci - From Bang to Bang

This book investigates what scientists have already observed out in the cosmos as well as inside the smallest subatomic particle to tell an easily understood visual story starting with the Big Bang and leading through to the next generation of universes.
Daniel Nyiri - FitBiz

A comprehensive guide to owning and operating a successful gym and scaling it up to a 7 figure business.
Kimberly Wilson- Smart Cookie: Recipes for Raising a Genius

As parents our lives are uber busy. Between juggling our work life, personal life, kid's school, sports, homework, houeshold duties, birthdays, bedtimes and all things in-between, we are rock stars minus the paparazzi. But before we suffer injury patting ourselves on the back, let's take a moment to reflect upon the whole reason you would benefit from this book in the first place: you have a child who is capable of outsmarting you.
---
Dress Code:  Business Casual
Refreshments will be served througout the night.
Bring your camera and get your picture taken with Tampa Bay's newest authors!

When & Where

The Tampa Club
(Bank of America Building)
101 E. Kennedy Blvd. 42nd floor
Tampa, FL 33602


Tuesday, February 28, 2017 from 6:00 PM to 9:00 PM (EST)
Add to my calendar
Organizer
Welcome to the Key Person of Influence events page for Eventbrite. 

Our Profitable CEO Workshop Series is exclusively for owners and C-suite executives of successful, growing, professional service companies. Most of these workshops are ticketed events through Eventbrite.
These workshops aren't generic or boring presentations; they are highly-interactive conversations backed with implementable, proven strategies. You will be able to ask your specific questions to get the answers you need for your business to excel in this new collaboration economy.
Our KPI CEO Socials are are casual but highly-vetted, high-level gatherings for the sole purpose of connecting with area leaders, and connecting them to one another.  These socials are by invitation-only and are limited to 12 attendees. To be considered for an upcoming CEO Social, visit our landing page for list of qualifications and for more info:  CLICK HERE FOR INFO
To learn more about our Personal Brand Accelerator program, and for video testimonials from some of our clients, visit our website: KEYPERSONOFINFLUENCEUSA.COM

---